The Cowboys are trying to get a third win, trying to give Greg Hardy a second chance and trying to accomplish something that would be an NFL first.
There's your countdown — third, second, first — to a Dallas season that history says won't include an NFL postseason berth.
"We understand,'' Cowboys owner Jerry Jones said after Sunday's 33-27 OT loss at AT&T Stadium when I asked him to evaluated his team's standings situation. "We can add and subtract. We know what is ahead of us.''
What's ahead of the Cowboys, in the positive sense? Dallas (2-6) is at Tampa Bay this weekend with hopes of ending this six-game losing skid and then having Romo back from a broken collarbone to ignite a second-half push toward a winning streak with him participating Nov. 22 at Miami.
What's ahead of the Cowboys, in the realistic sense? There's no guarantee Romo is healthy. There's no guarantee of success even if he is. There's no reason to assume a win at Tampa — the Bucs at 3-5 have a better record than Dallas does. Hardy's pass-rush presence isn't helping the Cowboys get takeaways (they're among the poorest in the NFL in that department) and Hardy's off-field presence creates a mushrooming distraction for some.
"Greg has a commitment to us," Jones said. "He has a commitment to do the right thing. We expect him to do the right thing. He has a commitment to his teammates and our team. The way it's set up in the NFL, relative to behavior, and in fact we wanted to give Greg a second chance. And you lose that in the NFL if you don't do the right things.''
There is no indication that Hardy has botched that second chance, not inside of Valley Ranch. But he joins the rest of the Cowboys in botching chances to win games. And now Jerry's add-and-subtract abacus tells us Dallas -- in last place in the NFC East -- would have to go 7-1 the rest of the way to get to 9-7.
Since 1990, of the 144 teams that started a season 2-5, only four have rebounded to make the playoffs. Start 0-6? Zero teams have rebounded to do so.
Should the Cowboys "do something''? Sure. What, exactly? Fire the same GM who was NFL Executive of the Year last season? Accept the dopey label of "quitters''? Nah, because if that is so, they would've quit in the first four periods. "Try harder''?
"I would never at this juncture ever say anything other than we're here to compete,'' said Jason Witten. "We're not competing at a high enough level to meet our goals and we have to figure out a way to compete; that's on everybody's shoulders."
To Witten's credit, he played "stand-up'' guy in the locker room. A few other veteran Cowboys did, too. Disappointingly, above-the-marquee names Hardy and Dez Bryant did not. In my Premium Cowboys column here, I explain why that can be the tip of an accountability iceberg for this Titanic-looking team.
The game itself was bloated with bizarre and notable moments, with Dan Bailey doinking in a 44-yard field goal to force overtime, Darren McFadden offering up 27 carries for 117 yards, Cole Beasley combining with Dez for 14 catches, 221 yards and three scores, Sean Lee departing with yet another concussion and Matt Cassel passing for 299 yards and three touchdowns but gagging up a pick-six.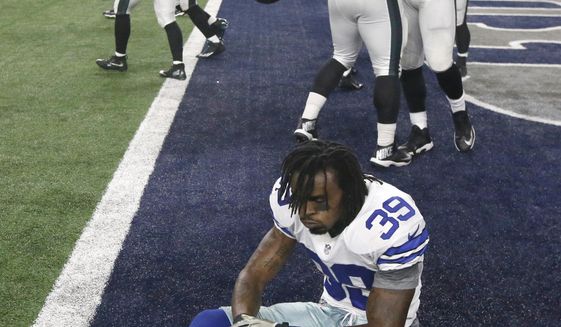 We just have to figure out a way to win,'' Cassel said. "There is half a season left. I hate standing up here every week and saying that but it's the truth. We got to get the momentum turned the other way."
But like Jerry said, the Cowboys can "add and subtract.'' They know they are now 0-7 without Romo since last year and 6-15 without him dating back to 2006. And they know that while there is indeed half a season left, adding Romo won't automatically subtract all this team's woes.