Dating all the way back to training camp in Oxnard, Dez Bryant has harbored the view that there is a portion of the media that wants to see him fail.
"I don't know why they do,'' he told me in August. "But they do.''
Bryant, the Dallas Cowboys' All-Pro receiver, likes to use the Cowboys-Rams training camp brawl as Exhibit A. In his view, he was a late-comer to the fight and was motivated to get involved to help and protect teammates but was portrayed as the instigator by media outlets fully aware that putting some anonymous Rams player in a headline wouldn't draw the same attention as labeling it a "Dez fight.''
Bryant felt similarly in the summer when the Dallas Morning News attempted to psychoanalyze him and his motivations in a story in which he was not interviewed. (The story suggested words like "reckless'' and "irresponsible'' might have a place here and claimed Bryant "craves acceptance.'') The same feeling of mistreatment erupted in the AT&T Stadium locker room two weeks ago when immediately after the 13-12 loss he was made aware of social media attempts to paint him as a taunting villain while Seattle's Ricardo Lockette remained frozen on the ground with a concussion. … and then again before last week's loss to the Eagles, when local ESPN writer Jean-Jacques Taylor used the word "petulant'' in a column insisting that Bryant perform at a higher level than he did against Seattle, when he had two catches for 12 yards in his first game back after foot surgery.
https://twitter.com/DezBryant/status/662707801051959296
After reading that midweek column, and then failing to find Taylor in the Valley Ranch locker room the next day, Bryant used Twitter to label Taylor a "coward.''
Taylor was once again the target on Thursday during the now-infamous locker-room scene at Valley Ranch.
The scene began to play out nastily after I visited with Dez, and he instructed me to not sit next to him at his locker stall. Moments later, NBC5 reporter Pat Doney asked Bryant if he was doing interviews. Bryant expressed an objection to something Doney had written after the Eagles game that Bryant (along with Greg Hardy) failed to make himself available for postgame commentary.
https://twitter.com/PatDoneyNBC5/status/663602395570532352
Doney's appraisal of that situation was accurate, and mirrored mine, which I discuss in my video report above and in my Cowboys Premium column.
Bryant then asked whether Taylor was present, invited him to his locker area, and launched an exchange with the reporter, at which time locker-neighbor Devin Street joined the conversation.
 "Ain't nobody talking to you,'' Taylor apparently said to Street.
Street was taken aback by what I believe is a sincere feeling that somewhere in the exchange Taylor used the N-word. Bryant was bothered as well, and responded by repeatedly yelling the racial epithet, pointing at Taylor and barking that a reporter can't say that to a player.
My view here: It seems highly unlikely that Taylor would do such a thing. A few folks within earshot heard no such thing. At the same time, Taylor did concede on ESPN Radio later Thursday that he used "Oak Cliff vernacular'' befitting his background as a native of a predominantly African-American neighborhood. And in my hundreds of visits with Bryant, I've never found him to be a liar.
So we'll chalk this up to a highly incendiary misunderstanding.
Bryant and Street then exited the locker room for an outdoor meeting with PR boss Rich Dalrymple. But as Dez was departing, he loudly chastised  the media members, predicting no one would report on Taylor's alleged use of the N-word.
While Bryant was outside, SI.com's Robert Klemko tweeted "Dez Bryant just blew up on reporter, went on 10-minute rant. 'Until they stop disrespecting this team I don't give a f---. Mother --- sick!''
When Dez returned to his locker, he apparently went straight to his phone and to Twitter, saw, the Klemko tweet, and yelled for the reporter to ID himself. The two engaged in their own confrontation. 
"Don't single me out like that,'' Bryant yelled. "If you're going to report something, report it right. Allright? Report it right. Go report that. For real. This ain't a game, dog. This ain't a game.''
(Sidebar: There is a "rabbit-ears'' problem here that I will get to momentarily.)
At different points, Jason Witten, Darren McFadden and Tyler Patmon tried to diffuse the situation, Patmon wisely advising Klemko to back down. The venerable Dalrymple, who carries the title of "senior vice president of public relations'' and doesn't usually occupy the locker room on a daily basis, remained inside, urging Bryant to "drop it.''
"How about you all fix this s---, Rich?'' Bryant responded. "You're talking to (the players), you're talking to the wrong people!''
Coach Jason Garrett — who also generally stays out of the locker room — was summoned to calm Bryant. While he eventually did so, it came only after Dez issued one more loud accusation.
"Dirty, dirty, dirty, dirty, dirty, dirty!'' Bryant hooted "They're f----- dirty, coach. They're dirty. They're dirty, all of them, and especially you.''
The "you'' could've been Taylor or Klemko or, at that moment, anybody.
Eventually, Bryant returned to a locker room where some teammates were stunned, angered, amused and bemused. (It's important to not characterize "the locker room'' as if it's a single body. It's 63 men, young, wealthy and in their minds indestructible. Human nature being what it is, they do not think as one — especially so when they've lost six straight games, as the 2-6 Cowboys have.) Bryant himself attempted to downplay his anger by grabbing a mini-boombox and, accompanied by teammates Trey Williams and Cole Beasley, step out of the room with a sort-of dance step to the rhythm of Outkast's "So Fresh, So Clean.'' 
And then Bryant returned to Twitter, writing:
*"Yea, I blew up on the media but repeat why I blew up on y'all. Saying I don't give [expletive] about me & calling players [N-word] not professional...''
And:
*"Now I guess I'm the bad person? The media comes in our locker room with no restrictions... I guess they can say whatever and it's cool...let me remind all of you... WE ARE HUMAN AS WELL..WITH FAMILIES..we have to live with a lot of flase talk about us.... I chose to stand up for me and what I represent..... I'm so sorry if a lot of you can't handle being talked to direct."
And:
*"If you going to tell something tell the whole thing...I'm done with the situation...I hope everyone is having a great day.''
So … now what? "So Fresh, So Clean''?
Probably not. … at least not until Sunday.
It doesn't matter if Dez is being persecuted by the media. (Though he's not, because "the media,'' like "the locker room'' is not a single entity.) It does matter that he believes that is the case, and it does matter what he and his football team do with the energy that comes with that belief.
In all this ranting, Bryant made sure to tuck in a few remarks to the effect of, "Don't do this to our team!'' And in his advice to me to steer clear of his locker, I believe he was alerting me to the rant that was to come — in other words, as manic as he sounded, he did so with a plan.
But maybe the "team'' was a small percent of his motivation. And maybe the "plan'' was a small percent. And maybe the bulk of it was an anger that bordered on out-of-control and here's the question … and it's a Biblical one, of sorts.
Just as God wishes us to speak words and perform acts that reflect Him, a member of a team (or a family, or a business) is wise to speak words and perform acts that benefit the team. Dez Bryant (and Greg Hardy, who finds himself twisted into a similar knot) cares far too deeply about what is being said about him, has "rabbit ears'' when it comes to his critics, inflates the volume of his "haters'' and therefore gives them credence. 
My advice to Dez Bryant (and I've shared this with him): He should use Twitter to send messages, not to receive them.
There can, in theory, be a positive result from Dez' rant: An "Us-against-The-World'' mindset is worth a try for a Cowboys team that has, for the last six weeks, tried and failed in every other imaginable way.
Or, there can be a negative result from Dez' rant: All those teammates, "stunned, angered, amused and bemused,'' might not just eye-roll and finger-point at the media interlopers — they might do it to one another. This is how a team fragments, and teams that lose six straight games almost always do fragment. This is how a team that loses six straight games keeps losing, and teams that lose six straight games almost always do keep losing.
Was Dez Bryant justified in his angry rant? Is he justified in feeling persecuted? In the NFL, the justification is not measured by Wednesday ESPN columns or by Thursday locker-room arguments.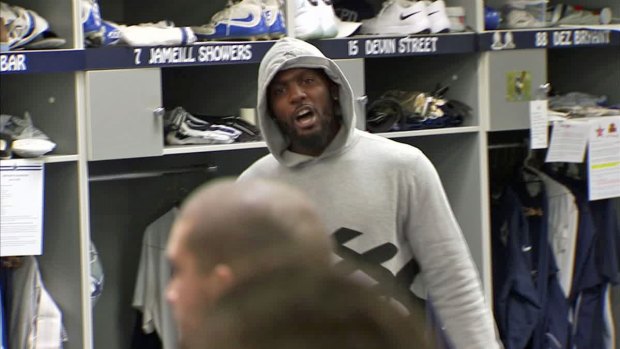 In the NFL, and specifically this week with this incident, Dez Bryant's Cowboys justification will be measured on Sunday in Tampa.