You just slip out the back, Jack
Make a new plan, Stan
You don't need to be coy, Roy
Just get yourself free
- Paul Simon, "50 Ways To Leave Your Lover''
Cowboys Nation is reeling, wondering what went wrong and wondering who to blame. 
The answers? Everything. And everyone.
And now? Well, the NFC East is loaded with similarly poor clubs, so Dallas is actually just a couple of ticks out of first with Romo scheduled to return this week. (In fact, things are going so well on that front that this week's prep for Miami will include a "Romo Wednesday,'' a day of non-practice as he returns to football normalcy.) If this thing gets magically turned around, there will be glorious credit to spread.
Romo himself teasingly says "there's only one thing left to do'' ...
In the more likely event that there is no turnaround - and note that since 1978 no team that started 2-7 ever recovered to make the playoffs or even to have a winning record - theories will abound about what went wrong. And they will all have at least enough validity to merit discussion, to merit wondering whether Dallas should "slip out the back'' (tank) or "make a new plan'' (because this same one that resulted in a 12-4 campaign last year is now judged to be so faulty) or to "just get yourself free (quit caring and emotionally move onto the Mavs and the Stars and your families.) 
There must be ... 
"50 Ways To Bereave Your Cowboys.'' And no wild theory or faulty move is safe. I don't agree with many of these, but hey, amid the coming mourning, how dare anyone scoff now at potential diagnoses and cures? Here goes:
50 Greg Hardy has injected poison into the locker room. Dallas sold its soul to the Devil here and has now lost all five games in which he's played. And anyone who dares to even consider disagreeing with this karma-driven take will be called out by USA Today and Sports Illustrated as a "supporter of domestic violence'' who might also be a Nazi-loving baby-eater who doesn't recycle.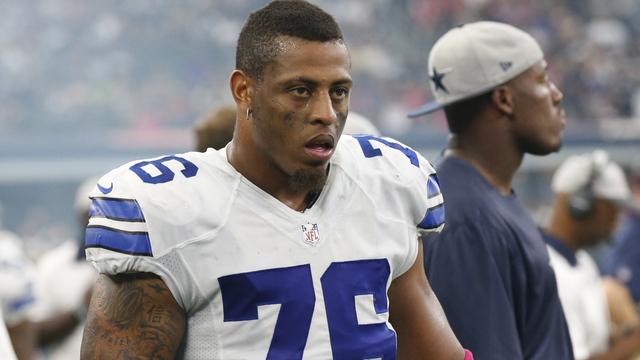 49 The Cowboys training staff should've done something to better preventatively strengthen the bones of Romo, Dez and Orlando Scandrick. More milk, or something.
48 Jerry Jones should fire last season's NFL "Executive of the Year.'' 
47 Zack Martin over Johnny Manziel was a mistake. "Executive of the Year'' Jerry with his imaginary "Manziel Draft Card'' was right!!
46 Gavin Escobar over running back Le'veon Bell was a mistake. Bell is out for the season, but still.
45 The game has passed Rod Marinelli by. Of course, as slow as he walks, everybody coming down the Valley Ranch hallway passes him by.
44 Coaches should instill "fear'' into their players. This theory comes courtesy of FOX's Jimmy Johnson, my ol' pal, who had his Dolphins so afraid of him in 1999 that they lost a playoff game 62-7.
43 They shoulda drafted QB Bryce Petty in 2015.
42 They shoulda drafted QB Derek Carr in 2014.
41 They shoulda let QB Kellen Moore be the guy for the last seven weeks.
40 Jermey Parnell should've been paid and kept at right tackle over Doug Free.
39 Dwayne Harris should've been paid so he could run a Giants kickoff back for a 100-yard TD against Dallas.
38 They are missing the linebacker leadership of Justin Durant and the linebacker playmaking of Bruce Carter.
37 DeMarco Murray should've been paid and kept as the bellcow.
36 Or, if DeMarco had to go, Dallas should've drafted a running back.
35 Instead of Randy Gregory, who is doing nothing as a rookie.
34 Or instead of Chaz Green, who is doing nothing as a rookie.
32 Terrance Williams' social-media rabbit ears catch more than his chest does.
31 Jason Witten is an NFL leader in false starts because at his advanced age, he needs hearing aids to help hear the snap count.
30 La'el Collins should have been starting at left tackle all along, thus gaining O-line cohesiveness earlier.
29 Ron Leary should have never been replaced at left tackle because of the importance of cohesiveness.
28 Coach Jason Garrett should be fired. Immediately. And replaced with Sean Payton. Immediately. Somehow.
27 The Cowboys need more offensive-gameplan trickery.
26 Darren McFadden needs to quit running like he's in his stocking feet on a just-waxed kitchen floor.
25 Hey, Joe Randle wasn't so bad. Can Jerry please go bail "MeatBone'' out of the cooler?
24 Even if Christine Michael doesn't know the plays, just put him in there. How complicated can football be?
23 Bringing Rolando McClain back on a cheap one-year contract against the will of some on the staff was asking for trouble.
22 Sean Lee should always come out of the game on the play right before the play on which he's going to get hurt.
21 Rookie Byron Jones should play all four secondary positions. At once.
20 The Cowboys overpaid Tyrone Crawford to play the 3-tech tackle and simply refuse to pay a 320-pound man to stand next to him to play the 1-tech.
19 Is Terrell Owens available? Have you seen those abs!?
18 Is Ray Rice available? I mean, they're letting Rice appear all warm-and-fuzzy on SportsCenter now — it's like they mist-up the lens to obfuscate his flaws, like they did for Norma Desmond in "Sunset Blvd.'' -  so how bad a guy can he be?
17 The trade for Brice Butler was stupid.
16 The trade for C-Mike was stupid.
15 The trade for Matt Cassel was stupid.
14 The Cowboys should make more trades.
13 Peter King was right. Just too many "turds.'' I really don't like calling other human beings "turds'' or "mutts'' or "gutless pigs'' but I know there are sports fans who think this is appropriate and "fun,'' so there it is.
12 Dallas really should've pulled off that Adrian Peterson trade, even though there never was an Adrian Peterson trade to be pulled off. (But OK. Chris Johnson then.)
11 The "Cowboys Culture'' is an "enabling culture.'' Which is true. As was the Cowboys culture when Jimmy was here. As is the culture of all football teams willing to hire people to do a dirty job … thereby supporting some dirty habits on the side. Without being inflammatory, the New York Giants "enabled'' Lawrence Taylor for more than a decade while he misbehaved in some seriously heinous ways. But he won them Super Bowls and continues to be celebrated for it.
All the owners, all the coaches and all the fans of sports are "enablers'' by virtue of their "support'' of sports. That includes me. That includes you.
10 The "America's Team'' spotlight that these players bask in when things are going right becomes a raging fire that generates heat they cannot take when things are going wrong.
9 Dan Bailey "doinks'' should count double.
8 This is a team of "quitters'' - though you'd think instead of "quitting'' in overtime, the Cowboys would save themselves the trouble and go ahead and lay down in regulation.
7 You can only have so many redheads on one team. Garrett was the limit. Weeden, simply too much.
6 The Cowboys should play their "young players.'' Except that, they kinda are.
5 Jerry is too involved. He's a meddler.
4 Jerry's not involved enough because he's so busy with Sky Mirrors and boxing matches and expensive wristwatches and Music Awards Shows and guiding Chris Christie back for thirds at the buffet line.
3 Outside of the loss to the Patriots, the regulation-time scoreboard deficit for the other six losses averages 3.9 points. The return of Romo - like Batman to Gotham - saves the city. 
Except for the nagging fact that Romo doesn't run, catch, block or tackle.
2 It's the curse of that unicorn that Dez Bryant murdered in a Walmart parking lot, according to video that every national media member has seen but nobody can find.
1 The Cowboys, their fans and the media simply overrated the talent base from last year's fine 12-4 effort and/or neglected to remember that 12-4 isn't an automatic ladder to the next level, all the while forgetting that this is an "8-8 league'' — with two-thirds of the teams destined to finish within a couple bounces of .500. Dallas is essentially the same as Washington, Philly and New York, with only a handful of NFL clubs truly "better'' and maybe only a handful truly "worse.'' 
 Fail to get those two bounces and you fall short of 8-8. Fall twice more, and you are prepping for the 2016 NFL Draft.