CowboysHQ.com coverage today is brought to you by our friends at LS Wealth Strategies, who will guide your family as they've guided ours. The best in DFW ... LS Wealth Strategies!
The Turtle and the Scorpion
So I'm talking to an NFL executive the other day and asking him about "good character'' and "bad character'' and the importance of it. And he starts telling me the story of The Turtle and the Scorpion.
The scorpion asks the turtle to carry him on his back across a river.
"Are you crazy?'' the turtle says. "You'll sting me while I'm swimming and I'll drown." 

"No way!'' promises the scorpion. "If I were to sting you, you would drown and I would go down with you. Now where is the logic in that?" 
"You're right!" smiles the turtle. "Hop aboard!"
The scorpion climbs aboard and halfway across the river ... he lunges for the turtle's neck and administers a deadly sting. As they both sink to their deaths, the turtle says, "Let me ask you something: You said there'd be no logic in your stinging me. So why'd you sting me?" 
"It has nothing to do with logic," the drowning scorpion sadly replies. "It's just my character." 
The NFL executive, translated: Is Johnny Manziel -- announced as the "Browns starter for the rest of the season'' in mid-November but now nearing persona-non-grata status in Cleveland -- a bad person, unsalvageable, unworthy ... a scorpion in nature? Or is he viewed as "salvagable'' enough for the Dallas Cowboys to connect with him and hope he doesn't bite them?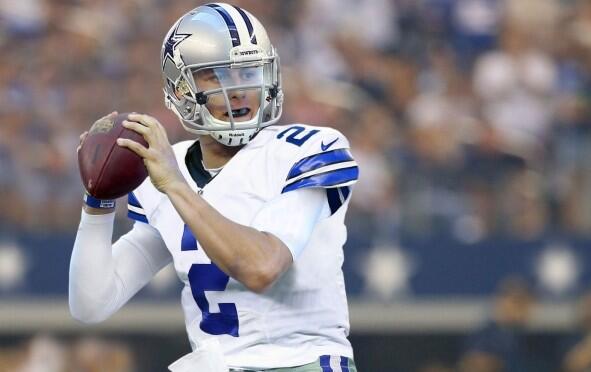 The Ammunition
First, the ammuntion: At the NFL Owner's Meeting in Dallas, the league is altering a key rule when it comes to compensatory picks. No longer will teams be "forced" to select a player with these selections. Teams will now have full control over those picks that are awarded and be able to trade them, just like the draft picks they are assigned based on where they finished the previous season.
Compensatory picks are awarded based on a convoluted formula of gaining and losing players in free agency. Each player, based on salary, playing time and post-season awards, is assigned a "level of compensation", equal to an additional pick at the end of one of rounds 3-7. There are 32 compensatory picks awarded every year, virtually creating an eighth round of each draft.
Here's CowboysHQ's projections of where those medians lie for the 2016 draft, based on a $153,000,000 2016 cap and the percentages calculated by OverTheCap.com's Nick Kourte:
| | 2016 Projected on $153m cap |
| --- | --- |
| 3RD/4TH | $9,562,500.00 |
| 4TH/5TH | $7,175,700.00 |
| 5TH/6TH | $4,788,900.00 |
| 6TH/7TH | $3,182,400.00 |
On top of salary concerns, not every free agent signed or lost qualifies for compensatory consideration. There are ways to sign players that won't add to the "players signed" ledger. Players who are cut from other teams, players who were RFAs or ERFAs who weren't tendered, players signed after May 12th. This eliminates losing Sterling Moore and signing Corey White from the calculations. 
Also, the player must stay with his new team through Week 10 of the next season to qualify. That means that losing Anthony Spencer no longer qualifies, but neither does signing Jasper Brinkley or Jed Collins, who together count over $1.4 million towards Dallas' 2015 salary cap as dead money.
Of the players remaining, here's the chart of Dallas' Comp Pick haul:
| Player Lost | Contract | APY | Round |   | Player Signed | Contract | APY | Round |
| --- | --- | --- | --- | --- | --- | --- | --- | --- |
| Demarco Murray | 5 yr/ $42 million | $8.4m | 4th | x | Greg Hardy | 1 yr/ $9.8m | $9.82 | 3rd |
| Jermey Parnell | 5 yr/ $32 million | $6.4m | 4th | AWARD |   |   |   |   |
| Bruce Carter | 4 yr/ $17 million | $4.25m | 6th | AWARD |   |   |   |   |
| Henry Melton | 1 yr/$3.75 million | $3.75m | 6th | AWARD |   |   |   |   |
| Justin Durant | 3 yr/ $10.8 million | $3.6m | 6th | AWARD |   |   |   |   |
| Dwayne Harris | 5 yr/ $17.5 million | $3.5m | 6th | x | Andrew Gachkar | 2 yrs/$5.2m | $2.6m | 6th |
| George Selvie | 1 yr/ $1.4 million | $1.4m | 7th | x | Darren McFadden | 2 yr/$3m | $1.5m | 7th |
That gives Dallas an additional four selections in the upcoming draft. However, Dallas has already used several of their "natural" picks as trade collateral.
In acquiring the right to select TE Geoff Swaim with pick number 246 of the 2015 draft, Dallas traded away their 2016 sixth-round selection. Right before the season, Dallas traded away their seventh-round pick for RB Christine Michael to Seattle, on condition he be active for three games. He was. Pick's gone.
Then, when Dez Bryant went down in Week One, the Cowboys traded for WR Brice Butler with Oakland. If Butler remained on the 53-man roster through the Seattle game, Dallas would ship their 2016 5th -rounder to Oakland and get back Oakland's 6th-rounder. So that's done. And Dallas has shipped away their 5th, 6th and 7th rounders (and a 2017 5th rounder for Matt Cassel). 
So all in all, here's the current, final tally for Cowboys draft picks in 2016:
| Round | Original Team | Current Team |
| --- | --- | --- |
| 1 | Cowboys |   |
| 2 | Cowboys |   |
| 3 | Cowboys |   |
| 4 | Cowboys |   |
| 4 | Compensatory |   |
| 6 | Oakland | Cowboys |
| 6 | Compensatory |   |
| 6 | Compensatory |   |
| 6 | Compensatory | |
So if Dallas wishes to trade for Manziel, there is the ammunition to do so.
Under Every Rock
You may already be aware of my view on this, in general, but to refresh:  If it's OK to roll the dice with sixth-round picks on somebody like Swaim -- a fourth-string tight end who may or may not be able to play -- why wouldn't it be OK to do the same with a QB? The reward for hitting the unlikely jackpot on a QB is infinitely greater than the reward for hitting on a tight end ...
So every once in awhile, a team should do so. Especially this Cowboys team that will soon need a true heir to Tony Romo.
I believe the Joneses see that writing on the wall -- the Life Without Romo Wall -- more clearly than ever.
Oh, I know Jerry Jones goes on 105.3 The Fan and talks of Romo playing "four or five more years.'' But realize that Jerry's been saying "four or five'' for two years now; he's just saying it by rote, at this point. And note that it's not realistic to ask a 39-year-old to play at a high level (though a Matt Hasselback level is conceivable.) And note the way Dallas specifically constructed Romo's contract, which on paper runs through 2019: For the next two years, the penalty for separating from him is $31 mllion. But after the 2017 season, the escape is relatively painless.
This is a two-year window. People inside Valley Ranch know this. And despite what "Jerry Poppins'' says as he offers 100,000-watt spoonfuls of sugar ... the Joneses know this, too.
Forget the 'Marketing Jerry' Angle
If Manziel is acquired via trade (the Cowboys and Browns could do so as soon as their seasons end) or via waivers, it wouldn't be for the reasons so often attached to Jerry Jones' mentions of the former Texas A&M star. This would be an end-of-bench candidate, someone to compete not with Romo, but with Moore and Showers. There would be no Snickers commercials. He wouldn't be on Zack Martin's level (if you still think Jerry "almost turned in The Manziel Card in the 2014 Draft, you are tragically mistaken); he'd be on Michael Sam's level -- a guy with a high profile but with low expectations.
By the way: I humbly submit this as required reading, by the way, for Cowboys followers who still think "Jerry rules everything'' and who specifically believe "Jerry almost drafted Manziel.'' The truths are here. That's not to say Jerry doesn't still have an affection for the player; on Tuesday, he spoke openly on his own radio show on 105.3 The Fan of that admiration, something that's probably never happened before regarding a deactivated-to-thin-ice member of the Cleveland Browns.
Anyway, back to what an end-of-bencher can look like: If you'll recall, the Cowboys managed Sam's short time here in a very subdued manner. He was an effective practice-squad contributor who did interviews on his first day here and never again. The PR can be managed here.
Manziel's see-saw of problems (addressed in part in the video up top) go deeper than that.
Johnny's Behavioral Problem
It would not be fair, from this great distance, to report that Johnny Manziel is an alcoholic. It would be fair to observe that dating back to his college career and as a member of the Browns, in defiance of Cleveland's wishes, the potential "franchise QB'' of the team has partied, fibbed, attended a rehab clinic last February ... and after that partied some more, getting in trouble at least twice while consuming alcohol.
Conventional wisdom says one shouldn't drink alcohol after attending rehab (assuming that was the nature of Manziel's visit.) 
There is a problem here. And it is bigger than football.
The Risk/Reward
The Cowboys deal with this issue constantly, and so do the Browns and the Patriots and every other team in this sport, and every other sport, at virtually every level: What is the "pain threshold'' with this player? (Your employer does the same thing; what is the "pain threshold'' of you, the employee?) This issue is why talented college players like Greg Hardy and Aaron Hernandez get drafted by the Panthers and the Patriots, respectively, in the sixth round rather than the first.
Manziel has a contract for the 2016 and 2017 seasons at about $2.1 million annually. (That alone puts him at least on the same conversational level with 49ers failure Colin Kaepernick  and the $16-million-pre-cut Robert Griffin III for NFL teams trying to balance washed-out prospects' talents, risks and finances. See our Cowboys-and-Griffin breakdown here.) There are many reasons to be scared off from the "circus'' that might exist in a Manziel-to-Dallas scenario; his family and many of his friends are of course Texas-based but there's no way to be certain if that's a positive or a negative. But the "circus'' idea seems largely tied to Manziel as a first-rounder, Manziel as a starter, Manziel as a "franchise guy.'' 
But what if Manziel is simply put on a plane not with Tony Romo ... and not even with Browns QBs like Josh McCown ... but rather with Dallas end-of-bench QBs like Kellen Moore and Jameill Showers -- which, frankly, is where he probably belongs, talent-wise or at least performance-wise? If Moore had all this sort of troubling baggage, would you still let him try out for your No. 3 QB job? If Showers had this sort of baggage, would you still let him try out for your practice squad?
My answer is "yes.'' I need to search under all those rocks for Romo's heir (meaning possibly using a premium pick in 2016 on someone like Paxton Lynch .. or Jared Goff or Cardale Jones or Connor Cook or Carson Wentz, all just faceless names to most of us right now) and I need to search for No. 2's who might be No. 1's (is Matt Cassel still that?) and I need to search for bellhops and plumbers and shoe salesmen who might merit a tryout.
As we monitor Manziel's future in Cleveland and beyond, know this: The Dallas Cowboys had a pre-2014 NFL Draft first-round grade on him. That grade was issued with full knowledge of his upbringing, his family life, his behavioral flaws and, most of all, his potential. ... That wasn't "Jerry Love.'' That was a scouting grade. So, do you give a first-round grade to a player you think is, ultimately, a scorpion?
The Cowboys are going to look under a rock ... and I think they should, and quite possibly will, dig up a way to take a real and affordable chance on Johnny Manziel.
null