1. The Panthers - 33-14 winners over Dallas on Thanksgiving - are good. I know; this seems obvious, right? But go back and look at all the pregame remarks about how "Carolina hasn't played anybody.'' Fact, is Carolina has played 11 "everybodies.'' And they've shellacked them ... just as they did to Dallas here.
That is a playmaking QB with a playmaking defense that found a way to take away the Dallas running game and take away Dez and takeaway the football.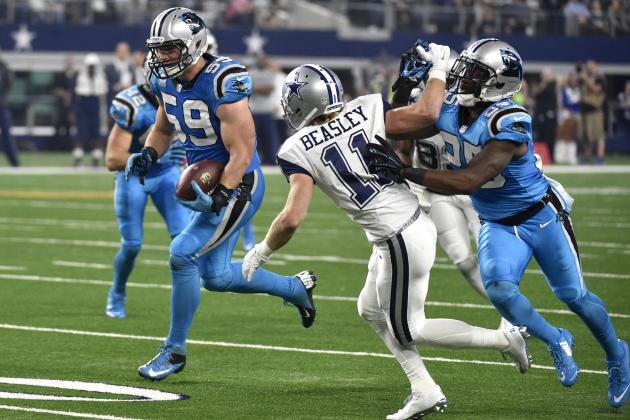 2. Byron Jones had a nice bounce-back game after struggling last week vs the Dolphins. Jones had 2 pass breakups in the end zone to hold the Panthers to a field goal at the end of the first half. Both plays were sure touchdown catches that Jones swatted away/ripped out of the receiver's hands. Big time plays by the rookie. However, Jones did get called for an "unsportsmanlike conduct" penalty for hurdling a lineman in an attempt to block a field goal.
Byron explained to our Mike Fisher that the officials told him he used the bodies of teammates to vault himself higher. That wasn't Jones' intention, but it was the result -- kind of encapsulating the entire afternoon of good intentions, really.
3. Greg Hardy didn't have the kind of game I'm sure he had hoped for against his former team. Hardy got very close to sacking Cam Newton on two occasions but the shifty QB was able to wiggle free and make a run for it. However, Hardy did force a holding penalty against the Panthers which moved them back 10 yards, so he was still able to have an impact.
Afterwards, Fish asked him if he was "gassed'' and Hardy replied saying that he suffers from asthma.
4. While Hardy didn't put up big numbers, Tyrone Crawford certainly did. Crawford recorded his 4th sack of the season, setting a new career high. He chased down Newton and brought him down for a loss of 18 yards and nearly even got a safety. Later on, Crawford blocked a field goal attempt that was recovered by Lee. This might have been Crawford's best game of the season. On Thursday, Crawford made the kind of plays the Cowboys expected from him when they signed him to a monster contract extension.
Crawford doesn't want a big deal made of this, but he's playing hurt. And it's surely impacting his performance overall ... though not his effort.
5. Randy Gregory had his best game since Week 1. He got really close to recording his first sack a couple of times and showed the speed and motor that we haven't seen much of in recent weeks. I think he's finally getting fully healthy and back to his old self; the protective tape was off the ankle for the first time since the injury.
I say it's only a matter of time before this rookie pass-rusher starts getting home and bringing down the quarterback.
6. Darren McFadden put up DeMarco Murray-like numbers on Thursday - Eagles Murray, not Cowboys Murray. McFadden finished the day with 11 yards on just 10 carries. He did, however, make some nice plays in the passing game. In the 1st quarter Romo targeted McFadden who was tackled before he even had a chance to catch the ball. It should have been pass interference but the refs missed the call and the Cowboys were held to a field goal.
Was it McFadden or the line? Why can't it be both - and the excellence of the Panthers' front seven, too?
7. Speaking of running backs, the newest member of the Cowboys backfield, Robert Turbin, also had 11 rushing yards. However, he had his 11 yards on just 2 carries. McFadden needs too much room to get going. He has to have a huge running lane to pick up speed and get yards before contact. Once he gets hit, he goes down most of the time and he's not going to make anyone miss. Turbin, on the other hand, has shown great burst and is impressive when it comes to finishing runs and picking up some extra yards after contact.
I really hope Turbin gets more opportunities moving forward. Maybe the reality of the standings will start making it so.
8. For the 2nd straight week, the duo of Sean Lee and Rolando McClain was everything we had dreamed it would be. Or, well, almost. The duo combined for 23 tackles, Lee had a run stuff, a pass breakup in the end zone and recovered the ball after a blocked field goal and McClain had a whopping 4 tackles for a loss and a pass breakup of his own. This defense did a fine-enough job of slowing down this Panthers offense for most of the game. When Carolina got into Cowboys territory, the defense was able to bend but not break, allowing just 1 TD and forcing Carolina to attempt 5 field goals. Sean Lee and Rolando McClain were a huge reason for this defense's success. Unfortunately, that will only get you so far when your offense can't score any points.
And if you could have one play back? McClain almost snared an early interception off Cam Newton ... but as happens so often with this defense, only "almost.'' Who knows how things might've turned with a takeaway.
9. To quote Fish, "Tanking on purpose is cancerous. But tanking organically can work. In other words, the 3-8 Cowboys don't need to start losing games on purpose now. But if they just happen to lose games, and that just happens to give them higher draft picks and an easier 2016 schedule? So be it.
10. Tony Romo had one of the worst games of his career - throwing 3 interceptions and ending his record-setting streak of consecutive games with a 60+ completion %. However, my heart broke when I saw him laying on the field and grabbing his left shoulder. Most Cowboys fans saw that image and immediately saw the season coming to an end. I saw a player who sacrifices his body and gives his all on every single play - even in a game that was pretty much out of reach. Romo wants to win so badly and does everything in his power to make that happen - even when it puts him in harm's way.
This man is a warrior and I am genuinely worried about his well-being in the remainder of his career. We have the info on Romo almost certainly being done for the season. ... but again, I worry beyond that. He has suffered so many injuries - fractured vertebrae, herniated disc, punctured lung, broken collarbones, etc. - and as tough as he is, there's only so much a person can physically endure. As a huge Romo supporter, I hope he's able to play for 2 or 3+ years -- the salary cap with him is certainly structured for two more seasons -- but there comes a point when your safety is bigger than football. Romo is a husband and a father and I wouldn't blame him one bit if he decides that it's time to hang up the cleats sooner rather than later. Not saying it will happen, but I wouldn't blame him.
Regardless, I think we can all agree in that we hope Romo has a quick and full recovery. Until then, let's go out there and get a high draft pick and last place schedule for the 2016 season!