10: Dallas' rank in yards per rushing attempt -- Despite the offense's upheaval as the running-back-by-committee dissolved and Darren McFadden became the sovereign rusher by Week Seven, the Dallas ground game averages 4.2 yards per carry, the 10th-best in the NFL. The good news is Washington surrenders 4.7 yards per carry on defense, which is the fourth-worst in the league. Having a balanced attack, or even the perception of one, is vital now that Matt Cassel goes back under center with Tony Romo nursing the same broken collarbone. In addition to advancing the ball downfield, the running game also melts clock and keeps the Cowboys rushmen fresh and ready to harass Kirk Cousins.
Over the past three weeks, the Cowboys have only had one 100-yard rushing performance, the 24-14 win in Miami. Last week against New York was the first time in six games Washington's defense limited the opposition to less than 100 yards on the ground.
9: Consecutive Dallas losses without Romo -- The last Cowboys backup to post a win was second-year QB Stephen McGee on Jan. 2, 2011 in Philadelphia. It's not like between the trio of Kyle Orton, Matt Cassel, and Brandon Weeden you can't find 100-plus passer rating games, zero turnover efforts, or 300-yard performances. The difference is third downs.
In that nine-game losing streak without Romo, the Dallas offense is a paltry 33.3 percent on third-down compared to 40.8 percent from 2013-15 in the games Romo played. Dallas has to find ways to convert third downs against the 13th-most permissive third-down defense in Washington at 40.0 percent. The secret to the '14 Cowboys success was their defense avoiding extra plays thanks to the offense converting third downs.
The hopes of a Romo return are being clinged to, and that's OK. The start of the improbable December winning streak, though, hinges on Cassel keeping drives alive.
8: Dallas' rank in pre-snap penalties -- In a game of inches, the Cowboys have managed to give away yards with 30 pre-snap penalties, tied with four other clubs for the eight-most in the NFL. It is no secret that Dallas leads the league with 21 false starts and that their point man in this embarrasing stat is veteran right tackle Doug Free with eight. FedEx Field is tied for the fifth-fewest opponent false starts in 2015 with just 10, and given that D.C. is home to the largest swath of Cowboys fans outside of Texas, some of the raucous crowd should be neutralized for the offense to avoid any mental errors.
7: Dallas and Washington's rank for fewest sacks -- The two historic NFC East rivals are locked at 20 sacks apiece with five games to go in 2015, the seventh-fewest sacks across the league. Referee Walt Anderson's games are both permissive and prohibitive when it comes to front seven havoc. Anderson averages 5.3 sacks per game, the most among active NFL referees this season. However, his three offensive holding call average is just the sixth-lowest across the NFL. For Dallas and Washington, it will be a "choose your own adventure" night as to whether they want to tally any quarterback sacks or pressures.
Read more on ref Walt Anderson and other unusual stats in "Cowboys 100.''
6: Washington's rank for most passing TD's surrendered -- The present NFC East leaders are tied with Pittsburgh for giving up 22 passing touchdowns, the sixth-most in the league. With Dez Bryant being a full participant in practice all week for the first time since healing from his broken right foot, odds are the sixth-year pro will draw a lot of targets and make a few catches. Along with that, Bryant opens up the rest of the Cowboys passing game by having coverage roll towards him. A good place to cash in on Washington's abundance of passing touchdowns surrendered would be in the red zone. Dallas is the seventh-worst offense at converting red zone trips into touchdowns at 46.7 percent. The only three teams in the bottom-10 with winning records are Seattle, Denver, and Minnesota, teams that feature stout defenses to compensate for a lack of red zone production.
Dez Bryant tells Fish he's more healthy and more confident that he's been since the start of the year. That exclusive interview is here.
5: Number of home wins Washington has at FedEx Field -- Not only is it Washington's best home start through 11 games since 1991, but it is also tied with Cincinnati for the third-best in the NFL. Naturally, Carolina and New England are tied for first. Still, it's rarefied air for the NFC East leader. The Cowboys are 12-4 under Jason Garrett when facing divisional opponents on the road, and are similarly 2-2 with backups to Romo. All five of Washington's 100-yard rushing games have happened at FedEx Field.
Dallas has to adhere to Garrett's mantra of being ready to play in the parking lot or on the moon if they are to succeed in the Beltway.
4: Kirk Cousins' rank for most fumbles in 2015 -- Through 11 games, the fourth-year signal caller out of Michigan State has put the ball on the ground seven times, tied with Matt Ryan, Tyrod Taylor, and Marcus Mariota for fourth-most in the NFL. In the past two games, Cousins has fumbled twice. Whether in the pocket or scrambling, Cowboys defenders have to be aware that Cousins could give them a freebie. Unfortunately, Dallas is the second-worst team in the league with just one recovered fumble, going all the way back to Sept. 20 in Philadelphia after Romo broke his collarbone.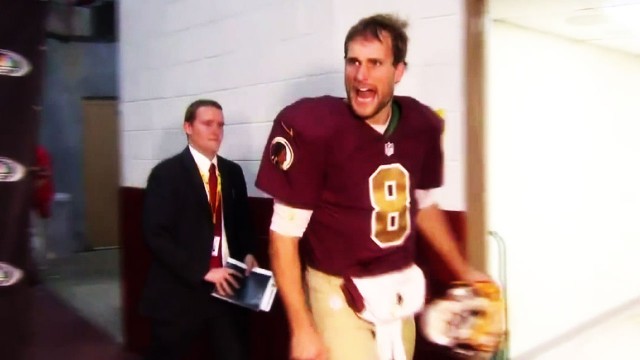 3: Career games Cousins has been sacked more than twice -- New offensive line coach Bill Callahan may not be improving the run game just yet, but the pass blocking has improved already with only allowing 17 sacks, tied for the fifth-best in the NFL. By this time last season, Washington had already given up 33 sacks. Some of it is Callahan, and the rest is Cousins. In 20 career games as a starter, Cousins has had only three games where he's been sacked more than twice. Eight of those games were before Callahan's arrival, indicating that Cousins has good mobility and pocket awareness to shed such takedowns. Dallas has averaged three sacks against Washington in the Garrett era. The only time his defense failed to register a sack was on Dec. 22, 2013 when Cousins made his first start in this rivalry.
Watch out for the screen pass here; it's Washington's way of keeping Cousins from getting hassled and keeping his completion percentage high.
2: Number of kickoff returns for touchdowns Washington has -- Not to mention it's thanks to two different players, receivers Andre Roberts and Rashad Ross. Dallas has already given away a 100-yard kickoff return for a touchdown this year to Dwayne Harris of the Giants. Special teams coordinator Rich Bisaccia has to tighten up the coverage units once again as the Cowboys can't afford to give away any free points in a pivotal NFC East contest. Roberts and Ross are just one of two teammate combos that have taken back either kickoffs or punts for touchdowns this season. Ross gains 25.2 yards per return while Roberts gets up to 33.0.
1: NFL rank of giveaway points for Washington -- Opponents of the current NFC East leader have scored 91 points off of their giveaways. It is more imperative now than it has been in recent weeks for the Cowboys, who have only scored 16 points off takeaways, the second-lowest in the NFL, to capitalize on opponent turnovers. Washington is literally giving points away. Speaking of points off takeaways, the fifth-fewest points off takeaways belongs to Washington with just 22.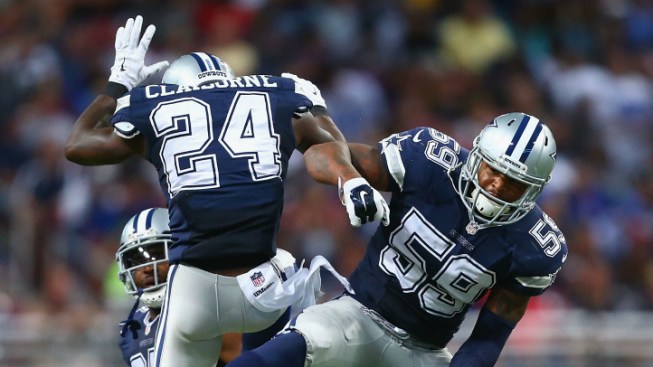 Dallas -- with Mo Claiborne back at corner and Byron Jones moving to safety -- has a chance tonight to shed their points-off-takeaways drought and add a necessary component of victorious football.
Also, take a listen to me as I join Mark Cope on a special pregame show on KXYL in Brownwood, Texas. Cope had a chance to talk to some Cowboys legends in Cliff Harris and Tony Hill, which we'll hear from in the pregame show. We'll also get a chance to hear from Fish as he joins us live from FedEx Field.