1. Demarcus Lawrence had one of the best games of his career in Monday's 19-16 win at Washington. (See our Cowboys-Redskins game coverage, including Fish's Premium column featuring a 1-on-1 interview with Mr. 1000 Jason Witten, here.)  He started the game with 2 sacks on the first 3 plays, giving him 5 on the year - most on the team. Lawrence also had a QB hit that caused an incompletion late in the first half and a big tackle for a loss on 3rd and short. After recording just 1 sack in the first 8 games, Lawrence has 4 sacks in the last 4 games. The 2nd year pass rusher seems to be hitting his stride. ... and just in time, as Dallas is at Green Bay this weekend, cite of a playoff loss last year that prompted the Cowboys front office to want to collect and develop more pass-rushing (including Greg Hardy, who also had a solid game in Washington).
2. Demarcus Lawrence wasn't the only Cowboys defender who had an outstanding game as Sean Lee was on fire as well. Lee recorded the 2nd sack of his season/career, had 2 tackles for a loss, a couple of run stuffs and finished with 13 combined tackles. Lee was especially impressive in crunch time. He showed great reaction and closing speed on 3rd and 5 to make a stop on the first play of the 4th quarter to hold the Redskins to a FG. He also had a QB hurry to cause an incompletion late in the game.
3. I was impressed with the defense as a whole. This was one of their best, most cohesive games of the season. They were swarming to the ball and keeping big plays to a minimum. We've seen it several times this season where the defense performs well at first but gets tired late in the game due to lack of help from the offense. However, that wasn't the case on Monday. The defense was able to step up and make stops all night.
If the Cowboys have any shot at winning out and making the playoffs, the defense will need to keep playing like they did against the Redskins.
"Our guys don't blink," Dallas coach Jason Garrett said. "We've given ourselves an opportunity to stay in it."
4. Matt Cassel's performance really disappointed me, especially early in the game. He had a long week to prepare and get ready but he seemed completely lost in the first half. On his first 6 passing attempts, Cassel started out 1-5 for -3 yards. He also had a fumble that he luckily recovered. He was overthrowing guys, under-throwing guys and missing wide-open receivers. He's lucky that he got away with so many poor throws without throwing any interceptions. Cassel got more comfortable as the game went on but he still needs to be better.
Jerry is on-record as saying his team's coaching could be better. But I like Fish's take on this today on 105.3 The Fan, as he says the Romocentricity of this team was a decision made by the owner, president and GM as well as the coaching staff ... and that this is a 4-8 team meaning the coach, the players and the management are 4-8 coaches, players and managers. 
5. Darren McFadden also had a really rough game. Not only was he unable to do much against a bad Redskins run defense, but he lost two fumbles. McFadden also made a really bad decision by running out of bounds late in the 4th quarter after the Cowboys recovered Jackson's fumble. To be fair, he did end up scoring a touchdown on the next play which gave the Cowboys the lead. Still a disappointing game for DMC, though.
6. While Robert Turbin averaged fewer yards per carry than McFadden, I was still more impressed with his playing style. He runs with much more power and aggressiveness. On several of Turbin's runs, he was hit well behind the line of scrimmage but was able to fight forward for positive yards. When McFadden is hit behind the line, it's almost always a tackle for a loss.
7. Scott Linehan did a good job of moving Dez around and creating favorable matchups. He was able to get open on several occasions but Matt Cassel didn't even bother looking his direction for most of the game. Thankfully, Cassel targeted Dez late in the game and 88 was able to make some big plays to help the Cowboys get the win. Dez is one of the best players in the NFL. There's no reason that he shouldn't be targeted at least once on every series.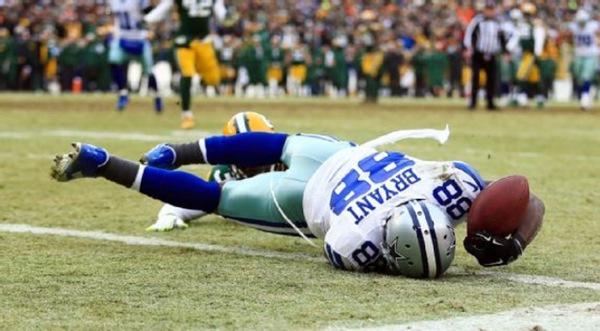 Said Cassel of this week and Dez: 
"I have to do a better job of giving him more opportunities."
8. Jason Witten needed just 2 catches to reach 1,000 on his career. He finished with 5 catches for 45 yards. We've all watched Witten for so long that I think some people forget just how good he really is - still, even in his 13th season. Jason Witten truly is a one of a kind player, both on and off the field. I just wish that his BFF could have been the one to throw him his 1,000th reception.
9. Lucky Whitehead had one of his better games as a pro. He had 2 really nice punt returns in the 1st quarter that were wiped out due to penalty, a long kickoff return that helped set up the game-winning field goal and 2 rushes for 35 yards. The rookie came to play and I really like the way the Cowboys used him in this game.
10. Dan Bailey made all 4 of his field goal attempts, including the 54-yard game-winner - the 2nd longest of his career. He is now 25 of 26 on the year and 22 of 22 in his career vs the Redskins. If Bailey (
the NFC Special Teams Player of the Week for Week 13) 
doesn't make the Pro Bowl this year, I don't know if it'll ever happen. It's amazing to me that the most accurate kicker in NFL history and one of the most clutch kickers today gets such little love in Pro Bowl love.
"He's a great kicker and has been since he has been here,"  Garrett said. "He's been in that situation a number of times. Virtually every time he comes through. We are not afraid in any way to put him in that situation."
Here comes Green Bay ... and another "situation.''