This miserable Dallas Cowboys season is essentially over, over in the sense that the plan for true contention was killed long ago, over in the sense that dreamy calculations of playoff math are killed now with Saturday's postseason-chance-eliminating 19-16 home loss to the Jets, over in the sense that this club's musical theme has in one year morphed from the cocky "How Bout Dem Cowboys'' to the comedic "Benny Hill Show Theme.''
https://twitter.com/Sportsnaut/status/678392388352532481
"I was trying to throw it out of bounds,'' QB Matt Cassel said of the ridiculous low-point interception that might be the nail in his Cowboys-career coffin but might breathe life into caddy Kellen Moore's football life. "I slipped. Couldn't get enough on it. It was really the ultimate no-no that we'll probably be watching for years and years, (so) quarterbacks will be taught what not to do.''
The Cowboys didn't lose their 10th game in 14 tries solely due to the veteran Cassel's incompetence; they just never had a chance to win due to his incompetence. But he's not the only "ultimate no-no'' that has doomed this season.
One continuing error would be to view Moore as the savior. That's a ridiculous idea as it applies to his likely career trajectory; what Dallas will look for here as it plays out the season string is whether Moore — the former Boise State star who might make up for what he lacks in measurables with his overflowing intangibles — can be a No. 2 or No. 3 QB for the future.
"I've been 6-feet, 200 pounds for a long time,'' said Moore, who was 50-3 as a starter at Boise State but may be exaggerating those other numbers. "I know who I am. I'm not going to change overnight, so we'll see what happens.''
Was Moore "good'' by NFL standards? Not really.
But was his line -- 15-of-25 for 158 yards, a TD and three picks — good by 2015 Cowboys standards? Yes, really.
https://twitter.com/swishclips/status/678410943211151361
Should the possibility of paperboy Moore being competent block Dallas from considering a QB when it makes what right now could be a top-four overall pick in the 2016 NFL Draft? Absolutely not. I say this laughingly and lovingly but ... while he will be Dallas' starter to close this season ...
https://twitter.com/fishsports/status/678947637651898369
... don't be a Kellen Moore-on.
The Cowboys will debate whether this draft (and free agency, too) should be about accumulating more weapons around Tony Romo when he returns next year from a twice-broken collarbone. ... or whether Romo's heir must be found. I'll simply say this for now: Not employing a "Romo Jr.'' puts this franchise (and any franchise) in peril of re-experiencing 2015.
And you do not want to re-experience 2015.
"My plan was for us to have it all together at this time,'' owner Jerry Jones said. "We would be peaking right now. ... The reality is, we'll play Buffalo and Washington, then that old cold, hard light of day hits you that you're not getting to play any more.''
More cold, hard reality: Dallas is eliminated from the NFL playoff race, a hard thing to accomplish so early in an NFC East that nobody seems very capable of earning. ... Romo will likely go on IR, with no reason to do otherwise. ... Gavin Escobar trudged around the Saturday night locker room on crutches, the result of a season-ending torn Achilles. ... Dez Bryant's season, marred by injury, stupid fake controversy and poor QB play, is totaling numbers (31 catches for 401 yards and three TDs) that make him look nothing like Dez Bryant. ... And sound defensive effort led by kids Demarcus Lawrence and Byron Jones along with vet Sean Lee is being wasted.
"I'm proud to be a part of this football team,'' coach Jason Garrett said, and if he means "proud because for the most part his team hasn't quit on him,'' he's onto something. Of course, a cynic might suggest there are still two opportunities for the players to do so, still more opportunities for the media to clam that somebody's coaching head should roll (which head doesn't matter, just cut one off!!), still additional chances for more bloopers and oopsies and FUBARs.
At the same time, there are also two more opportunities to evaluate kids like Terrence Mitchell, the first Cowboys cornerback to record an interception since, I believe, Everson Walls. (Even more interesting than the actual pick is the supposedly robotic Garrett's own personal "concussion protocol'' on the kid) ...
https://twitter.com/fishsports/status/678419436865372160
There is still time to invest in the development of Bionic Byron ... and maybe the development of a strain of DNA that can allow us all to do this ...
https://twitter.com/ProFootballDoc/status/678413832272764928
And team sack leader Lawrence ...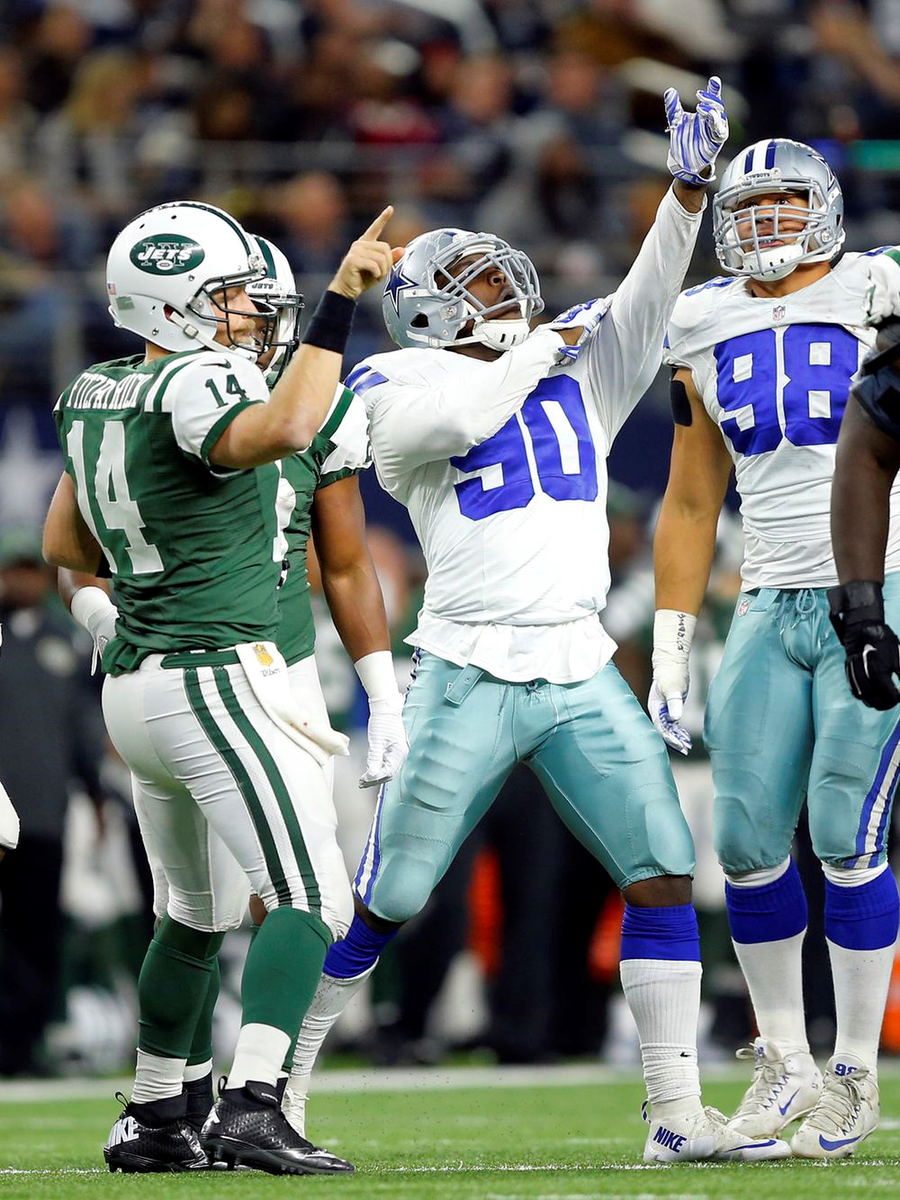 And rookie left guard La'el Collins, continuing to join Darren McFadden on Dallas' 4x40 relay team, something noted by many in the Green Bay game 
https://twitter.com/NFL_Cowboys247/status/676763729329958912
but talked about inside Valley Ranch before and since, including against the Jets. ...
https://twitter.com/DCFilmRoom/status/678980265864220672
I can argue that Dallas' foundation is strong. The management team is mostly going nowhere. (Part of that is because so many of them are named "Jones,'' part of that is the fingers-crossed hope that personnel boss Will McClay doesn't get lured away.) Garrett, Marinelli and Linehan are not evn a full season into their new contracts.]; no changes there. And the roster remains largely the same as the one that won 13 games a year ago, with dozens of potential problems solved (don't take the Dan Bailey types around here for granted) and other problems posing potential solutions (Greg Hardy back at the right price?).
None of that helps you today, of course, as you join Jerry in licking Cowboys wounds. "Games like that, we've managed to figure out ways to lose 'em rather than win 'em,'' he said. "You've just got to say we're not good enough to win those games.''
And then you move on ... to an offseseason you hope is devoid of more "ultimate no-no's.''