10. Dez Bryant continued progressing towards looking like his old self, especially after Kellen Moore came into Saturday's 19-16 home loss to the Jets. Dez finished with 4 catches for 50 yards and a score. However, he would've had another touchdown earlier in the game if not for a poorly-thrown pass from Cassel. Dez's touchdown was just his 3rd this season but he still leads the NFL in TD catches since 2013 with 32. He also leads the NFL in TD catches since 2012 with 44.
9. As if you didn't know yet, Matt Cassel is not good at football.
In fact, he was so bad that he was benched for a guy who had never played an NFL snap.
As I mentioned before, Cassel had a chance to hit Dez for a TD at the goalline but threw too wide, too hard and too soon. His timing and ball placement was terrible, which is nothing new. His interception was dreadful. He was trying to throw the ball away but didn't put nearly enough on it, throwing it right into the arms of the waiting defender. There wasn't a Cowboys player within 15 yards. Cassel also loses his balance far too often. He stumbled on a hand off and then again before a pass. Later, he gave up a 19-yard sack after running backwards to try and avoid it. Cassel was playing like he has two left hands AND two left feet. It's actually quite sad to watch him and
this team commit so many "Ultimate No-No's,'' as Fish breaks down here
.
8. Meanwhile, Kellen Moore really impressed me. He wasn't perfect by any means, but it was also his first regular-season action in his career so mistakes are expected. Moore threw three interceptions but one was a Hail Mary at the end of the game. The other two weren't necessarily bad throws - they had more to do with not seeing the defenders, especially on his endzone interception. However, even on his interceptions, Moore was accurate and decisive. He just needs to be more aware of where defenders are on the field but that can be fixed by watching film.
Moore showed poise, control, decisiveness, accuracy and the ability to go through his progressions - all of which are things that we didn't see with Cassel or Weeden. He helped his WR's out by leading them and throwing them open - which is why he was able to provide a little juice to the offense. The other QB's didn't do their WR's any favors.
I'm really interested to see how Moore performs with a full week preparing with the first-team offense, as will be the case with coach Jason Garrett's official announcement that Moore is the guy in Buffalo this week.
7. La'el Collins still needs plenty of work but the big rookie is so much fun to watch. He has all of the potential to become a Pro Bowl guard one day. Collins bulldozed through a guy on McFadden's big run that was called back due to a block in the back by Martin. He also chased down and body-slammed the defender who picked off Matt Cassel. This kid plays with so much passion and attitude and he's only going to get better. For those of us searching for 2015 high notes, getting him in the "draft'' without giving up a pick is about as high as it gets.
6. Cole Beasley had a couple of drops earlier but made up for it with a huge catch and conversion on 3rd down and then did the same on 4th down in the 4th quarter. Those plays set up the game-tying field goal. Beasley hasn't had a huge impact this year because these backups QB's haven't been able to find him like Romo does. However, now that he has a QB who has the ability to go through progressions in Moore, I wonder if he'll continue getting more looks over these final games.
5. Lucky Whitehead looks more and more like he could be a top-tier return man for the Cowboys. He shows toughness and good vision on his returns - returning all but 1 of his 5 kickoffs for over 20 yards - including a 31-yard return. He also had a 33 yard run on a reverse as, as Fish has noted, this offense tries to find its "Percy Harvin/Tavon Austin type.''
That's lofty stuff. Lucky is not that. He's carving out a nice role for himself on this team and the Cowboys are getting more creative in the way that they're using him, though. Whitehead may be the next undrafted gem uncovered by this team.
4. Demarcus Lawrence had yet another a great game. ... and is becoming a guy we simply have to write about every week.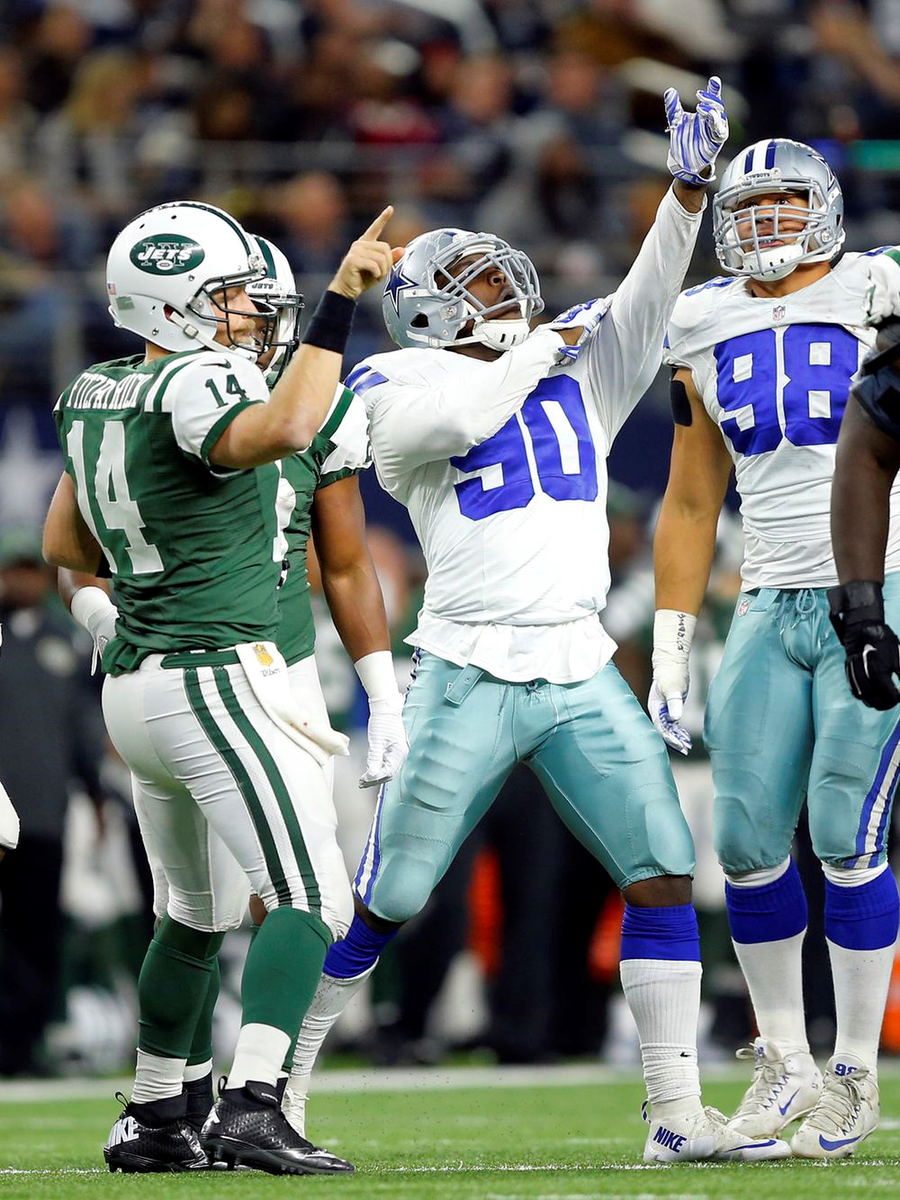 He has been the most productive and consistent player on this defense over the secnd half of the season. He has 6 sacks in his last 6 games. Against the Jets, Lawrence had 4 tackles for a loss and a sack. He also made the 4th down stop near the goalline to turn the ball over on downs for Dallas early in the game. Lawrence is becoming the player the Cowboys had hoped he'd be. ... "The QB Hunter'' Will McClay said he'd be.
3. The Cowboys other young pass rusher - Randy Gregory - is still working to record his first sack but he's getting closer and closer. He was causing big problems for both OT's in this game and got a big QB hit on Fitzpatrick that nearly led to an interception. Much like Lawrence earlier in the season, Gregory might disappoint some fans because of his lack of big numbers but he's still making an impact even if it doesn't show up on the stat sheet.
2. The defense had five - I repeat - FIVE "near takeaways'' in this game. That's the story of the season. They've gotten so close to getting turnovers but they haven't gotten the bounces that they got in 2014. An unlikely player, however, did come away with an interception. Terrance Mitchell, who was just promoted off the practice squad, recorded the first interception by a Cowboys cornerback since Week 14 of last season.
I guess since he's new he hasn't caught the anti-turnover bug that the rest of the defense is infected with.
1. This is the 3rd straight season that Dan Bailey has made 5+ FG's of 50+ yards. No other kicker in franchise history has done that even once. Also, Dan Bailey has the highest field goal % this season among all kickers with at least 18 field-goal attempts and is the only kicker who remains perfect on FG attempts from 50+ yards with at least 5 attempts.
The Cowboys could use some positivity so I say it loudly: Get this man to the Pro Bowl already!