10: Buffalo's rank for most sacks surrendered -- Through 14 games, the Bills have let their passers get dropped 37 times by opposing defenses, tied with the Chargers for the 10th-most in the NFL. There are only two playoff-bound teams in the top-10 with Buffalo, and that's Seattle and Minnesota. Though Dallas has been able to get to opposing quarterbacks five times over the past three weeks, "good" for the eighth-fewest in that span, they need to make sure they don't have a repeat performance with Buffalo like they had with Seattle where they failed to sack Russell Wilson the entire game. While Tyrod Taylor is a mobile passer, making him throw from uncomfortable platforms is still the key to victory.
And the Cowboys defensive front, led by Greg Hardy, has financial reasons to rack up numbers here.
9: Tyrod Taylor's rank for net yards per pass attempt -- The former understudy of Joe Flacco has put together a 5-6 record in Buffalo and produced quarterback play not seen since the days of Drew Bledsoe or Jim Kelly, depending on the statistics you look at. One area that puts him with contemporaries is net yards per pass attempt, where Taylor is able to garner 6.76 per play. Only Super Bowl MVPs, playoff winners, or postseason threats are ahead of the former Hokie. Dallas will be down a cornerback in Morris Claiborne, so the rest of the cobbled-together secondary featuring Terrance Mitchell will have to lock down receivers Sammy Watkins and Robert Woods along with tight end Charles Clay.
8: Number of false starts opposing offenses have committed at Ralph Wilson Stadium -- While not quite CenturyLink Field, Arrowhead Stadium, or even AT&T Stadium (shh... don't tell our naysaying colleagues it is the site for fifth-most opponent false starts in the league -- we have to keep certain narratives alive so some folks can appear to be aflame though their fire for football knowledge has burned out long ago), The Ralph is still a formidable venue when it comes to opposing offenses trying to communicate pre-snap. Bills opponents have false started eight times on the road, which ties Buffalo with Minnesota, Tampa Bay, Cincinnati, and Denver for eight-most in the league. Kellen Moore, the Boise State hero who will be making his first start for Dallas at quarterback, needs to remain calm and avoid frustration as the faithful, long-suffering Bills fans encourage his offensive line to jump offsides.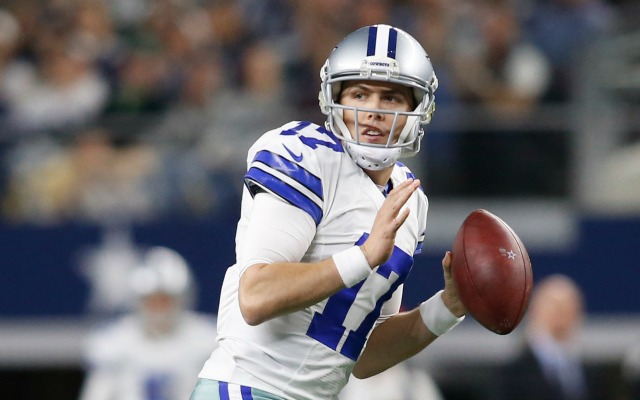 7: The Cowboys offensive rank in yards per carry -- Despite Bill Callahan going to Washington, DeMarco to Philly, Joe Randle to jail, and Christine Michael back to Seattle, the Cowboys offense has somehow managed to 4.5 yards per carry, good for seventh-best in the NFL. And the team isn't living off the "glory days" of Randle. From Weeks 7-15, when the committee dissolved and Darren McFadden became the sovereign running back, Dallas has managed 4.8 yards per carry, good for fourth-best in the NFL. Only Tampa Bay, Kansas City, and Buffalo have done better. Speaking of the Bills, their run defense is 20th in the NFL at 4.2 yards per carry, and they have given up 4.2 yards per carry over the past three games, good for the 18th-best in the league. Against Buffalo, Moore's best chance to win may not be his receivers' hands as much as his running backs' legs.
Much credit, of course, goes to the O-line, which gets three reps to the Pro Bowl along with kicker Dan Bailey this year.
6: Number of games Dez Bryant has missed this year -- The two-time Pro Bowler commands more attention by a defense than Kate Upton photos by lonely college freshmen. Weirdly, the Cowboys offense averaged fewer points with Bryant on the field at 16.7 compared to the 18.8 when Bryant was on the field. Some of that has to do with who was throwing Bryant the ball; Romo's direction accounted for scores of 27, 24, and 14 while Cassel and Moore accounted for 12, 27, 6, 19, 7, and 16. The Cowboys have yet to have a 300-yard passing performance since Romo's 356 on Opening Night. It's no coincidence the dearth has occurred while Bryant has been out or hobbled. To say other receivers need to step up is borderline platitudinous and hollow given that Terrance Williams, Devin Street, and Cole Beasley failed to do so in Bryant's first absence.
By the way, Fish saw this coming days ago ... 
https://twitter.com/fishsports/status/680125318334554113
No practicing. No playing. Yes, Organic Tanking?
5: Number of three-plus turnover games Dallas has --  Dallas will be on its fourth quarterback of the year today in Buffalo. So far, Moore has proven he can't even overcome his own three turnovers to help save the team. The Cowboys' two wins came at the hands of Romo under center in Week One against New York and later with Cassel's hands under center in Washington. With their fourth field general of the season making his first start on the road in December in the Northeast, Dallas can't afford to give free possessions to the Bills, who have 56 points off takeaways this season, good for 14th-best league-wide. The Cowboys have to take care of the ball and cut out the carelessness even with two games left and no more playoff hopes.
Want more numbers on the QBs, the coaches, the refs, the game? Dig into "Cowboys 100'' here.
4: Most rushing touchdowns by a Cowboys RB in 2015 -- Guess who still holds that mark: none other than the notorious Joe Randle. Despite being off the roster since late October, the Kansas Knucklehead still leads Dallas with the most rushing touchdowns. The more statistics Joe Randle leads, the more of a reminder it is to Cowboys fans the front office mismanaged arguably the second-most important offensive job on the team. The good news is second place belongs to McFadden with three touchdowns. The eight-year pro hasn't seen the end zone since Monday Night Football in Washington, but the other two times he saw paydirt was without Bryant on the field. When asked to carry the load, McFadden has proven in 2015 he is capable.
"Coming in,'' Darren said, "I figured it was going to be like a one-two punch and as the year went on it kind of fell into my lap to be the main back and I just want to take full advantage of the opportunity that I had.''
3: Number of catches for 50 yards or more Sammy Watkins has -- Cowboys owner Jerry Jones has emphasized during the Romo-less sojourn how much a deep pass play is equivalent to a defensive takeaway in its impact. It goes both ways. Such plays can also dishearten a defense. While Rod Marinelli's defense has only surrendered two pass plays of 50 yards or greater, the attention to where Watkins is heightens the secondary. With running back LeSean McCoy out for today's game, the Cowboys should expect quarterback Tyrod Taylor to throw more and to have Watkins in play, especially on first down where the Bills have targeted Watkins deep on 2/3 of his 50-plus plays.
2: Number of teams tied for dead last in red zone conversion -- Naturally, one of those teams is Dallas and the other club happens to be Cleveland. Both clubs are knotted at 42.5 percent and on pace for the number one overall pick in April's draft. The Cowboys managed four red zone trips last week against the Jets and only netted one touchdown, a 10-yard pass from Kellen Moore to Dez Bryant. Last week, Dallas' 25-percent conversion rate in the red zone put them at fourth-worst in the league. Even if you factor out Matt Cassel's lone red-zone trip, the 33.3 percent rate under Moore would only bump Dallas up to fifth-worst along with Cleveland, Oakland, Houston, and New England. To beat Buffalo, Dallas must make the most of red zone trips with Moore touchdowns and less field goals.
1: Kellen Moore's first career start -- The 2010 Heisman Finalist will make his first ever start in the NFL and also become the first ever Boise State alumnus to do so. Though in his fourth year in the NFL, Moore is essentially a rookie.
Bills defensive coordinator Dennis Thurman has posted a 4-2 record against rookie quarterbacks, though they have managed a 91.9 passer rating. On average, a rookie quarterback against Thurman's defenses go 23/38 for 276 yards, two touchdowns, an interception, and take four sacks. When an exotic blitz comes, Moore will have to know where his hot route is or if he should take the sack and live to throw another down.
null