ProFootballTalk.com summarized Dallas' 16-6 loss Sunday to the Bills by letting hang in the cold, wet Buffalo air the notion that coach Jason Garrett might-could (as we say in Texas) get fired. 
My take from it? With great power comes ... great irresponsibility?
What's PFT's deal with the "story,'' which was published seconds after Dallas' loss in Buffalo, meaning it wasn't really researched or reflective of the outcome at all, but rather something that sat in a filing cabinet waiting to be used in a vulture-like manner? There are no sources behind Mike Florio's speculative tale, unless they are housed secretly in the same place Florio's infamous "Dez' Walmart Unicorn" is stabled.
There is, instead, a bloodlust that didn't come from the Cowboys' Jerry Jones because the owner broke from tradition and bypassed his postgame locker-room speaking engagement, except to say to me, politely:
"Gotta roll out, Fish."
Famous last words? I don't think so. Jones has an ink's-still-relatively-fresh contract with Garrett with four years and around $20 million remaining on it. This is no time for Jerry to violate his own advice he's given me repeatedly over the course of 26 years: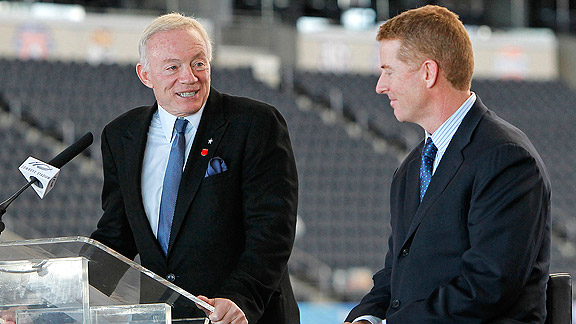 "Never let your money get mad."
Jerry just did his 105.3 The Fan radio show on Tuesday and going into it I acknowledged: Maybe he will tap-dance around the question of RedBall's job security or maybe he will dangle  suggestion out there, Florio-style. But what he must do most of all is let this organization get its nose back to the grindstone - and that includes Jerry's own nose, which should sniff around to detect whether this remade roster featuring a large core of talented (but wounded) "Garrett Guys" deserve blame for being inept or credit for battling in the face of ineptitude.
And which direction did Jerry go?
"Change for change sake?'' Jones said. "No. That's not going to happen.  But ... we should have 'coached 'em up' enough ... Some of these games we could've won.''
How to read that? The owner is putting heat on Garrett and the coaching staff ... while believing Garrett is still the right man to make this thing grow in the right direction.
Still undecided? Or you don't like Jerry Poppins gibberish? Or you don't want Garrett's answer here because you fear it'll be "process"" pablum? Fine. Then you (and Jerry) should hear the answers I received when talking to Garrett's lieutenants.                         
What  offensive coordinator Scott Linehan told me: "It's a plus (that) our guys have never blinked or given up. That's the culture here. It's disappointing to have such a great effort and not be able to get the results. I don't look at it as a negative. I look at it as it's a disappointment. We'll learn from it. There will be a point when we look back and say, 'We're going to be battled-tested' from having gone through hard times as a football team. It's not a lack of preparation or effort. We've got to do a better job of excuting and get better results and that stands on all of us. As far as the guys playing their butts off all year, regardless of the circumstances? That's been a big plus for us."
What defensive coordinator Rod Marinelli told me: "That's never been a factor. They play hard, all year long. I don't know that anybody's played as hard in this league as our guys do. It comes down to execution. And that's coaches and players.''
In a way, all of that matters more than whether Kellen Moore passing to Brice Butler has a future, matters more than the problems of an offense that can't score, matters more than the problems of a defense that habitually comes up one stop short. I would suggest that Jerry and Stephen Jones are very much involved in what I've called "Organic Tanking" which saw Dez Bryant ordered to stay home from Buffalo and saw Jeremy Mincey as a healthy scratch for the game. ... and now, if they do the same Sunday in the finally against visiting Washington, they likely look into not only the advantageous last-place schedule for 2016 but also likely the No. 4 pick in the 2016 Draft ... while a win coud drop Dallas to the No. 8 spot.
This mindset exists at Valley Ranch, I think, even as they "lose with valor" along a frustrating path to 4-12 -- and even as Jason Witten rightly pitches another mindset, one of how valuable it is to win no matter the circumstances. But Linehan, Marinelli, Dez and Mincey understand and embody both mindsets, a mental combo platter that cannot be comprehended by media members willing to click-whore their way to easy and even wrongful conclusions.
There is value in me keeping my
"Never-Say-Never'' Membership Card in my wallet. But as it relates to the matter of the feeling on Garrett inside of Valley Ranch? Some people get it. Some people don't. I trust Jerry Jones' continuing stewardship of the Cowboys will be informed by the former and not the latter.