Thanks to our great sponsors!
Our friends Bill and Woody at LS Wealth Strategies have been absolutely vital to aiding the financial health of our CHQ family with wisdom and experience. Our highest reccomendation to LS Wealth Strategies, who help us bring you Cowboys coverage and can help you in so many ways. Please give them a click or a call (972-702-6080) when you are ready to take an important step in the right financial direction.
We'd also love to see you on New Year's Weekend for some partying at The Maverick Bar, our place at 1616 Hebron in Carrollton. All the Cowboys and college football games, all the Mavs and Stars games, 30 new HDTVs including a 200-inch big screen, plus live music starting tonight at all weekend ... oh, and the best Texas-flavored burgers in DFW. C'mon in! And we welcome a great relationship with the finest dealer of fine automobiles in the Metroplex, and recognized national as such, in PM Standley Motorcars. We're excited to be affiliated with a classic brand featuring modern innovation ... and a family business as well! Check out their incredible showroom on the PM Standley website!
 foot and ankle.
"We anticipate him having something done to both the foot and the ankle here in the next week or so,'' coach Jason Garrett said.
The Cowboys are suggesting Dez can be fine for offseason workouts in April. CHQ is a bit worried about that after hearing Fish on 105.3 The Fan say that even if a "re-do" surgery of the fractured fifth metatarsal in his right foot was anticipated all along and normal, six months is still the preferred rest/rehab when a "re-do" including another graft to connect the bone is performed. 
Did Bryant come back too early? Said Garrett: "Whenever a player is coming back from an injury there are certain thresholds he must overcome and we go through that process very thoughtfully with everybody. We did that with Dez."
Are there serious concerns about Dez' future?  The Cowboys don't seem alarmed, though there is no such thing as "minor'' surgery here (though  if the ankle surgery is all about bone spurs, that's not major). Dez finishes the season with 31 catches for 401 yards and three touchdowns, all career-lows ... but I'm a bright-side guy, so ... there's an opportunity here. Just as there was in Buffalo, where Brice Butler looked like Miles Austin - and not just because he wears the same number. Butler showed speed, polished routes, ability to make tough catches and strong hands. He set a new career high in receptions and receiving yards vs Buffalo. The Cowboys may have found a keeper. It's also worth mentioning that Butler has been plagued with the same hamstring injuries that Austin dealt with throughout his career so lets hope they aren't a lingering issue. ... just as we hope Dez doesn't have one.
9. Sean Lee put together another impressive performance. Lee finished with a season-high 15 tackles, including 11 solo stops, along with 2 tackles for a loss and half a sack. Lee was also in on a big stop on 3rd and 2 in the 2nd quarter. It's a crime that Lee didn't make the Pro Bowl but it's not a surprise. It's tough for 4-3 OLB's to get in because of the big numbers that some 3-4 OLB's put up. However, I wouldn't be surprised if Lee makes it as an alternate. He certainly deserves it. ... and Lee is emblematic of the effort this team gives. Fire Garrett? You'd better read Cowboys Premium to see what Linehan and Marinelli tell Fish before you fire anybody.
8. Meanwhile, the Cowboys other star LB, Rolando McClain, had a rough game. He missed several tackles and was taking bad angles all day. I really wish he would be more consistent but that's what you get with McClain. He'll play like the best LB in the NFL in some games but in others he's a non-factor. Gotta take the negatives with the positives. ... or, as he's about to become a free agent, maybe you don't have to take 'em.
7. Demarcus Lawrence recorded yet another sack - giving him at least 1 in each of the last 4 games and 7 in the last 7 games. He increased his team-lead to 8 sacks on the year. Lawrence is the first Cowboys pass rusher to record a full sack in 4 consecutive games since Demarcus Ware did it in 2010. If Randy Gregory can make a similar jump in his 2nd season, the Cowboys could have a really impressive duo of young edge rushers moving forward.
And of course you're not done yet counting on Greg Hardy, in the final week of his one-year deal with Dallas and 2 sacks away from a $500,000 bonus. Fish has reported that both sides might like to continue this marriage, but first, Hardy needs to get healthy. He missed Wednesday's workout due to illness, part of the Cowboys-Redskins practice/injury report:
6. Barry Church and JJ Wilcox missed a few tackles, as usual, but they also made some of their more impressive plays this season. Both players were physical and made some nice tackles. When Wilcox doesn't whiff, he's lays guys out. Church can be a big hitter too, which he showed when he punched out the ball to force a fumble that was recovered by Brandon Carr.
Church on Sunday in Buffalo told Fish he'd broken him arm but that no surgery is required. Nevertheless, IR is required. He and DL David Irving (wrist) are done, with the Cowboys making a trio of "JV-to-Varsity'' moves:
5. Up until last week, the Cowboys had gone a full 16 games without an interception by a cornerback. However, in the last 2 games they've had 2 interceptions by CB's who were just brought up from the practice squad. Terrance Mitchell had one last week and Deji Olatoye came away with one in Buffalo- both of which were the first career INT's for each player. Olatoye, I thought, had some bad plays vs Buffalo and let guys get too open on a couple of occasions but he also showed his raw talent and potential. It's nice to see these young guys making the most of their opportunities. ... though the bad news is when you have some positive involvement in KD's "Toxic Plays'' formula, you need to succeed. Check that out here.
4. Terrance Williams didn't show much early in the game but he made some big plays later on - showing impressive moves in the open field to convert on 3rd and 19. He later made an impressive diving sideline catch that was negated by penalty. Williams will need to continue making these kind of plays, however, as long as Butler is playing at a high level. That 2nd WR spot could be up for grabs next training camp.
3. Darren McFadden set a new career high in single season rushing attempts vs the Bills. He is at 227 rushes this year. His previous high was 223 set in 2010. He also has the 2nd highest single season yardage of his career. He was just 1 yard away from recording his 6th 100 yard game of the year. Turbin was impressive too in his limited carries. Both RB's are averaging 4.4 yards per carry. Not bad for a team that is playing without it's starting QB where defenses can zero in on stopping the run.
2. Lucky Whitehead has shown off his explosive playmaking ability on special teams over recent weeks. He did it vs Buffalo too when he returned a punt for 28 yards. However, Whitehead also showed why the Cowboys were hesitant to give him the return man job when he fumbled a kickoff late in the 4th quarter to seal the win for the Bills. Whitehead has shown all the tools to be a top-tier return man in the NFL but he needs to limit these kind of mistakes if he wants to live up to that potential.
1. Dan Bailey continued his impressive season by making 2 field goals, including a 46 yarder. However, he missed his first attempt from 50+ yards this season. He had made his previous 5 attempts from that distance and has made 80% of his 50+ yard FG attempts in the last 3 years.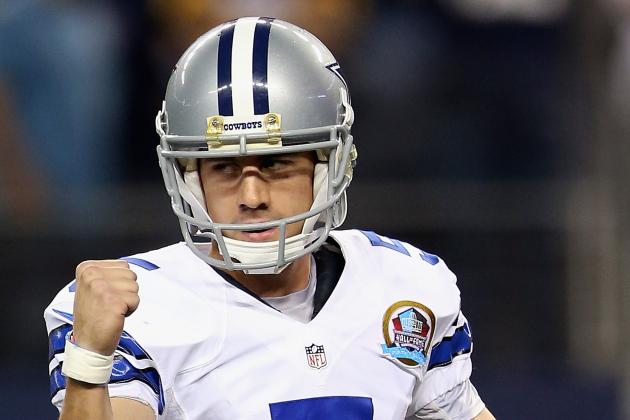 null