Draft Profile: Laquon Treadwell – Ole Miss
Background
High School Career
Laquon Treadwell hails from Crete-Monee High School in Crete, Illinois; a suburb outside of Chicago. At Crete, he would eventually become the second leading receiver in Illinois prep football history with 214 catches for 3,626 yards and 41 touchdowns. 
Treadwell would finish his high school career as a state champion, and a five star recruit by Scout.com, Rivals.com, 247sports and Max Preps. Treadwell would eventually pick Ole Miss as his college destination over the likes of Oklahoma State, and the annual recruiting powerhouse Oklahoma Sooners. 
College Career
At Ole Miss, Treadwell was part of a historic recruiting class that would begin to change the perception of Rebel Football around the country from SEC football cellar-dwellers, to national contenders. Along with consensus No. 1 recruit Robert Nkemdiche, top tackle prospect Laremy Tunsil, and big-time safety prospect Tony Conner, Treadwell helped lead the Rebels to a 27-12 record, four consecutive bowl berths, two 'New Years Six' bowl appearances, and a Sugar Bowl Victory in 2015. 
In 2014, Treadwell and the Rebels were on their way to a historic season, when against Auburn on November 1st, he would suffer a horrific leg injury while attempting to take a lead late in the game. Treadwell would break his tibia and dislocate his ankle on the play, ending his season and the Rebels hope at a national title on a single play. 
Defying all odds, Treadwell would fight his way back to health for the start of the 2015 campaign, and comeback in even better shape than before.
As the unquestioned leader of the 2015 Ole Miss team, Treadwell would take the Rebels to a 48-20 Sugar Bowl Victory over the Oklahoma State Cowboys in which he would pull in six catches for 71 yards and three touchdowns, including a fantastic one handed grab in the end zone. 
Measurables
Strengths
Mega Quon, as Ole Miss fans know him, stands 6'2 and weighs 210 pounds. He possesses big hands and long arms that allow him to go up and snatch balls out of the air like a vacuum, which gives him an enormous catch radius on the field. 
Run blocking, while not always a popular trait in today's NFL wide receiver, is one of Treadwell's greatest strengths. Treadwell loves to get out on the edge and get physical with defenders, and has proven his merit as a blocker throughout his career
Treadwell is known as an elite-level athletic specimen that can jump out of the gym, and who possesses great strength and body control. He excels at pulling down balls in traffic and getting off the line, even against more the more physical corners at the college level. He is very difficult to bring down once he gets the ball in his hands, and he has the ability to punish smaller defensive backs in the open field 
Lastly, Laquon has an immensely high football IQ, and has a knack for being in the right place at the right time. He is constantly in sync with his quarterbacks tendencies and functions at his best while improvising on the field. 
Weaknesses
One knock against Treadwell is his speed. While not slow by any means, he doesn't posses the elite level speed that most NFL draft scouts covet in first round wide receivers. He also has been known to drop passes while turning his head to run before he has the ball in his hands on occasion. 
While a solid route runner, Treadwell needs to polish that part of his game up a bit to appease NFL scouts at the combine. 
Right, wrong or indifferently, Treadwell's gruesome injury from 2014 will be questioned as a weakness by NFL scouts.
NFL Comparison 
Dez Bryant – Like Bryant, Laquon is a big physical force that can outmatch most defensive backs, and impose his will on the field. He also has a similar drive and passion for the game, as evidence by the way he led both his high school and college programs to success. While not as emotionally volatile as Bryant, Treadwell is a fierce competitor that will do anything in his power to put his team in a position to win. 
Draft Stock
Treadwell is seen as a sure-fire high- to mid-first-round NFL prospect, and has been projected anywhere from a top-five to top-20 pick in this years Draft.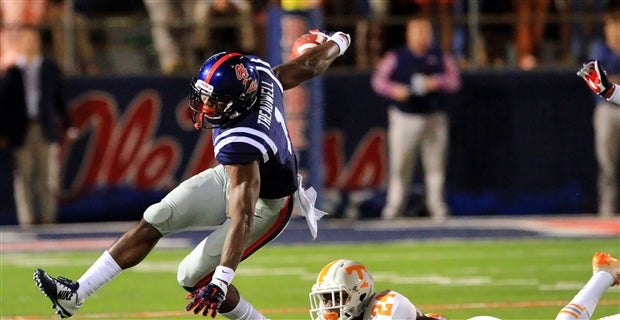 From the Valley Ranch perspective? No way he lasts to 20, and "yes'' to the idea of him being a consideration as Dallas picks No. 4 overall. Does Treadwell fill a "need''? Is "need'' the first thing Dallas should lean to? Yes, and then no. Pairing a "second Dez'' with in-place All-Pro Dez Bryant is sensible in the sense that it gives Tony Romo one most monster weapon that keeps open his window of contention. At the same time, smart scouts don't advocate "need,'' wishing for "BPA'' -- or as Fish calls it, "B.A.A.'' Does Laquon Treadwell represent "Best Available Player/Athlete'' at No. 4? At this early stage, for the Cowboys, the answer is "yes,'' he's a consideration here.
null