Draft Profile: Laremy Tunsil – Ole Miss
SCOUTING TARGET: LAREMY TUNSIL
This decision will mark the purest test of the Cowboys and their devotion to "BPA'' (or Fish's "B.A.A.'' or whatever you wish to label the concept that you do your best to simply take the best player, virtually regardless of position. Oh, the Cowboys' decision involving Jared Goff and the QBs comes under this heading. And any Dallas idea of pairing Laquon Treadwell with Dez Bryant does, too.
But Tony Romo's circumstances opens the avenue for an heir at QB. And adding weaponry for Romo in the form of a wide receiver -- even though he already throws to one great one -- is not at all without precedent.
But if you already have Tyron, La'el, Frederick and Martin -- blue-chippers all -- plus the fifth starter, incumbent Doug Free (the linemen room's leader) being pushed by another prized kid in 2015 third-rounder Chaz Green, oh and capable pros Leary and Bernardeau on your bench ... do you really need another one?
https://twitter.com/BryanBroaddus/status/686897138488356865
Before we get there ...
BACKGROUND
High School Career
Laremy Tunsil played his high school football at Columbia High School in Lake City, Florida, where he was a two-time All-State offensive lineman at the 6A level. At Columbia, Tunsil was teammates with Baltimore Ravens defensive lineman Timmy Jernigan, which helped in his development early in his career. 
As a recruit, Tunsil was considered a five-star guy and the top offensive tackle prospect in the 2013 class by most recruiting services. He would pick Ole Miss over Georgia and Florida State, joining fellow first-round prospects Robert Nkemdiche and Laquon Treadwell in Oxford. 
College Career
As a freshman at Ole Miss, Tunsil, along with Nkemdiche and Treadwell, helped change the perception of Ole Miss on a national level. His recruitment was considered a coup for the Rebels, who would plat Laremy at left tackle from day one. Starting nine of 13 games as a true freshman, and helping lead the Rebels to an 8-5 record and a victory in the Music City Bowl, Tunsil would go on to earn earn Freshman All-SEC and Freshman All-American accolades, allowing only a single sack as a fulltime starter in the SEC as a true freshman.
His sophomore season was perhaps Tunsil's best and yet his unluckiest, as he started all 11 games in which he played, missing two due to a partially torn bicep, and then breaking his fibula against TCU in the Peach Bowl. Tunsil would be named first team All-SEC by the Associated Press, as well as taking home second-team All-American honors. Tunsil would help Ole Miss to a 9-4 record and an Access Bowl birth, with the Rebels finishing the season ranked 17th in the country. 
After his devastating injury in the Peach Bowl, Tunsil spent his off-season working to regain his health in preparation for his junior year. However, before the season began, Tunsil's stepfather accused him of accepting improper benefits. The accusation would cause him to miss the first seven games of the 2015 season, after he was found to have kept a loaner vehicle from a local car dealership past the allotted time, among a myriad of other minor infractions. Tunsil would return to the field and immediately face one of the best pass-rushers in the country in Texas A&M's Myles Garrett, who he completely dominated from the opening snap of the football game. 
Tunsil would go on to a great second half of the season, and help lead the Rebels to a 10-3 record and a Sugar Bowl Victory. In the Sugar Bowl, Tunsil would shut down top passing prospect Emmanuel Ogbah (who has a first round NFL projection), while also catching a touchdown pass at the end of the first half. Due to the suspension, Tunsil was ineligible for any post-season honors. 
MEASURABLES
Strengths
At 6'5 305 pounds, Tunsil not only looks the part, but plays the part as well. He has tremendous upper-body strength to go along with cat-like quickness and agility. His is not only extremely light on his feet, but does well to stay balanced and squared to defenders as well. 
Tunsil boasts a devastating punch at the point of attack, knocking back defenders at will. Ole Miss also showed a marked improvement in their rushing attack upon Tunsil's return in 2015. Tunsil is a devastating run blocker, using his strength and leverage to dominate defenders at the point of attack. 
Weaknesses
It's hard to find very many weaknesses in Laremy Tunsil's game. After only allowing two sacks in three years in the SEC against some of the best defensive lines in the country, Tunsil's record speaks for itself. 
He does have a tendency to get be over-eager from time to time, according to some NFL scouts. ... but that almost feels like folks searching too hard for flaws.
NFL Comparison 
Tyron Smith. Both players are physically dominant at the point of attack, especially in the run game. Like Smith, Tunsil is also a tremendous athlete and a dominant pass-blocker at the left tackle spot. In our opinion, the similarity in their tape at this point in their careers is strikingly similar. 
Draft Stock
Tunsil is seen as sure-fire top-three talent in this years NFL Draft. Once scouts and GM's see him at the combine, this thought will be cemented in stone. ... although, "top-three talent'' isn't the same as "top-three pick.'' Which is where BPA and need start creeping into teams' minds.
TUNSIL'S COWBOYS FIT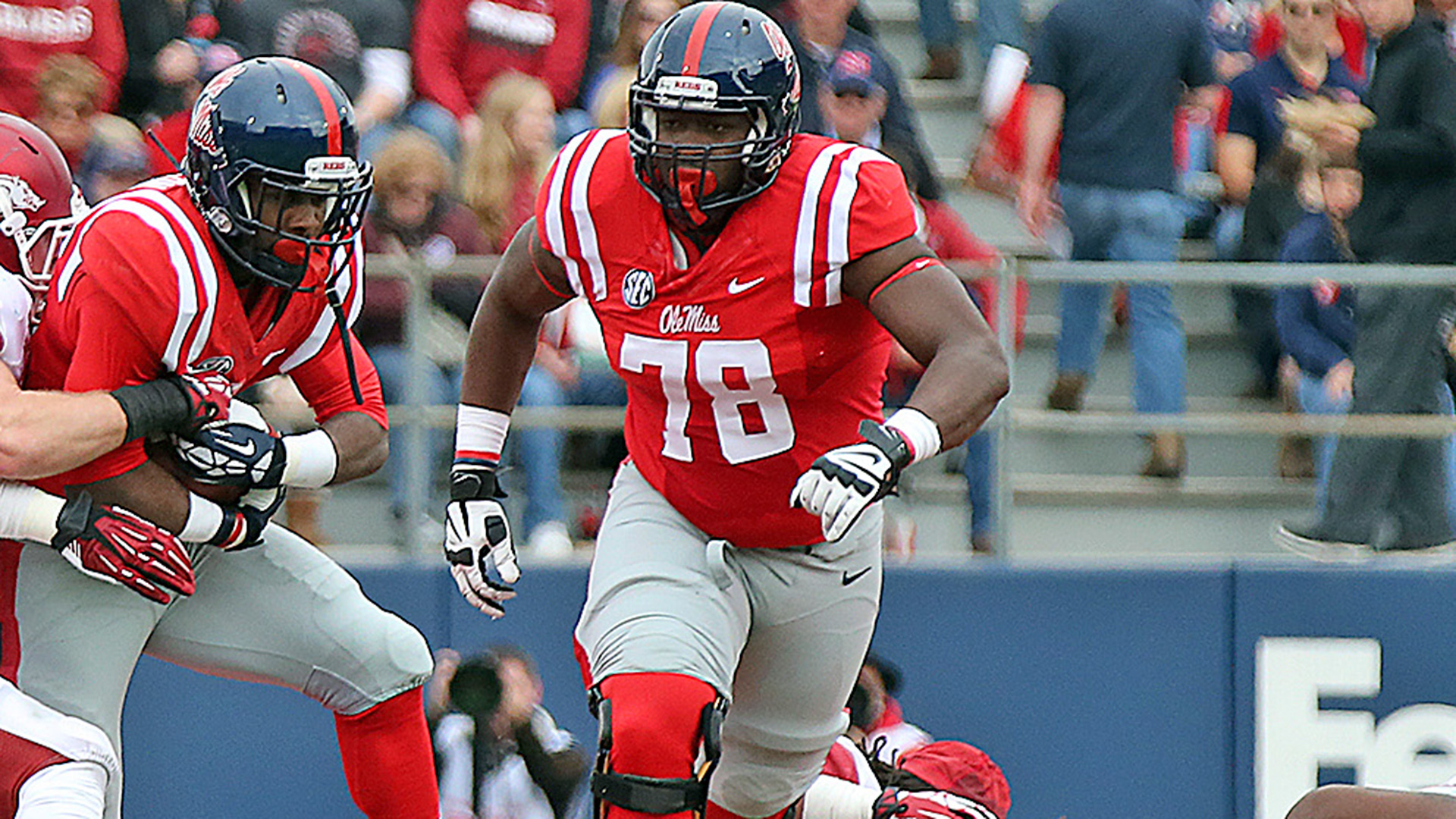 If Tunsil were somehow still available at No. 4, he would quite possibly be the best player available on the board. With Doug Free fading and an upgrade needed at the right tackle spot, the Cowboys could easily fall in love here. But that's looking at "right tackle'' in a vacuum. More likely, Dallas sees right tackle as part of a larger group, and one with so few problems, they'll watch Tunsil dominate for someone else ... while hoping their BPA/BAA is as dominant for them.