The Cowboys' one step to drafting Ezekiel Elliott? Well, just draft him!
But no. Actually, for the Cowboys, there are 10 Steps To Drafting Ezekiel Elliott. To wit:
Draft Zeke Cowboys Step 1: RBBC
Is there any reason to dump the original post-DeMarco Murray plan and go RBBC? And if you stay RBBC, why do you need to bother with a bell cow?
Consider the Cowboys going into the final game of the year against Washington (which by that time was meaningless): Dallas was running at the exact same clip, 4.6 yards per carry, that it did in 2014. 4.6 ypc ranks Dallas' O-Line was tied for fourth in the entire league. Fourth.
Now, dozens of things changed. At that moment,  Dallas' per-game rushing total had shrunk from 147 yards per game (in 2014) to 119.   Their total attempts has dropped from 508 in 2014 to 392 (with one game pending) in 2015.
Oh, and it all happened not only with Murray leaving (via pricy free agency, to the foolishly overspending Eagles) but also with Joe "Meatbone'' Randle coming and going, with Lance Dunbar being hurt for the year, with Christine Michael all-but handed a job he never took, and ultimately, rather incredibly, with Darren McFadden totalling 1,089 yards, good for eighth in the NFL. And Dallas was ninth in the NFL overall. All those problems, all those changes, all those losses, and you're still a top-10 team in this department?
In other words, even when everything was broken -- to the point where the Dallas offensive line actually switched from a zone-blocking philosophy to a man-blocking scheme (as Travis Frederick kindly and patiently conceded to me recently) -- the RBBC worked.
No, not "just anybody'' can run successfully behind this line. But does it take the No. 4 overall pick in the draft to do it?
Draft Zeke Cowboys Step 2: Valuing RB Via The Cap
The way to "lose'' against the salary cap? Pay DeMarco Murray a salary that locks you into $9 million a year for a heavy-lifter in his late 20's, failing to understand the systematic decline of such players. Below, the exact numbers the Cowboys made themselves aware of when declining to match Philly's silly offer: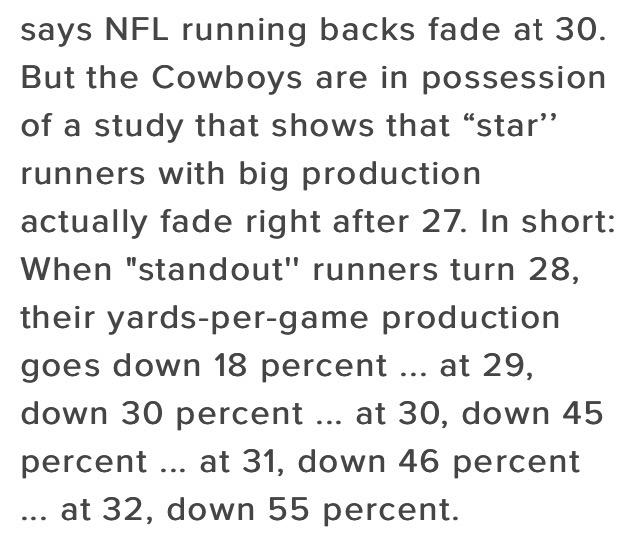 The way to "beat'' the salary cap? (And yes, even though the Cowboys can actually find $48 million of room, according to our exclusive breakdown, you gotta beat the cap.) Great players at budget prices. Recent No. 1 picks Travis Frederick, Zack Martin and Byron Jones play cheap. This year's guy, all the way up at No. 4, will have an expected cap hit in 2016 of $4,135,567. That's the sort of money Dallas was willing to pay DeMarco, the sort of money that was discussed last offseason at Valley Ranch before Mark Ingram stuck with the Saints for about the same total, the sort of money you'd love to lure Cowboys fan Lamar Miller to Dallas for. (See our details on Lamar and the Cowboys here.)
But if you believe Zeke is a great player, $4,135,567 is a cap-beater.
Draft Zeke Cowboys Step 3: Valuing RB Via The Draft
Ah, but wait. Is running back still "important enough'' to use such a high pick on? 
There are certain positions that this Cowboys regime has historically decided would only be paid in a second-tier way. Of course, you always try to do that with punter and kicker. But here, they've tried to keep the lid on salaries for 1-tech defensive tackles, for safeties, and for guards. And now, even though Dallas has a relative wealth of selections in the 2016 Draft, running backs.
The argument here is that you can't pay high premiums -- or use high picks -- at every position. But look at the Cowboys' recent draft trends. A high pick on a center. A high pick on a guard. A high pick on a safety/corner. The know-nothings continuing to bleat that "Jerry uses the draft to acquire shiny objects.'' They are wrong on two counts, as a)  owner Jerry Jones doesn't control the draft in the way they think he does, and b) salary-cap management is part of the way Dallas acquires its talent.
Zeke won't be a Cowboy because he's "shiny.'' If Dallas drafts him, it'll be because they've decided to value the position.
Draft Zeke Cowboys Step 4: What About McFadden?
I say this with tremendous respect for what Darren McFadden accomplished in 2015 and what he'll accomplish as a (probable) backup under contract for 2016: He is a successful reclamation project who is old, a poor fit for what this O-line does best, and best-suited as a complimentary or even emergency fill-in. Change the entire blocking scheme for him? McFadden's not great enough to have to merit that; better to add a superior player who is also a superior fit.
McFadden's presence here should in no way block Dallas from taking whatever next step is necessary at running back. ...
https://twitter.com/BryanBroaddus/status/690164843807014912
... As Bryan Broaddus makes clear above -- and he's not even talking about a draftee as elite as Elliott.
Draft Zeke Cowboys Step 5: Is He BAA?
There are truly no questions about his football pedigree.
As our Matt Galatzan notes: a native of Ladue, Missouri, Ezekiel Elliott attended John Burroughs School, where he lettered in three sports. His junior year at running back, Elliott would earn the state offensive player of the year award after rushing for 1,802 yards and 34 touchdowns and catching 23 catches for 401 yards and six touchdowns. His senior year would be even more fruitful, as Elliot ran for 2,155 yards and 40 touchdowns, while accumulating 3,061 all purpose yards and 50 total touchdowns. 
As a recruit, Elliott was a consensus top-15 running back and four-star recruit by Rivals.com, Scout.com and ESPN's recruiting services. Elliott would eventually choose Ohio State over Notre Dame and Missouri, joining fellow star recruits Joey Bosa, Eli Apple, Vonn Bell, and Mike Mitchell in Columbus. 
As a college freshman, Elliott was the primary backup to incumbent starter Carlos Hyde, who now plays in the NFL with the San Francisco 49ers. That year, Elliott ran the ball 30 times for 262 yards and two touchdowns in 14 games. 
In his sophomore campaign, Elliott would explode on to the scene, amassing 1,878 yards and 18 touchdowns on the ground, while leading the Buckeyes to a Big Ten championship the first ever College Football Playoff National Title over Oregon. Elliott would become the MVP of the national title game, after running the ball 36 times for 246 yards and four touchdowns against the Ducks. 
Elliott's success continued in his junior season, as he rushed for 1,821 yards and 23 touchdowns, averaging 6.3 yards per carry, finishing his career with 22 games with at least 100 yards rushing or more.
This is a blue-chip player. Bryan Broaddus of DallasCowboys.com and 105.3 The Fan seems to see Zeke as a tick behind Todd Gurley, a superstar in the making drafted No. 10 overall by the Rams.
If Broaddus and his ilk are right, there is no downside here. But ...
Draft Zeke Cowboys Step 6: Red Flags
Despite the gaudy stats, Elliott would garner some controversial media attention after some controversial comments regarding his coaching staff. Neverthless, Elliot finished as a unanimous first-team All-Big Ten selection and finished in eighth place in the Heisman race.
Red flags on the field? Elliott is a complete back. Oh, coaches will want to improve his pass protection. Somebody will say he could he use a little polishing as a receiver out of the backfield. But they probably said these same sorts of things about Gurley 12 months ago, too.
Draft Zeke Cowboys Step 7: A Second-Rounder?
Here's a nutty idea that history says isn't as nutty at it seems: Don't draft Zeke at No. 4. Draft him later. Like, waaay later.
Like, in the second round?!
Our KD Drummond plays with a Cowboys Mock Draft in which he does some first-round trade juggling to land Zeke in the second round after having already taken defensive back Jalen Ramsey. Read it here ...
In the second round, a surprise first-round leftover is chosen; RB Ezekiel Elliot from Ohio State. While I believe that Elliot is by far the best prospect in this draft, Ohio State's history keeps me from pretending he's in the same category as Todd Gurley. The best back in the class who isn't "Adrian Gurley" belongs at the top of the second round, and Dallas would surely take him.
I don't see that slip here, at all. But as we ponder just now ridiculous this is, note: In the last three drafts, only Gurley and Gordon merited first-round selections. So while QBs always rise, RBs seem to often slip.
Speaking of which ...  
Draft Zeke Cowboys Step 8: A Second-Rounder NOT Named 'Zeke'
OK. There is only one Zeke. Standing 6'0" tall and 225 pounds, Elliott possesses ideal size for the running back position in the NFL. His size, combined with his elite balance, pad level, and competitive nature, make him an extremely well-rounded back at the next level. 
Elliott also displays outstanding field vision and ability to stop and change direction on a dime. He explodes through holes along the offensive line, getting to the second level with the ability to punish defensive backs. Lastly, Elliott has great speed and athleticism in the open field, even showing the ability to hurdle defenders at times. 
But what if this is a deep draft in regard to RBs? Broaddus has no trouble rattling off names of other quality backs ...
https://twitter.com/BryanBroaddus/status/690055351140519936
So you argue inside of Valley Ranch that while running back being drafted is viable (if "time and place'' meet "need'') ... it doesn't have to be one that high, that expensive and that so completely obstructing what this draft simply MUST be about ....
Draft Zeke Cowboys Step 9: Fill THE NEED
What are we doing here? This is a QB League, and in this case featuring a QB who is in his mid-30's, hasn't been fully healthy in forever, and has been so irreplaceable that when he goes down, the Cowboys are lost. (My column on "Romo's Final 25 Games'' is here.)
How in heck can any running back, no matter how great -- and any other positional player as well -- trump the need to to everything possible to use the No. 4 overall pick to find the heir to Romo, the immediate QB2, and the guy who in this league and on this team is essentially the "12th starter'' at the most important position in all of sports?!
Draft Zeke Cowboys Step 10: The Closing Window 
As far as the Cowboys are concerned, Elliott would be an immediate upgrade at the running back position over Darren McFadden, and become an impact player from day one. He would excel behind a Cowboys offensive line that is built to block for running backs of Elliott's style, meaning zone blocking could be re-instituted ... and RBBC can still be in place as well. And it comes at an affordable price, cap-wise (for the first four years before you have a big $11-mil decision in Year 5)... and by gosh, look at the Romo-led weaponry on this offense!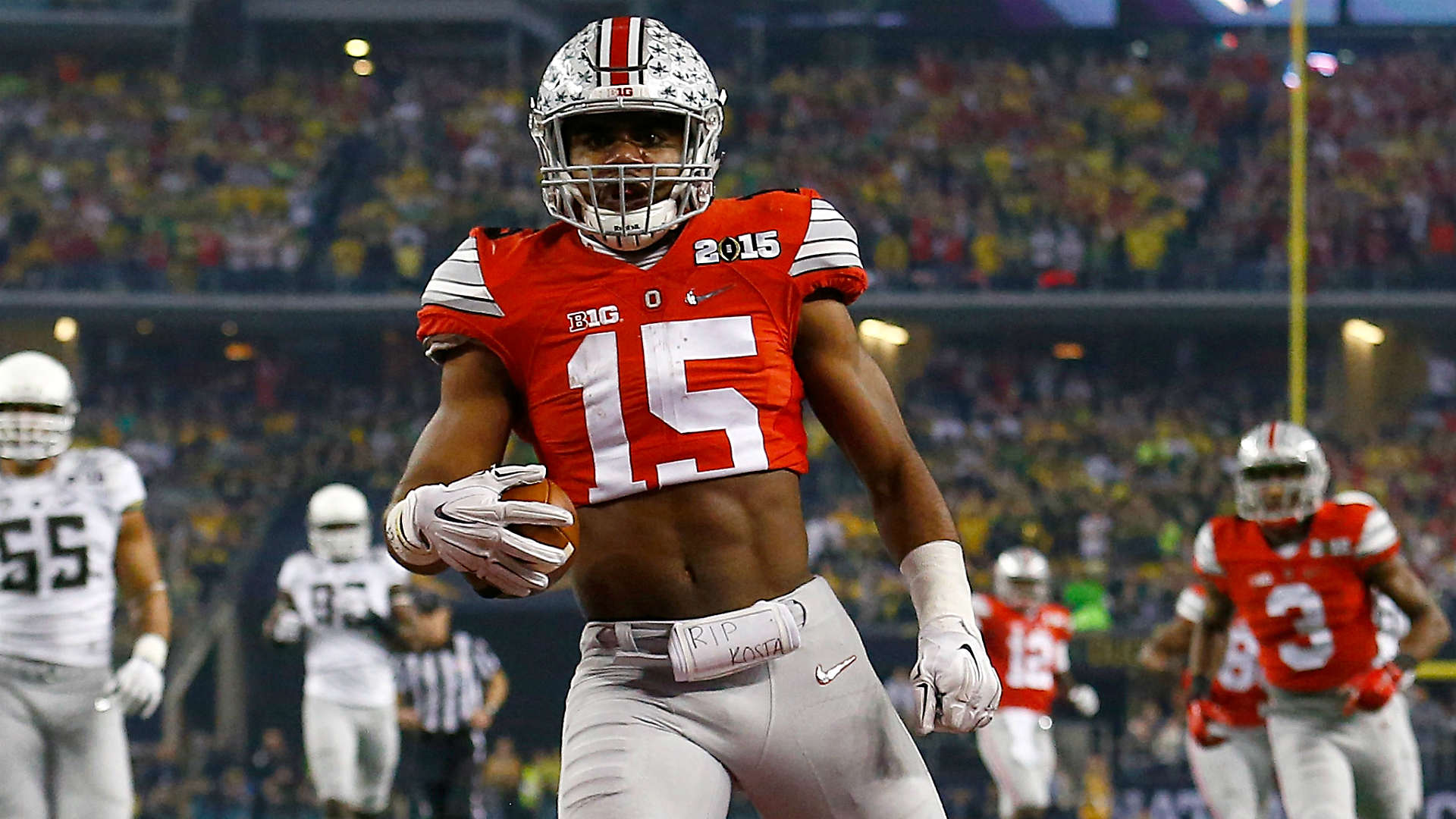 So what's more important? "Romo help''? Or "Romo heir''? Or can they be one in the same? The potential greatness of Ezekiel Elliott will make his eventually selection, somewhere by somebody, an easy one-step button-push. For the Cowboys do such a thing? I don't see it happening. But to get there? Ten buttons. Ten decisions. Ten steps.