Tony Romo made the media rounds at Super Bowl 50 on Friday, repeatedly noting how much he wants to be in one of these things instead of just at one of these things.
"If you don't get a chance to play and win a Super Bowl ... (well), that was your goal," Romo said. "Hopefully, we're going to be here soon."
"Soon'' suggests an urgency that is the result of a Dallas Cowboys football reality that some in Cowboys Nation (maybe even owner Jerry Jones himself) are reluctant to accept: A "soon'' Super Bowl is necessary because a "soon'' Romo retirement is coming.
I will gently suggest that Tony Romo has, oh, say, 25 regular-season games left in his turning-36-in-April body. I've expressed this view to some Cowboys fans, who think I'm dissing the player with this prediction, and I've expressed it to some of Romo's buddies, too, who wish to engage me in a playful bet. But understand, I'm not "rooting'' for this fate; I'm simply taking into consideration Romo's age, his medical history, and his contract.
Twenty-five games. That's about it. I don't think he's quite ready for that. I do think the Cowboys need to be ready for that.
The good news for Romo physically? While his options regarding his collarbone remain wide-open (as we've reported in this space for months in a way that continues to conflict with the way the Worldwide Leader breathlessly portrays the surgery that was supposed to occur, like, two weeks ago), he swears his sometimes-troublesome back is now stronger than ever.
On the back: "The back's not going to keep me out anymore ... it's actually stronger than it has been. That part of the game, it seems as if I'm young again. ...  For me, the back is the furthest thing from my mind. It feels as strong as anything.''
On the bone: "You weigh all of those (options, including different forms of surgery and natural healing), but nothing is going to keep me off the field. It's just assuring you don't hurt something that you hurt twice last year. ... Bones heal. Sometimes you can help them heal. That's really what we're talking about. Should we let it heal on its own or should we help it a little bit so it won't happen again next year? ... I just want to make sure that it doesn't happen again."
On the Bowl: "That's the reason you play the game — for that.''
In regard to how the Cowboys approach that "reason,'' there are two forces in play here, and they do not have to be conflicting forces. There is the idea that Romo -- without whom the Cowboys simply aren't the Cowboys -- must be supplied with every possible weapon in order to allow him to succeed in "The Romo Era.'' That goal can take the form of last year's Greg Hardy signing (which might not be repeated in the same form this year, but via free agency can be repeated in another form given Dallas' ability to carve out $48 million of shopping room) or it can be an offensive player. It can be via the NFL Draft or it can be via any other talent-chasing method.
Or ... it could be the drafting of a QB, which to linear-thinking observers doesn't seem like it's "helping Romo'' at all ... but again, the forces don't need to conflict.
Romo hasn't played all 16 games in a season since 2012. Last year, his replacements combined for a 1-11 record. The Cowboys need better players at a variety of positions to help their present QB and to help themselves. And being willing to find Romo's eventual heir -- especially if it's a kid who is also capable of being Romo's immediate backup -- does indeed aid Romo now ... and it aids the Cowboys in the future.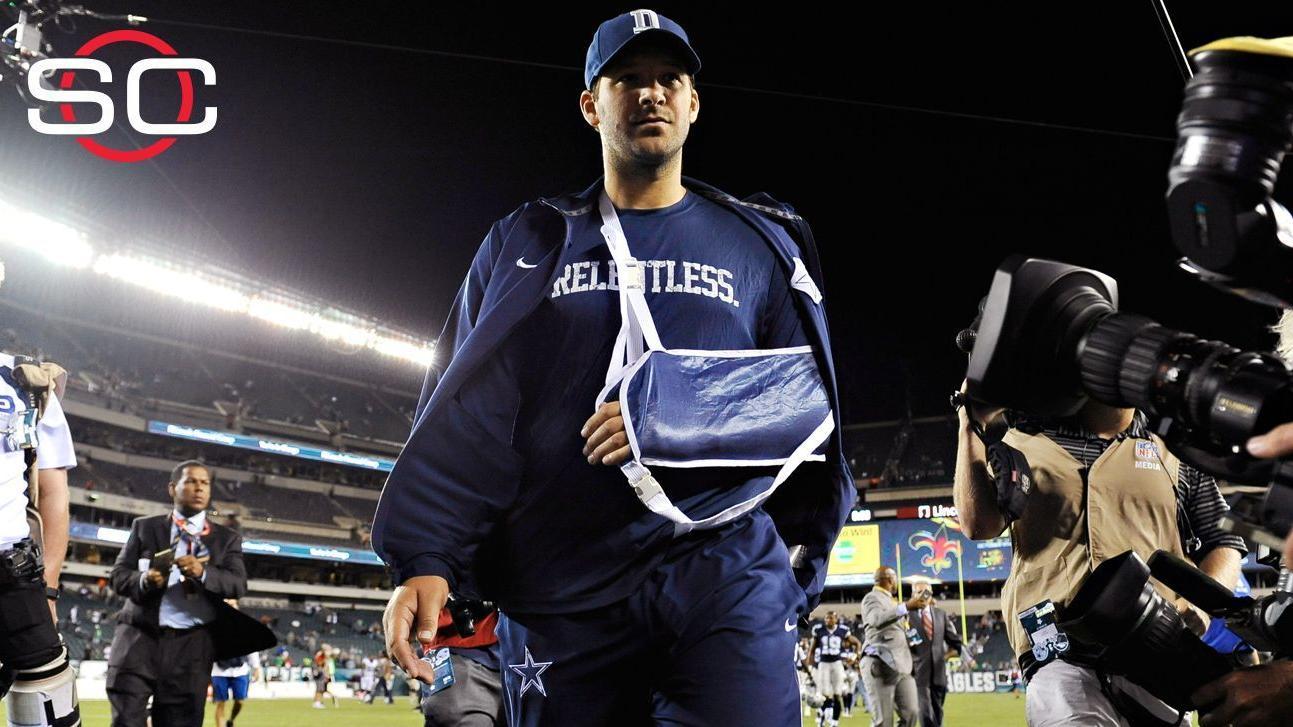 And that is critical. Because as difficult as this is to accept for some, the post-Cowboys future is coming, and it's coming quickly. Maybe 25 games from now.