The Cowboys have developed themselves a policy when it comes to heavy-lifting running backs right around the age of 28 or so, and that policy was a driving force in the depature of DeMarco Murray. Does Dallas break that rule this year when it comes to free-agent runners? Or can an older runner be had cheaply ... or is a younger runner worth breaking open a vault that can contain $48 million in Cowboys cap room?
Below, Scout.com Fantasy expert Mark Morales-Smith combines with me, Mike Fisher, to look at the top 10 candidates for NFL free agency come March 9 ... and how they might match up with Dallas. 
1. Matt Forte, Chicago Bears
Forte is obviously the biggest name on this list. For the past few seasons we have counted him out, and he continues to produce. However, it appears as if the Bears are looking to move forward with Jeremy Langford. Forte is 30 years old, and Chicago is not a legitimate contender to invest in an aging running back. Still, despite missing three games this season, he's been remarkably healthy missing just eight games in his NFL career. Aside from his three games in 2015, he's only missed one game since 2011. Look for Forte to be the most highly-coveted back in free agency, he's already been linked to the New England Patriots, although, it is pretty much all speculation at this point.
From a Dallas perspective? He certainly fits the mold as what sources have told CowboysHQ.com the offensive coaches ultimately desire: A do-it-all bell cow who doesn't have to come off the field. But the Cowboys' bids here are, we think, certain to be lower than Forte can get elsewhere, so ...
2. Lamar Miller, Miami Dolphins
Miller has the most long-term upside on in this free agency class. He is just 24 years old and has been criminally underutilized by an inept Miami Dolphins' coaching staff. Miller can do it all, he has the speed to break the big plays and can run between the tackles. He is also a threat in the passing attack and can find the end zone. He has a career 4.6 yards per carry average and has 19 touchdowns over the past two seasons, as well as over 50 receptions in each of those seasons. While he will not garner the big-name recognition as Forte, his youth will make him much more valuable. It is looking like it is going to be very tough for the Dolphins to fit him under the cap.
In Dallas, contrary to what outsiders think, this isn't about "big-name signings.'' This is about personnel guru Will McClay comparing notes with head coach Jason Garrett and then Stephen Jones' department's Big Calculator finding a right number that isn't in excess of what Dallas was willing to do with DeMarco a year ago - about $5 mil annually.
 Key to those "notes'':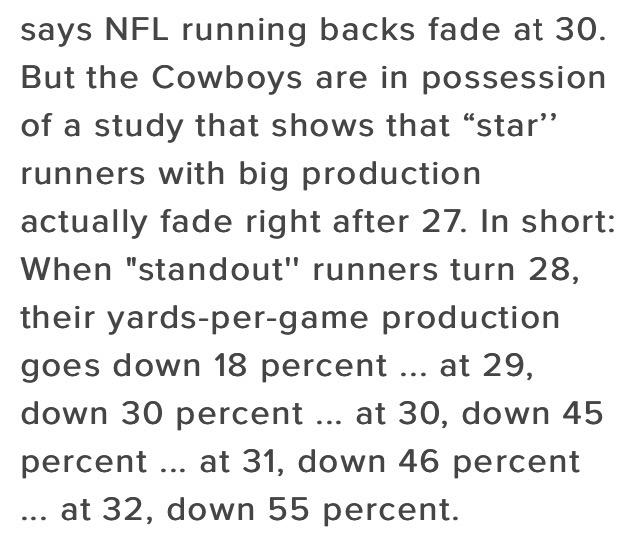 Cowboys fans can hope for one thing here with Miller to be on their side ... as he, too, is a Cowboys fan.
3. Doug Martin, Tampa Bay Buccaneers
This guy is an enigma. Is he great or is he awful? Let's not pretend like any of us know for sure. It wouldn't shock us if he was a top-five rusher in the NFL next season or ends up on the waiver by Week 4 in Fantasy leagues. In 2012 and 2015 he rushed for 2,865 yards on 4.8 yards per carry and scored 19 touchdowns. He also added 82 receptions for 743 yards. If you combine 2013 and 2014, he rushed for 950 yards on 3.6 yards per carry and punched in just three TDs. He also added 25 receptions for 130 yards. Granted he dealt with injury and only played 17 games, nonetheless, the numbers are way down even when scaled to sample size. Still, at 27 years old he is going to see a hefty pay day. Both Martin and the Bucs have made it clear they want to get a deal done as soon as possible.
We would suggest that from a Cowboys perspective, you would be "buying high'' here. That's not a good thing.
4. Chris Ivory, New York Jets
Ivory is a devastating power runner. However, he is not without red flags of his own. He's had an injury-plagued career and is showing a tendency to wear down late in the season. His punishing rushing style takes a serious toll on his body. Ivory is coming off his first 1,000-yard season and saw a career-high 247 carries. With that said, he's also only played one full 16-game season and has missed 26 games in six seasons. Despite only missing one game in 2015, he did deal with a myriad of injuries, which lingered throughout the season. His upside and age (27) will warrant a ton of attention in free agency. However, he may be better suited for a multi-back system. It does not look likely that the Jets will retain him.
In DFW, much has been made of the fact that Ivory is a Texas native. There is a danger, we say, in overrating such things. 
5. Bilal Powell, New York Jets
Powell showed off his versatility during the second half of the season and quite frankly was much more impressive than Ivory down the stretch. He added a huge spark to the Jets offense and added a whole other dimension. He and Ivory are a fine one-two punch. Powell is not an elite runner but is as good as any third-down back in the league. It will not take him long to find a home if the Jets let him get away. Nonetheless, we doubt the Jets will let him go, especially if they don't bring back Ivory as we're predicting.
6. Alfred Morris, Washington Redskins
Alf has been on a steady four-year decline. He has seen both his yardage and yards per carry decline in each of his NFL seasons. In 2015, he managed just 751 yards on 3.7 yards per carry and one touchdown. It is not entirely clear if his decreasing production is caused by a physical decline or an eroding offensive line. He was also a much better fit in the Shanahan system.
It will be a shock if Morris is back in Washington next season. Perhaps he could fit in Gary Kubiak's system in Denver. But in Dallas, he's not superior to Darren McFadden.
7. James Starks, Green Bay Packers
Starks has proven time and time again that he can be effective when granted the opportunity. He has already come out and said that he plans on signing with a team this offseason that will give him a chance to prove himself as a legitimate starter. The odds are that will not be in Green Bay, even if their starter is 30 pounds overweight and has the physique of a snowman. Starks is a very intriguing free agent. His film shows undeniable talent, and his numbers should drive down his price tag. We like him as a bargain-bin back. But again, from a Dallas perspective, a McFadden/Starks RBBC is not the goal.
8. LeGarrette Blount, New England Patriots
Blount is a guy that needs to be in the right situation, on and off the field. He has had his fair share of off-field issues, including drug and violence issues as well as conduct detrimental to the team. He's done had issues with coaches, purposely played himself out of situations and stormed off the field during games. He needs to stay in New England. The talent is there. Nonetheless, he needs the structure of a championship organization, particularly that organization when you consider his issues in Pittsburgh, a top-notch team. Hopefully, for his sake he re-signs, anywhere else he's a huge wild card. ... and what he's not is a "Garrett Guy,'' a big theme of this offseason as Dallas considers the "Uptown Flu'' of guys like Greg Hardy and Johnny Manziel.
9. Chris Johnson, Arizona Cardinals
Johnson broke through in 2015 and showed why some Cowboys fans campaigned for his signing -- something he campaigned for as well.
"I'd fit good in Dallas,'' he said to TMZ last spring. "That's what we're trying to do. Dallas, come holler at me."
Contrary to many reports, Dallas never "hollered.'' Johnson went to the Cards and was outstanding this past season ... and wasn't bad in 2014, just misused. The issue is he's 30 years old and is viewed by most as well past his prime, which he is. However, it's unclear how much he has left in the tank. All signs point to him sticking around in Arizona and standing in as the RB2 behind David Johnson. This situation is a fit for both sides, and neither should risk losing the other. ... so the Cowboys likely won't get a second bite at this apple.
10. Ronnie Hillman, Denver Broncos
For No. 10,  Scout.com Fantasy expert Mark Morales-Smith  debated between Hillman and Tim Hightower. Due to Hightower's injury history, let's go with Hillman. He has shown flashes of legit ability in the past but has also demonstrated gaping flaws in his game. It's likely he'll leave Denver and get a decent contract somewhere. We just don't see him ever panning out as a legitimate RB1. He's a mediocre RB2 in the system with inconsistent big game upside.
Which brings us back to the Cowboys' policy at the position. They got burned on Joe Randle. They are not opposed to cheap reclamation projects with character (McFadden, and by the way: It'd be nice to find a zone-blocking fit, which McFadden is not.) And they went back to the reclamation well by almost handling Christian Michael the starting job despite his goofbally nature. Robert Turbin and Lance Dunbar can still end up part of the attack here, but the notion of trying to lure Lamar Miller on the cheap and if not, finding a premier-round running back in the NFL Draft (a round behind where Ezekiel Elliott goes) is the most likely path.
null