Editor's Note: Act before noon Friday to keep getting the very best ...
https://twitter.com/fishsports/status/703232644088094724
The Cowboys -- starting right at the top with second-chance-giving owner Jerry Jones -- love to boast about their "program'' in a way that paints it as a heartwarming "Island of Misfit Toys'' sort of way. Coach Jason Garrett talks about "The Right Kind of Guy'' and even when Dallas bends that standard, Garrett and others in the organization talk about "helping'' the misbehaving athlete towards learning "The Right Way.''
But even as the intentions are clearly there -- obviously the Cowboys thought they were working towards steering the pot-using Randy Gregory in the proper direction and onto the field, just as they thought/think the same about the direction of Joe Randle, Greg Hardy, Rolando McClain and even Dez Bryant -- the results are marred by some near-tragic mistakes.
In fairness, there will never be a way to know how many misguided players become Cowboys and then find a proper direction. The five aforementioned Cowboys are all headline-grabbers due to negative issues. Maybe there are dozens of other guys for whom the Cowboys' "Rehab Clinic'' has worked beautifully. Dating back to the beginning of the Jones Era here, the owner's paternal approach to relationships with players (troubled and not troubled) deserves credit for contributing to the three Super Bowl titles.
But that was 20 years ago. Today?
Randle, booted off last year's team while at the same time being its best running back, just got arrested for the fifth time in 17 months and I'm told has  a gambling problem so severe he can't afford his own bail. Sources told  me on Monday that Dallas has decided to not bring Greg Hardy back in free agency. (That Cowboys Premium scoop is here.) McClain, also a free agent, has friends in the locker room but what I'd call "conditional support'' at the next level up. (Dallas is working toward retaining McClain on the club's terms. That Premium info is here.) Bryant is a success story ... but anyone who thinks that's a result of the Cowboys putting David Wells in charge of him needs to ask Dez himself what he thinks of that credit assignment. (Read here. I have asked Dez these questions.)
And now along comes Randy Gregory, who sources tell me was such a focus of Dallas' "program'' that the Cowboys had/have a "mentor' actually living with the 23-year-old. A "buddy-sitter.'' So ... how's that working for you?
"This is a disappointment,'' Cowboys COO Stephen Jones says in the wake of Gregory being suspended for four games to start the 2016 season for violating the NFL's drug policy. "We've been clear with Randy about what his responsibilities are and what is expected of him. This is something he's going to have to work through and correct.''
Gregory apparently failed three drug tests during his rookie season with the Cowboys (after having failed a "first one'' at last year's NFL Scouting Combine, a mistake that caused him to slip from a first-round prospect to No. 60, where Dallas got its "steal.'' So, how does a "kid'' who is under the live-in "supervisory mentor'' repeatedly fail drug tests?
Maybe he's an addict or maybe he's a moron or maybe his bipolar is relieved by pot-smoking or maybe there are simply things more important to him than being trusted by the teammates in his own locker room. This is where I would strongly disagree with Stephen about being "clear.'' There is quite obviously not clarity here.
What I know in this case is that the "supervisory mentor'' is not a "father figure'' to Gregory in any way; he's too close to Gregory in age for that. I also have no knowledge of this Cowboys employer having extensive training in psychology or jurisprudence or even if he's so much as taken a parenting class.
He's just a young guy himself, hustling (in theory) to help.
That's not good enough.
David Wells is a "hustler,'' too -- but Dez, starting in October 2014 when he told me he looked at his checkbook and wondered where all his money was going -- might use "hustler'' with a different definition. Those much-ballyhooed "Dez Rules'' were all the creation of Wells (not of the Joneses) and they were all silly, all bogus, all show. (A must-read for anybody on this subject: "Who Really Wrote 'The Dez Commandments'?'')
But Bryant (who, in fairness, may have benefitted in some ways by Wells being his surrogate uncle) fought through that.
Randy Gregory is now in for the fight of his professional life, too, but to this point, Randy Gregory is all "show,'' too. On an almost daily basis last year, he could be found during the lunch-time media portion literally reclining in his locker, not granting interviews but just ... reclining, occasionally rising to entertain reporters by shooting a basketball into a trash can.
"Too cool for school'' is how I've often described his demeanor.
Most of his season was a waste due to a "high ankle sprain.'' Shouldn't someone with the Cowboys have been acutely aware -- on a daily, live-in basis -- that on his status report there should've been a comma between "high'' and "ankle sprain''? Shouldn't someone with real training, not a former bail bondsman or a former agent's secretary, be minding the store here?
We all made quite a fuss of the fact that Gregory was going to benefit from the "big-brothering'' of former wayward Cowboys like Charles Haley and Michael Irvin and Leon Lett. Lett is now a solid member of the coaching staff who is literally working with Gregory on a daily basis. But Haley and Irvin? They have other, flashier things to do. (I mean, Irvin is "my guy.'' Has been for a quarter-century. But isn't he kind of ... busy?!) And whatever they did here didn't work. 
The same can be said about Greg Hardy as a "leader.'' When Jeremy Mincey recently issued his "It's either him or me'' regarding Hardy, he wasn't setting up a battle between two players. His remarks were meant as a statement about which style of locker-room leadership the Cowboys wished to embrace, the style of Mincey or the style of Hardy -- and I can tell you Gregory and fellow young defensive end Tank Lawrence absolutely found themselves gravitating towards the charismatic Hardy.
Director of Player Development Bryan Wansley, along with Calvin Hill, the classy and well-educated former Cowboys running back, are involved in the club's psychological approach to mentorship. I admire both men. Wansley did not return my call for comment so I'm left to go with this: My sense is that at least in part, the general approach is more about you coming to them than them going to you ... though there are certainly ample numbers of posters stapled to the Valley Ranch hallway walls urging players with drug problems to call a 1-800 number.
Said Jason Garrett (in the above Combine video) of Gregory and the "structure'': "We knew all of the issues with Randy ...We felt like we put a really good structure in place for him to overcome it. Unfortunately, he slipped up. No excuses. ... We have to move forward and he has to move forward and put that structure in place.''
I would propose that the Cowboys "Island of Misfit Toys'' plan, should the organization decide to even more seriously embrace the concept, feature a small army of real mentors. ...
https://twitter.com/JC1053/status/680061146863243264
... Not just former players who want to swing in to show off their new pets and to give pep talks. Or anti-pep talks. Not just underlings trying to make an extra buck. And certainly not guys in their 20's supervising guys in their 20's, for that is the blind leading the blind. It's been reported that Dallas assigned a "bodyguard'' to Hardy near the end of the year. Did it work? Not if you a) Read my column on Greg Hardy and his "Uptown Flu'' and b) if you take the educated guess that the bodyguard might've been none other than David Wells. Again. 
Do the mentors need to be recovering troublemakers? Or, if ex-Cowboys really want to pitch into a Big Brother program, couldn't they be truly devoted and truly worthy of being followed? I can give you hundreds of candidates here, but if this is my son, and a Darren Woodson, a Chad Hennings, a Russell Maryland, a Daryl Johnston, a Jay Novacek or a Tony Tolbert wants to be a part of our lives, they're in. Hell, maybe Gregory's own father, a highly successful businessman, should be the hands-on appointee for Randy. It can be argued that being 23 and living with your parents stunts your growth as a man ... but maybe some "stunting'' is worth it if Dad actually gets Junior to get to work on time.
By the way: No, despite the almost-certain double-knee-jerk that transpired over the weekend inside Valley Ranch, ("Oh no, now there's no way we can draft a troublemaker like pass-rusher Noah Spence!'' vs. "Oh no, now we gotta get help at the position so we gotta look even harder at taking a troublemaker like pass-rusher Noah Spence!) the Cowboys do not need to revamp their draft board as a result of Gregory's slip. The draft is for players. It's free agency that serves positions, and yes, Dallas can make some adjustments there. (Miami's Olivier Vernon is a good place to start, and a hard reconsideration of their own free agent Jeremy Mincey is, too.)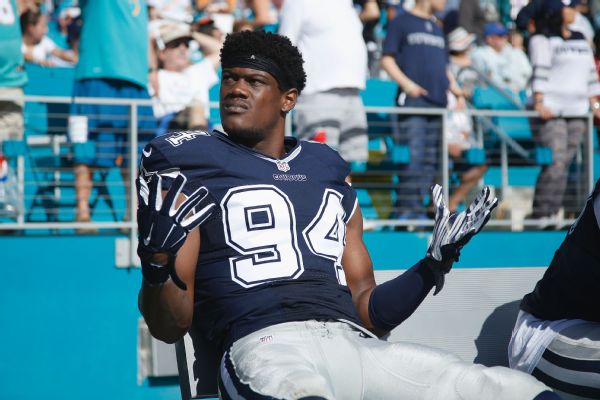 Randy Gregory's failure here is, at its core, on him. But there is a Cowboys systemic failure here as well, quite possibly because Jerry's desire to give "second chances'' too often results in too much being left to chance.
WANT MORE COWBOYS? TODAY ONLY on CowboysHQ.com we offer you eight months of Cowboys Premium for just $5.95 (click here!) ... What do you get over the course of just one day (let alone eight months, which takes us through our wall-to-wall coverage of the NFL Draft from inside Valley Ranch, OTAs with full access to workouts, training camp in Oxnard with me on hand every single day, and the preseason and the regular season with CHQ in attendance, too, as I've been in attendance at NFL practices and games for 32 years now? You get it all. For 62 cents a month. Support the site and inform yourself and sign in here!