TWO FEET
All-Pro receiver Dez Bryant told me he underwent an X-ray on his rehabbing foot on Wednesday and awaiting a positive result that will allow him to accelerate his return to the field.
"We're hoping to know more (by Wednesday night) and I think it's going to be good,'' Bryant told me following a Cowboys OTA workout at Valley Ranch during which he was a brief and early participant. "I'm being patient but I feel good.''
Bryant, coming off a pair of foot surgeries that robbed him of most of his 2015 season, told me he'd set June 1 as a target for a big step forward. Dallas has another set of OTAs next week and then a three-day minicamp later in June. My understanding is Dez has indeed received that thumbs-up. (photo via Dez and DallasCowboys.com)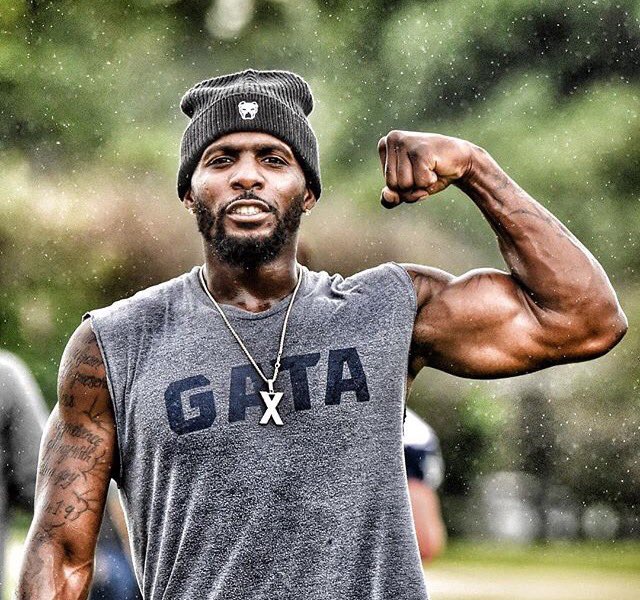 "He's done a really good job in his rehab,'' coach Jason Garrett said on Wednesday. "He has not practiced. … He's really watching practice and doing his rehab on the side. All of that has gone well. We'll see how he does with that next examination and we'll make our decision from there."
The next question on Dez: Why not keep him in relative "bubblewrap'' long-term? It's what teams do with QBs. It's what Jimmy Johnson once did with Emmitt Smith. Given the circumstances, shouldn't it be a consideration here?
The other "foot'' story isn't quite the same level of headline-grabber, but CHQ was first with the early-Wednesday-morning report on a foot injury for rookie defensive tackle Maliek Collins, who according to DallasCowboys.com's David Helman suffered the injury last week during the Cowboys' first round of OTAs and has had surgery that could cause the third-round pick to miss three months of preseason work.
NO RO
Along with Dez Bryant, Gavin Escobar, Lance Dunbar and Orlando Scandrick were early OTA participants before retreating to the Cowboys weight room on Wednesday. Sean Lee (knee rehab) did not work. Nor did Rolando McClain, who remains away from Cowboys OTAs this week  as was the case last week as well. Feel free to eye-roll there as some people inside of Valley Ranch are doing the same.
The Cowboys' draft plans featuring second-round middle linebacker Jaylon Smith might not do much to alleviate 2016 concerns about Ro's availability. But a healthy Jaylon can end the want-to question at MIKE for 2017 and beyond.
TRADE STUFF
Ron Leary is a capable NFL starting-caliber guard on a very affordable one-year contract.
All the reasons that might make him attractive to another team in trade are all the same reasons the Cowboys are in no hurry to accommodate the disgruntled Leary.
"We're not in the business of letting go of good football players for little or nothing,'' says Cowboys COO Stephen Jones by way of explaining the lack of movement as a result of Leary's trade request.
"Ron's a big part of our football team …''
Well, not as big as he hoped to be before he gave way last year to prized rookie La'el Collins. Collins didn't exactly "beat out'' Leary for the left-guard job; Leary's injuries and Collins' potential were factors there, and Leary played "good soldier'' in helping to big-brother Collins in a way that caused the vet to lose his spot.
Now, Leary simply wants to return to first-team status. For somebody.
The Cowboys have informed Leary's camp that it is free to explore the possibility of a trade. And they themselves explored some ideas before the NFL Draft. But Leary — who is staying away from Valley Ranch and from OTAs so far during this process — is of great value right where he is. What if Dallas sustains an injury in the offensive line? What if another team has such an injury and wishes to overpay?
Coach Jason Garrett talks harshly of Leary missing this time. Stephen Jones, meanwhile, says he recognizes how "disappointing'' it is to Leary to have lost his spot. But Jones adds, "We expect him to come in here at some point. And we want to welcome him with open arms, and hopefully he's getting in shape wherever he is right now."
Keep this in mind: A trade for a guard over the last few years often nets a team a fifth- or sixth-round pick. If Leary stays in Dallas this year, and then hits free agency next spring and signs a lucrative deal, the Cowboys will likely receive a compensatory pick. Oh, maybe a fifth- or a sixth-rounder.
So what is the 2016 motivation for Dallas to give away Ron Leary? Now … or ever?
Now ... a trade of a running back like Darren McFadden? That's far more viable.
Dallas has, in Ezekiel Elliott, Alfred Morris, McFadden and (when healthy) Lance Dunbar a quartet of legit NFL runners. (And this isn't counting SPARQ'y rookie Jackson.) The Cowboys won't keep all of these people. The smart money on an odd-man out is McFadden.
For the moment, Morris is on-record as being honored by this front office because it didn't "dump'' one of the backs following the drafting of Zeke. But that doesn't mean, once we get to August, that somebody like McFadden won't be dangled. Remember last year when players of this caliber moved for fifth- and sixth- and seventh-round picks?
That's probably the range you're looking at.
For now? McFadden missed Wednesday for personal business but was back on Thursday and getting some first-team work. But my, on Wednesday was Zeke impressive to my eyes, a large man with little-man moves, complete with the ability to run crisp routes out of the backfield and catch every throw smoothly without fighting the ball.
Said Zeke: "You kind of got to embrace the expectations, but it's not something I really pay attention to. I know my expectations for myself. Honestly, they're probably higher than what other people expect of me. I'm just going to focus on ball and focus on what's going on in this building, not really what's going on outside the building."
Garrett's getting that from all of these backs (and in the minds of some, not from Leary). But being classy isn't enough. There are only so many spots here. And Dallas needs an extra O-lineman more than it needs an extra running back.
THE TRADE THAT ISN'T
A report out of Nashville claims that Dallas has in place a trade to give up two third-round picks in exchange for Tampa QB Mike Glennon.
The report is wrong, two Cowboys sources telling me "No'' when I ask about such a deal, and one source using the word "horseshit'' for emphasis. 
The Cowboys scouting department might think Glennon superior to Kellen Moore, who remains the No. 2 guy in Dallas behind Romo (and ahead of No. 3 Dak Prescott and No. 4 Showers.) I'm on-record as believing Moore's competition for the No. 2 spot might ultimately come from a QB not presently on the roster. But a "deal in place'' for Glennon? Absolutely false.
Coach Jason Garrett's eval of Moore, by the way, is an honest one.
"He's not a guy that overly impresses you physically," Garrett said. "He's not an imposing figure when he walks into the room. He doesn't have an overly powerful arm. He's not overly athletic. But he has a lot of the things that really good quarterbacks have. He understands the game. He has a good feel for the game. He's instinctive. He's a very accurate passer. He's a quick decision-maker. And he's a very good leader."
DE SHUFFLE
I don't have clearance or clarification on the impending suspensions and eventual availability of DeMarcus Lawrence and Randy Gregory. The commissioner goes about his duties at his own pace, no "right to a speedy trial'' here. But as the Cowboys worked today through a second set of OTAs at Valley Ranch, I learned little bit more on who is in and who isn't.
CHQ broke the story of defensive lineman Jack Crawford, the pride of Great Britain, receiving his work visa and arriving DFW. The paperwork wasn't done in time for Crawford to appear at last week's OTAs, but he's good to go now. "I've gone through it 11 times, so it's no big deal,'' Jack told me, noting that this process was influenced by the paperwork of his new contract.
Meanwhile, Stephen Jones is making it pretty clear that Dallas prefers to see the need at end for a team that last year amassed only 31 sacks as one that can be solved by youth.
"We all know,'' Jones said, "this is a young man's game."
That answer was a response to a specific question about Dwight Freeney, 36, a seven-time Pro Bowler in Indianapolis who last year in Arizona had eight sacks in 11 games.
Jones said Dallas will "keep an eye on" outside options but added, "I don't think right now we're ready to make a move on any type of veteran that's available."
That specific concept can change, and maybe it should, eventually, given that Freeney has more skins on the wall than all the other Cowboys pass-rushers combined. But the overall philosophy is correct. 
There is not at this early stage any reason to move away from Benson Mayowa, David Irving, Ryan Russell, rookie Charles Tapper and a player like Crawford, who can help at a variety of positions along the line. Dallas has the same philosophy, by the way, at positions like quarterback and wide receiver, where they are not scrambling for veteran help … but where more knowledge about the present talent in, say, August, could cause some scrambling.
Ultimately, the Cowboys' real answers can come from commissioner Roger office regarding Tank Lawrence and from whatever drives Randy Gregory in dealing with a drug issue that the Cowboys have called an "illness'' and an "addiction.'' For what it's worth, Tank and Gregory were the starting DEs in the Wednesday workout, with Rod Marinelli spending extra time with Gregory that extended from the field all the way into the hallways inside of Valley Ranch.
SECONDARY SETUP
I have often said and written, "Brandon Carr will be on your football team in 2016." That despite his middling performance and his bloated contract.
Now the contract is different… And maybe the performance from this supremely good locker-room guy will be, too. The new deal will see Carr's salary reduced from $9.1 million to under $6 million. Carr signed a five-year, $50-million deal with the Cowboys in 2012, making him one of the highest-paid corners in the league. That's now changed - but Carr being on this team was never going to change.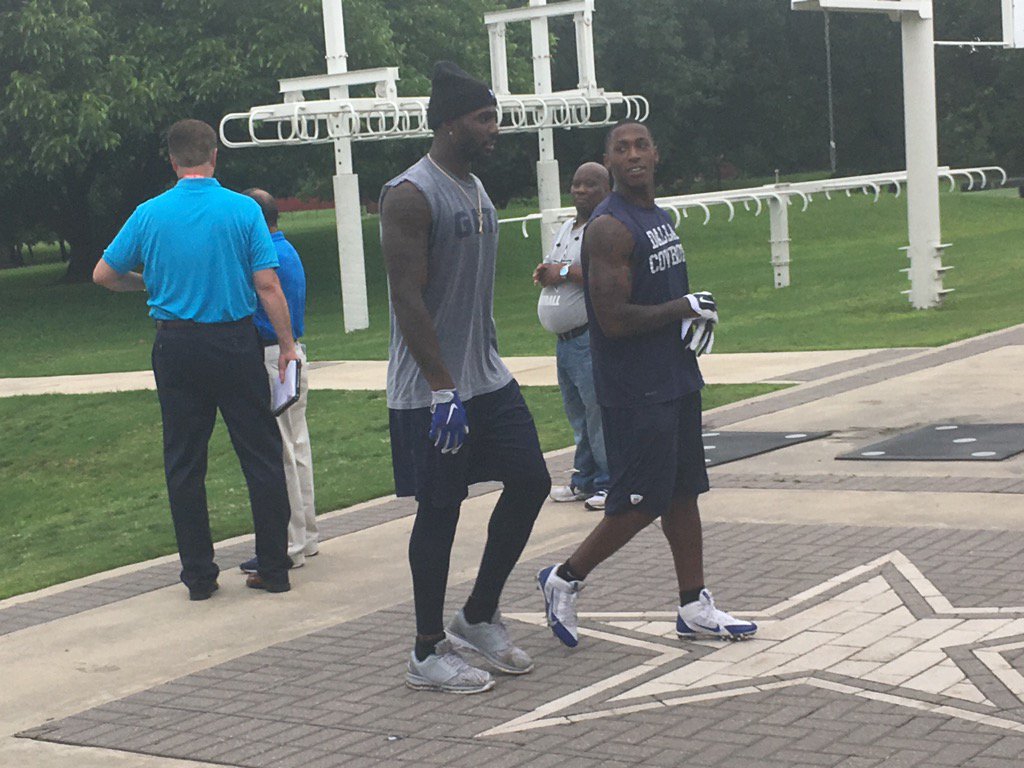 Jones, by the way, leads this defense in practice hustle, sprinting to his spot after every down. Who leads the offense in practice hustle? All-Pro left tackle Tyron Smith, who sprints the same way back and forth to the line of scrimmage, to his huddle, through the play, and then all over again.
QUICK KICKS
 Rico Gathers is back at Valley Ranch after missing the opening week of OTAs to finish classes at Baylor. The rookie tight end takes the very last reps in every drill while eyeballing the guy who takes the very first snaps. "He's real consistent,'' Gathers said of Jason Witten. "He's been doing this for a long time. Just seeing how he gets out there every day and takes every rep personal. He treats every rep like it's a game rep." ... Lucky Whitehead tells me he's put on 11 pounds of muscle, up to 184. ... While some media observers are keen on Ryan Russell as a starting DE, it's worth repeating that Gregory got lots of first-team reps at right end. And I'd add that David Irving's potential remains very high in the eyes of the coaches. ... DB Terrence Williams sustained a finger injury ... Witten on Zeke: "He works the right way. He fits our mold of what we're trying to do as a football team.''
THE FINAL WORD
"When you set a bar and you have a standard, no matter who you are, you don't go below this bar. He'll tell us when we do good and he'll tell us when we do bad. [Wednesday] we had a good practice. Tuesday, he ripped my us a new one. He has a standard and I love that." - Alfred Morris on coach Jason Garrett.
null