After weeks of consideration by Dallas Cowboys quarterback Tony Romo and an equal amount of premature speculation by observers, Romo is planning to undergo surgery to aid and protect his mending collarbone, sources close to the situation tell CowboysHQ.com.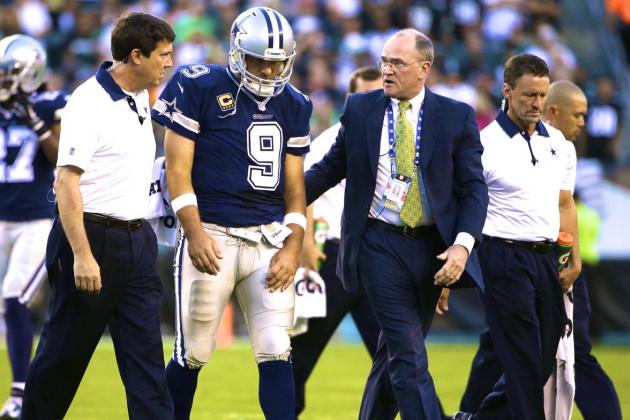 Contrary to DFW reports, he is not "leaning more toward undergoing a Mumford procedure'' on the left clavicle over surgically attaching a plate over the bone, the sources said, who add the exact nature of the surgery and the choice between those two proceduees is still being considered by Romo and doctors. collarbone, according to a source.
Also contrary to national reports, there was no decision made a month ago because such a decision would have pre-dated Romo even undergoing the CT scan. "That would be doing it backwards,'' a medical source explains.
Still to be decided: Whether the Mumford procedure (in which a portion of the distal clavicle is shaved off) is enough ... and whether the plate is a sort of "patch on a tire,'' as one doctor familiar with the procedure tells CowboysHQ.com.
Romo is working to ensure that if the plate in the right option, it protects him as much as possible from a yet another break. (The Pro Bowl QB has endured three collarbone breaks.) Also at issue: Whether the plate actually puts added stress on the area more than it actually aids it.
So there is no "leaning'' one way or the other yet. There is continued examination, as Cowboys COO Stephen Jones notes from the NFL Scouting Combine in Indianapolis when he says,  "I think he's wanting to make sure if he does do it it's the right way to do it."
The Cowboys, of course, want their own level of insurance, not just for Romo but also for the position of QB. You can read plenty about that by searching here on the subject of Dallas and the NFL Draft on CHQ News Archives. We've written about the idea that Romo might be facing his "Final 25 Games'' and Dallas' readiness for that. Click here for that.)
Sources tell us in either event, Romo expects a recovery period of not much more than six weeks, allowing him to participate in OTAs in May. (Oh, and why wait this long, and even get another X-ray in the coming days? Because if he chooses the "plate'' route, the collarbone will need to be fully healed, otherwise a premature surgery would actually do damage.
So, in the view of Romo and the Cowboys, the collarbone is going to be fine, and surgery is coming. And OTAs are going to work out fine because that surgery -- in one form or the other -- is coming in the next two weeks.