You use free agency to get positions and you use the draft to get players.
1st round: DB Jalen Ramsey
The rumors the Cowboys already have Jalen Ramsey on the top of their board were false. That's because the Cowboys didn't even HAVE a board when those rumors surfaced. (That story, and our Ramsey profile, is here.) However, after an extremely impressive combine performance, I wouldn't be the least bit surprised if Ramsey is #1 on the Cowboys board now. Some worry that he won't make it to the Cowboys at #4, which is a valid concern. I'm not so worried. I believe Tennessee will take Tunsil and Cleveland will take Goff/Wentz. San Diego is the team that is most likely to take Ramsey ahead of the Cowboys but I don't think they will. Offensive line and defensive line are far greater needs. I could easily see them drafting either position there or even trading back with a team like San Francisco who wants to grab whichever QB Cleveland doesn't take - leaving Ramsey ripe for the picking at #4.
Ramsey is a big strong defensive back that can play corner and safety. He is physical, instinctive, versatile and brings some serious attitude on the football field. If it were me, I'd pair him up with Byron Jones and start him at SS with Jones at FS. That would give the Cowboys one of the best safety duos in the NFL. However, regardless of what position Ramsey ends up at, he will make an immediate impact for this defense and provide the Cowboys with a big time playmaker, which is something they lacked in 2015. Picking Ramsey would give the Cowboys two of the most athletic defensive backs in recent memory in back-to-back seasons.
2nd round: DT Kenny Clark
The Cowboys have stuck with Nick Hayden as the starting 1-tech DT because they love his motor and effort. However, that doesn't change the fact that he's an average player at best. The Cowboys need a major improvement at this spot to help open things up for Tyrone Crawford and to make big stops in the run game. Kenny Clark would provide just that.
Clark is one of the best defensive linemen at defending the run in this rookie class, recording 73 total tackles including 10.5 for a loss in 2015. He can hold his own against double teams and consistently disruptive. He's also versatile enough to play multiple positions on the defensive line and is improving as a pass rusher.
One more notion, this one from the great Brad Sham ...
Wait, what?!
3rd round: WR Kenny Lawler
With Terrance Williams entering the final season of his rookie contract, the Cowboys need to be looking for a potential replacement for him. Kenny Lawler could not only replace Williams in 2017, or sooner, but he would be an improvement in my opinion. 
Lawler is a big, fast receiver with incredible athleticism and can make every type of catch possible. He needs to put on some muscle but even now, he's not afraid of contact or being physical with cornerbacks. He consistently makes tough, consisted catches and regularly ends up on highlight reels. If he can improve his route-running and put on a little weight, he has all of the physical tools to be a star opposite Dez Bryant.
4th round: QB Dak Prescott
Some fans want the Cowboys to go after Wenzt/Goff/Lynch in the 1st round. I'm not one of them. If the Cowboys truly believe that one of them is a franchise QB, then okay. However, I just don't see any of them as that. (
Be careful with all of Dallas' "chum-throwing'' here, by the wa
y.) If this team wants to draft a QB, my preference would be to grab a mid-round guy and see if you mold them into something. That way you're not using a premium pick and the value would be greater. Dak Prescott fits that bill. 
Prescott has already done an official interview with the Cowboys at the combine so we know there's interest there. At Mississsippi State in 2015, Prescott finished with a 66.2 completion percentage, 29 touchdowns and 5 interceptions. On top of that, he had 588 rushing yards and 10 rushing touchdowns. Dak also has solid measurables for an NFL QB. He's 6'2", 226 lbs - 2 inches taller and 20 pounds heavier than Russell Wilson. He also has nice sized hands at 10 7/8 inches. He certainly needs to improve in some areas but he'd be a nice project for the Cowboys to play with for a couple of years and has the physical tools to have success at the next level.
Maybe Prescott pushes for a No. 2 job here (especially with Colt McCoy staying in Washington) or maybe Kellen Moore hangs on tight there.
But at least there is positive news at the No. 1 spot.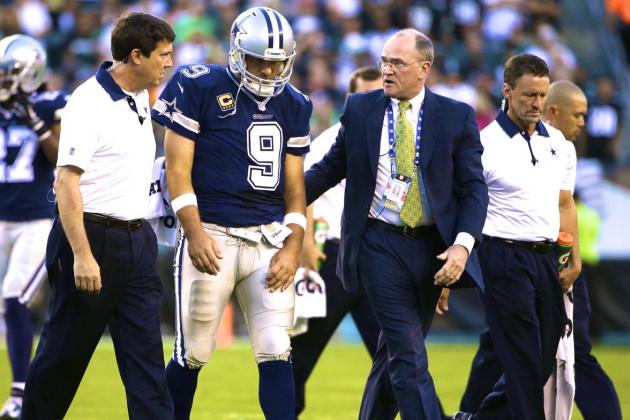 Cowboys quarterback Tony Romo underwent surgery on his left collarbone on Tuesday. Romo, 35 and coming off a third break of the collarbone, is expected to be ready to participate in OTAs and training camp for the Cowboys with the procedure coming with a six-to-eight week recovery timeframe.
4th round: RB Kelvin Taylor
A lot of people think the Cowboys are set at RB after Darren McFadden surprised the entire NFL by finishing with the 4th most rushing yards in 2015. I disagree. McFadden certainly exceeded expectations but he's still not a zone-blocking scheme running back. He doesn't allow this offensive line to play to their strengths and reach their full potential. Kelvin Taylor on the other hand…
Kelvin is the son of former running back Fred Taylor. He is an ideal fit in a ZBS. He has the agility, vision and burst you want. He's a little short but he plays with toughness and isn't afraid to make contact with defenders. Taylor plays with a ton of effort and heart. On top of that, he never fumbled in his college career and he carried the ball 510 times.
6th round: DT Adam Gotsis
The Cowboys already drafted a 1-tech DT earlier in Kenny Clark, however they could still use more depth at the position - especially with Nick Hayden as a free agent and Terrell McClain's injury history.
Adam Gotsis is 6'4" and 287 pounds. He injured his knee in 2015 and only played in 7 games. Still, he finished with 3 sacks, 5 tackles for a loss and 2 forced fumbles. He was also a team captain for all 3 of his college seasons, which is something that Jason Garrett loves in his players. If he checks out medically, he'll be a nice rotational piece for the interior of this defensive line.
6th round: DE Matt Judon
Some would prefer for the Cowboys to draft a DE earlier in the draft but this is a weak class for edge rushers. There are very few DE's in this draft who can provide an immediate impact. Even if great edge rush classes, rookie pass rushers average less than 3 sacks. Having said all of that, there are still some guys in this draft class with potential.
Matt Judon went to a small school, Grand Valley State, but he absolutely destroyed his competition in 2015. Judon finished the season with 20 sacks, 23.5 tackles for a loss, 3 forced fumbles and 3 fumble recoveries. Judon also finished in the top 5 among defensive linemen at the combine in the 40-yard dash, bench press and vertical jump. He definitely needs time to fine tune his technique and become an NFL caliber player but a few years under Marinelli would work wonders.
6th round: CB KeiVarae Russell
With the future of Brandon Carr and Morris Claiborne in question, the Cowboys need more depth in the secondary, even after picking Ramsey at #4. Russell gives them a solid, young player that can play special teams while gradually seeing snaps on defense.
Russell had 60 tackles, 3.5 TFL, 1 sack, 2 interceptions, 4 pass breakups and 2 forced fumbles in 2015. While Russell's ball skills need work, he is an instinctive player with impressive closing speed and solid tackling. He was a day 1 starter at Notre Dame with high football IQ. If he's broken leg is fully healed, he'll be a high value pick in the 6th round. 
6th round: FB Dan Vitale
Let me start by saying that I'm not a big fan of drafting a FB. However, knowing how much Jason Garrett likes his fullbacks + the fact that Tyler Clutts is a FA, I wouldn't be surprised to see them grab one in the 6th round.
Dan Vitale was tied for 1st place among all RB's at the combine with 30 bench press reps. He also had the best 20-yard shuttle time among all RB's and the 3rd best vertical jump. Vitale is not only a strong, phsyical blocker, but he can be used as a weapon on offense. He had 135 catches, 1,427 receiving yards and 11 receiving TD's in his 4 year career - including 4 TD's in 2015.
In closing...