Each Sunday I provide 10 quick hits on the Dallas Cowboys. The news of the week, analysis of key events and a little humor as we try to keep the Cowboys' offseason moves in perspective in this edition of First and 10.
1. So who is Benson Mayowa? Because, as much as I keep up with the NFL, I didn't know a lick about this guy until Friday. Mayowa is a third-year defensive end with the Oakland Raiders. Last year he managed 16 tackles, one sack, one forced fumble, two fumble recoveries and a safety. He was an undrafted free agent with Seattle in 2013.
The Cowboys made Mayowa, a restricted free agent, a three-year offer worth $8.25 million with a $3.3 million signing bonus.
And just when I was getting ready to praise the Cowboys for showing restraint this offseason…
The former Idaho Vandal has two career sacks and 30 career tackles.
Am I missing something? The Cowboys want to pay Mayowa $8.25 million for three years? The whole thing just seems out of whack, in my opinion.
By the way, the Raiders can get the Cowboys off the hook by matching the offer by midnight Wednesday. But why would you?
I know that free agency is about finding value, and that involves risk and projection. But spending more than $8 million (even though I know it's not all guaranteed) on a guy that is built like Randy Gregory and has, to this point, produced like Gregory, just doesn't make much sense. It qualified as a "step,'' though, I suppose.
2. I'm down with Alfred Morris in Dallas. Here's a guy that knows how to run in a power-back offense, has three 1,000-yard seasons and is the picture of durability — he's started every game for Washington in his four years in the NFL. The only thing I worry about is the money. How much does he want? Fifteen years ago a back with his production — 4,713 yards and 29 touchdowns — would get top dollar. Now? This deep into free agency Morris may be willing to accept a Cowboys-friendly deal.
Consider this. Matt Forte signed a 3-year deal with the New York Jets for $12 million. He's 30. Bilal Powell, who is 27, signed a three-year, $11.25 million deal to stay with the Jets. From there the gap is huge — Lamar Miller got $26 million from the Texans and Chris Ivory got $32 million from the Jaguars. Only Forte has been more productive for his career than Morris, who is 27.
The market should be/should've been something like four years and $16 to $20 million. But I get the sense it's going to be less than that. And if it is the Cowboys should pounce. A backfield with Morris, Darren McFadden and Lance Dunbar — with the chance to add depth in the draft — is a great scenario at this point.
For that matter, not only is Alfred Morris scheduled to be in Dallas on Monday but former San Diego cornerback Patrick Robinson has a visit, too. This has the potential to be one of those signings the Cowboys have done a good job of facilitating in the past few years — a former first-round pick with solid credentials who can come in and provide depth to a unit in need of it. He's broken up more than 50 passes and has 10 interceptions in six years. Only two Cowboys have more career interceptions than Robinson — cornerback Brandon Carr (14) and linebacker Sean Lee (12). That may tell you all you need to know about Dallas' cornerback situation at the moment. They need more bodies that can create turnovers.
Seal a deal with Robinson and Morris, bring back Jack Crawford and "win'' on Mayowa and there are your Next Four Steps ... and we start to turn the page away from free agency and fully toward the end-of-April NFL Draft, and maybe filling another vacancy there at QB, where beyond the first-round options there is somebody like Dak Prescott, who the Cowboys will have a private workout with this week.
3. CowboysCast tackled the Greg Hardy question this week. Host Bobby Belt and our Mike Fisher debated whether the events of free agency thus far have led the Cowboys to re-evaluate their stance on "The Kraken." You can also catch our newest CowboysHQ.com contributor, Cami Griffin, chatting with Bobby about whether it really is "Super Bowl or Bust" for these Cowboys.
By the way, regarding Hardy, I'll say this. The longer you keep a guy like Greg Hardy the greater the likelihood he'll drag your franchise down. The Cowboys are making the right call here.
4. This week I published my second first-round mock draft. I've been doing these for a few years and I was surprised how much my first round changed this time around. Of course, at this time of year, the valuation of players is all over the place.
I'm off the quarterback train for now and went defense with the Cowboys' No. 4 overall pick. It's what the Cowboys need. I'm just not sure if that player will be on the top of the board when the Cowboys come around.  
As usual, all mock drafts are for recreational purposes only. No wagering please. And if you wager on mock drafts you might want to re-evaluate your life.
5. The NFL owners meetings are upon us. There is a whopping 19 rules changes on the agenda. One of them is to eliminate overtime in preseason games. I'm surprised the proposal isn't to find a way to charge fans extra for overtime in preseason games. I mean that's extra football. That's extra money, right? Right, Jerry?
All kidding aside if a preseason game I was covering went to overtime I would leave. Seriously. I just don't think I could deal with that.  
6. Now here's a potential rules change that could make more of an impact. The NFL is considering opening up the game-day roster from 46 players to 48. Now give that some thought. With two extra spots on game day, what would you do with that? An extra running back? An extra wide receiver? Offensive line depth? For a team with deficiencies on defense at this point, I think I would lean toward defense. I envision an extra pass rusher and an extra defensive back. It could also open the door to keeping some specialty-specific guys. I'm thinking of a guy like Jameill Showers, who can do several things, having an opportunity to make an impact. It's intriguing. I like the proposal and I hope the NFL acts on it.
7. Our Mark Lane took the short drive down to Waco for Baylor's Pro Day this week. His takeaways from the trip are here. I always enjoyed pro days when I got to attend. My first was back in 2008 at the University of Florida when I covered the Buccaneers. The biggest difference between the Scouting Combine and Pro Days is the atmosphere. The Combine is as regimented as covering the Super Bowl at this point — go here, you can't go there, talk to players here, don't talk to them there. By comparison Pro Days are like shooting the breeze on the back porch. You get relatively easy access to coaches, players and scouts.
And then you get cool cameos like Mean Joe Greene, whom the Steelers brought with them to Waco to check out Bears tackle Andrew Billings. I imagine Greene's reaction after watching Billings was something like, "Really? You needed me here to tell you guys what a dumb sportswriter can figure out?" Billings is good. Real good. He's gonna make an NFL team really happy the next few years.
By the way wide receiver Corey Coleman ran a 4.31 but says he's "90 percent" after hernia surgery. Uh-oh.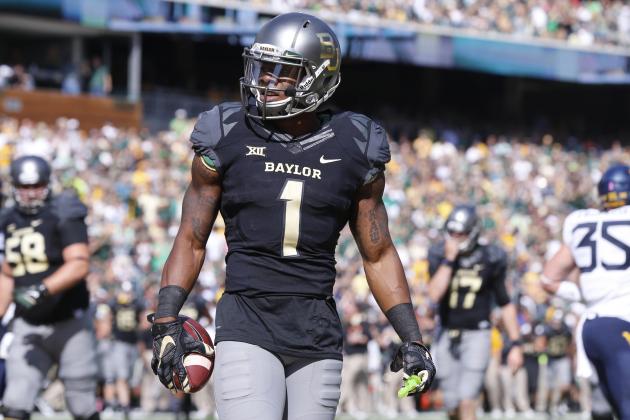 And, don't read anything into the fact that Cowboys personnel executive Tom Ciskowski was the only Cowboys exec observed to be there. Given Baylor's proximity to Dallas, their scouts probably tore up I-35 last season. That's pretty standard for schools that are in proximity of NFL teams.
8. Great Moments in Headline Porn for this week? From Inverse.com — "India's Temporary Acid Tattoos Revive the Dallas Cowboys LSD Hoax." Check out the story here. Don't tell Jerry. He'll try to monetize it.
This week's runner-up? "Five Theories on Jared Goff's magical hand growth" from The Sporting News. Somewhere Donald Trump is telling people, "Jared Goff's hands are amazing and they're gonna make America great again."

9. The Lance Dunbar deal is a good one for Dallas. And I'm not just considering his tremendous speed out of the backfield (when healthy). The Cowboys have crafted a deal that gives Dunbar incentive to do whatever he can to avoid injury and minimizes Dallas' risk. Nearly a third of Dunbar's $1.75 million deal is tied up in per-game incentives (think Greg Hardy). But when you consider that there's a good chance Dunbar lands on the PUP list to start the season due to his knee injury of a year ago, it's unlikely he'll earn all the incentives.
I also feel like this is Dunbar's last chance to prove he has a real place with the Cowboys. His top-end speed is a tremendous asset. But it does the Cowboys no good when he's hurt. And after seeing his last two seasons end with major injuries, one has to wonder if the speed is gone, or at least a tenth of a second slower. This gives the Cowboys — and Dunbar — one last chance to find out.
10. Checking out Pro Days for this coming week. Here are some players that the Cowboys might be taking a look at this week (player availability is subject to change). And, check out my premium piece on five players who helped themselves during Pro Days the second week of March.
March 21: North Carolina State (QB Jacoby Brissett)
March 22: Florida (CB Vernon Hargreaves III), Louisiana Tech (RB Kenneth Dixon, DT Vernon Butler); North Carolina (OG Landon Turner)
March 23: Texas (CB Duke Thomas, DT Hassan Ridgeway)
March 24: Arizona (ILB Scooby Wright III, WR Cayleb Jones); North Dakota State (QB Carson Wentz)
March 25: BYU (DE Bronson Kaufusi)
Want to talk more about the Cowboys? Hit the CowboysHQ.com Boards or hit Postins up on Twitter at @PostinsPostcard and Mike Fisher at @FishSports.