Below, our second installment of a Cowboys state-of-the-roster address by each position of need over the next few weeks.
Wide Receiver:
The Cowboys may have more talent on the offensive side of the ball than they do on the other, but that still includes holes that need to be filled heading into the NFL Draft. One place to examine: Is Terrance Williams's job safe as the No. 2 receiver?
It's a business. No one's job is safe in the NFL. In particular, the Cowboys could really benefit from another starting wide receiver opposite Dez Bryant (having some recent uniform fun at Oklahoma State, as you see above). After Miles Austin was cut in the 2014 offseason, Williams officially took over as the No. 2 receiver. 
Since then, Williams has played in 37 games in his NFL career after being selected by Dallas in the third round of the 2013 NFL Draft. The former Baylor standout may have compiled a career-high season in 2015 in catches (52) and yards (840), but still underperformed when needing to become the lead receiver due to an injured Bryant. Adding to the disappointment: The bar raised last spring when Dez was without a contract and the rave reviews coaches gave T-Will for his work in that X spot.
Terrance Williams certainly has a role in the NFL, but is he deserving of a new contract? Williams cap figure is currently at $1.8 mil. If the Cowboys are willing to draft a receiver high enough, it's realistic to find an eventual replacement for Williams, who becomes an unrestricted free agent in 2017. ... and at this moment, you should bet against big money for T-Will in Dallas.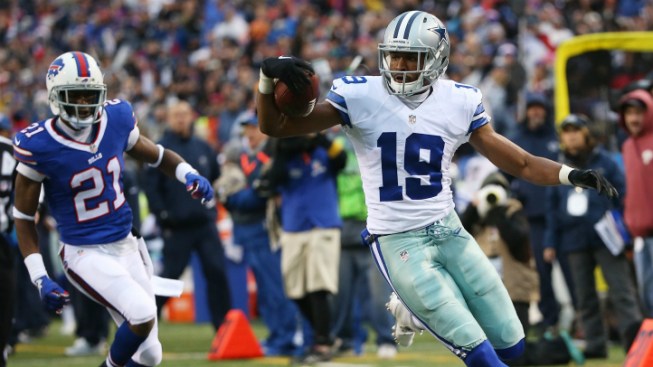 Whether the Cowboys go through the draft or put stock into receiver Brice Butler, currently on the Cowboys roster through 2016, may have to be finalized throughout training camp. However, Butler's current cap figure is only sitting at $675,000. A four-star recruit out of high school, Butler has impressive size (6'3, 214 pounds), length, and speed. In order to compete with Williams on the outside, Butler must improve his route running and find a way to stay healthy.
As Butler tells CHQ in this 1-on-1 visit: "Dez is a great teammate. He's a very passionate guy who puts it all on the line every day. When you got a guy like Dez in the room and you see his passion for the game, it rubs off on you. There are some guys that go to work that are just doing a job and then there are guys where it's life or death. That's Dez. He brings that passion out in you and makes you give even more effort. It elevates the level of play of everyone else. We're all big competitors so when you see Dez out there making plays you think, 'I want to be making those plays too.' You wanna make plays like he does."
Behind Bryant, Williams and Butler, the Cowboys currently have Cole Beasley, Devin Street, and Lucky Whitehead on the active roster trying to "make those plays, too.'' Beasley and Whitehead have similar frames at 5'8 and 5'9, respectively. Dallas thinks Beasley is a weapon as a slot guy. And Whitehead has packages that allow him to succeed in ways that match predecessor Dwayne Harris.
https://twitter.com/jonmachota/status/717410964392398848
But Dallas likes the big-bodied outside receiver, as a matter of course. The Dez-like guys. That's one of the reasons Ole Miss star Laquon Treadwell is at Valley Ranch this week as part of the team's 30 Visits. (There is also buzz about 6-2, 185-pound Pitt receiver Tyler Boyd and Notre Dame speedster Will Fuller, who is just 6-0, 172.)
Another option is to develop in house receiver Vince Mayle. An under the radar signing to the Cowboys practice squad in 2015, Mayle has the size (6'2, 224 pounds), speed, and potential to be elevated to the active roster, although he's fairly raw at the position. Mayle has the ability to win in contested situations, something the Cowboys have been struggling to find aside from Bryant.
If everything is laid out perfectly (such as needing a quarterback to drill the ball into his chest), Williams is one of the top receivers in the NFL. Unfortunately, the NFL is far from perfect and players must learn to adjust, as the Cowboys witnessed in 2015.
Depth is crucial. The receiver competition behind Bryant will be one of the top battles to watch throughout training camp in 2016. Terrance Williams is part of the competition. We predict the draft brings some more components.