A few weeks ago, ESPN analyst Louis Riddick tweeted that he didn't need to see Myles Jack run a pre-NFL Draft 40-yard dash because he saw everything (good) he needed to see on Jack's brilliant UCLA game film. 
With all due respect to Mr. Riddick, a former NFL scout, that is a fun way to run a Twitter account ... but a terrible way to run a football team.
Those sort of pro-Jack remarks have flooded the coverage of the terrifically talented Jack. To wit:
https://twitter.com/Edwerderespn/status/720259553431044096
That's my long-time friend Ed Werder.
And from my long-time friend Mike Silver:
Numerous NFL front office and coaching sources agreed with (the) assessment that Jack, projected as a top-10 pick, would not be hurt by his failure to run a 40.
"I don't think it will affect anything," said the head coach of one team with a top-10 pick. "He's doing a ton of great movement stuff."
Said another team's top personnel executive: "It won't hurt him at all. He's so good it doesn't matter."
I believe Ed was told that and I believe Mike was told that and I believed before the April 14-15 medical re-checks on Jack's knee -- he tore the anterior meniscus in his right knee last September, ending his 2015 season and adding some mystery to his involvement for most of the pre-draft process -- as I believe now: Not every team was going to clear Jack without seeing more than just his 2015 UCLA tape.
And if not every team clears you, you aren't healthy ... and you therefore are not going to be the No. 4 pick in the NFL Draft.
That is my understanding regarding the Cowboys' position on Jack. He's gifted and he's special, and even if you get beyond the idea that a non-pass-rush linebacker can be the fourth-best player in the draft, you cannot get beyond the idea that there might just be a long-term health issue with Jack's knee.
About that "gifted and special'' part: As our Matt Galatzan notes:
Jack hails from Bellevue, Washington, where he attended Bellevue High School. Jack played running back and linebacker for the Wolverines, accumulating 98 tackles and 24 sacks as a senior. Jack would also excel in track and field, where he would run the 400-meter dash, the 200-meter dash, the 4x100m and the 4x400m, helping his team to win a state championship in the latter two of the four. 
As a recruit, Jack was a consensus four-star recruit by all recruiting services, choosing UCLA over Florida State, Washington, and Arizona State among others. 
While at UCLA, Jack became a workhorse for the Bruins from Day one, starting 12 of 13 games at linebacker, and playing some running back as well. His freshman season, he had 75 tackles, two interceptions, and 38 carries for 267 yards and seven touchdowns. He would go on to be named a Freshman All-American, Second-team All-Pac-12 as well as both Pac-12 offensive and defensive player of the year awards. 
During his sophomore season, Jack would again be a jack-of-all-trades, accumulating 87 tackles and an interception, and rushing the ball 28 times for 113 yards and three touchdowns. 
In late September, after just three games played in his junior season, Jack tore the meniscus during a non-contact drill in practice. Jack would withdraw himself from UCLA and focus on preparing for the NFL Draft.  But again, as an athlete, Jack is nothing short of elite. He is muscular, quick, agile and has very good ball skills for a linebacker.  He is a rare breed who can cover tight ends and running backs out of the backfield with ease, and even some inside receivers. His ability to anticipate and close on the ball carrier is also exceptional. 
Jack also is an extremely efficient tackler, and shows great form and ability to wrap up ball carriers. His speed off the edge makes him a very good edge rusher when he's asked to do so as well. You could make a comparison to NaVarro Bowman as they are also both very instinctual players at the linebacker position, and both possess great ability to recognize plays and close on defenders in the open field. 
Given all that? Somebody will draft him. Maybe high. (Jacksonville spent time with him this weekend, so it's possible a guy who cannot go at No. 4 can go at No. 5.) Someday soon he might be healthy enough. Maybe he'll be a brilliant pro. But I'm told it won't happen at No. 4 (and for some teams that didn't clear him, it won't happen at all, as their faith may be shaken enough to totally remove him from the draft board)  and there simply isn't much gray area here.
If you are the Joneses and you look into the eye of your medical team and your medical team shakes its collective head, you don't put Myles Jack in a premier-pick position.
https://twitter.com/MGolicJR57/status/714931022589140992
Mike Golic Jr. is not my long-time friend but I can still answer him: Well, maybe because I can't draft a guy who can't run a 40?!
There is gray area when it comes to the actual re-check, of course. The NFL Draft is an inexact science and, it seems, predicting the full extent of a meniscus tear is, too. So you move on. (How far does Jack slip? At what point does a team that has skepticism about him at No. 4 convince itself it's worth the risk at, say, No. 34? I don't have that answer. I'm just envisioning Joneses' medical people shaking those heads.) I believe Dallas has eliminated Jack from the No. 4 conversation and is beginning to narrow it's candidates at that lofty spot. I believe defensive back Jalen Ramsey, defensive end Joey Bosa, running back Ezekiel Elliott and "Whoever Is A Franchise QB'' are the four most-discussed concepts right now inside Valley Ranch. And I believe that unfortunately for Myles Jack, he's a far more popular name to discuss in the low-risk world of Twitter and the low-risk world of anonymous sources than it is in the high-risk world that exists at Cowboys headquarters.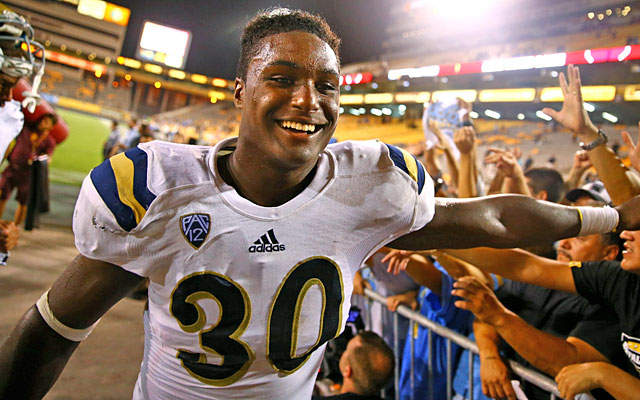 null