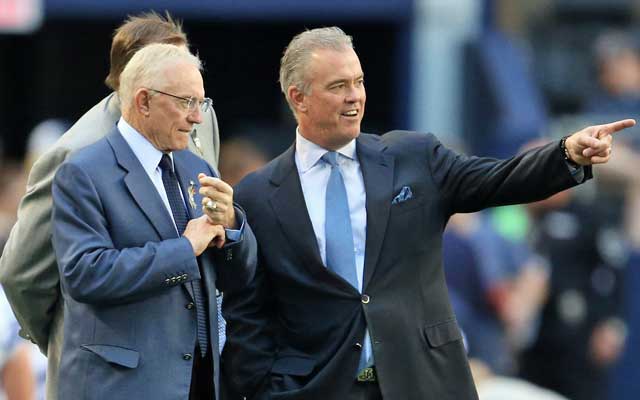 WHAT POSITION GROUP DO YOU FEEL LIKE HAS THE MOST ROOM FOR IMPROVEMENT? -- "That's a hard one. You try to work in free agency to really get your team to where you don't have an obvious need. And that's what we tried to do. But I think at the end of the day our defensive front is still a position that we keep our eye on in terms of always trying to get better there and ultimately find a dominant type of pass rusher. Obviously that's easier said than done. And then of course we continue to think about our backup quarterback position behind Tony based on the obvious which is what happened to us last year when, for whatever the reason, he's not able to stay healthy. Then, we have a better solution than what happened to us last year. And then after that, we're looking. We're looking for the best player to help us out. That's obviously what we'll be doing. We have that top-4 pick in the draft and sitting there at four. We earned the hard way which was through a lot of pain and agony. And, so, we've got to make the most of it. Hopefully, we're not back here again for quite some time."
COULD YOU FIND A QB OUTSIDE OF 1ST ROUND THAT'S BETTER THAN CASSEL/WEEDEN? -- "Well, I think yes. That's a possibility. That doesn't mean that we won't end up with another veteran quarterback in camp before all of this is said and done. We'll continue to make this a work in progress here. We're obviously doing a lot of diligence in terms of quarterbacks in the draft. But other than first round, we do some quarterbacks that we do like and think that could develop into something that ultimately could be better than how we played last year. Those are all things that we will take into account as we move into the draft."
COULD AN RB EVER BE WORTH A TOP-5 PICK? -- "Yeah. I think a guy could be good enough to warrant something like that. I mean, you don't have to look far to an Adrian Peterson or if [Todd] Gurley would have been healthy last year coming out. He was obviously one that could have warranted that type of grade. So, there's backs that can certainly warrant being up there with and being eligible in our mind to have the value of being picked that high."
HAS YOUR PHONE BEEN RINGING FOR THE NUMBER FOUR PICK? -- "Not really. You get the old 'if our guy's there, we might have interest.' But usually unless you're carrying that first pick, everybody knows who they're going to have their choice with it. Once you get a little further down in the draft, you got to be prepared to play out your quarterback and make some quick decisions because a lot of it will depend on who gets picked as we move through the draft. Who knows if it's going to be in high demand or if someone wants to try to steal it from you for not what you should be getting for it. Those are all things that we'll be taking a long, hard look in deciding if we want to stay where we are or move down. Still haven't ruled out that we would move up if we felt like we should. So, right now, I would say that all options are on the table."
HOW ARE YOU FEELING ABOUT TIGHT END? TIME TO UPGRADE? -- "Not yet. We feel really good about Jason [Witten]. I think what Jason does obviously has been a little conflicted with what [Gavin] Escobar does best. And then we feel really good about [James] Hanna and his role along with [Geoff] and what he could do with Jason. And then of course [Geoff] Swaimm is a guy that we think a lot of. That tight end position right now we feel pretty good about it as we head into next season."
DO YOU FEEL LIKE HAVING THORNTON, T. CRAWFORD PREVENTS UPGRADING THE INTERIOR DL? -- "No, I think at the end of the day we're looking for good football players. And some of those guys do have flexibility. Tyrone Crawford can easily flip out and play some end for you. If that's the way things fell, then you could find the right under tackle there, certainly can look at that. He has that type of flexibility. And that's what makes him valuable. He played a lot of the year with a hurt shoulder, but made it through it and played solid. But I do think we can, you know, he's got some upside in terms of how he can play when he's healthy. So, but, no, I wouldn't rule out, a long-winded way of saying we wouldn't rule out taking a defensive tackle."
WHAT DOES MANZIEL HAVE TO DO TO GET ANOTHER CHANCE? -- "I think it's all been said about Johnny. He obviously needs to get his hands around what he's doing off the field and how he can be more functional in terms of ever being in a spot where he, you know, you could count on him or depend on him. Obviously that's something that he's got to get his hands around. I'm sure it's a work in progress for him. We all know those things when you have that in your life, it can be difficult. But I'm sure everybody would love to see him get his hands around it so he can come back and be the type of player that he as picked to be in Cleveland."