Each Sunday I provide 10 quick hits on the Dallas Cowboys. I dissect the flow chart that could be Demarcus Lawrence's appeal, why the Cowboys were smart not to go all in with Josh Norman and which Cowboys offensive player I'm most interested in seeing improvement from in this edition of First and 10.
1. Demarcus Lawrence reportedly pops on a drug test … and then things get complicated. The positive test, reported by everyone under the sun, could lead to a four-game suspension. I write "could" because the NFL did tweak the substance-abuse policy recently to allow, in some cases, for a player to pay a four-game fine but still play. Remember Rolando McClain? Last offseason he was set to pay a four-game fine for a violation, and then violated the policy again to earn the suspension.
This is because the NFL now has stages to its substance abuse policy. Stage One begins when a player fails a NFL drug test, refers themselves to the program or a team doctor puts them in the program for "questionable behavior," such as arrests or psychological issues. Stage One usually lasts 90 days and if the player is cleared they move out of the program. If the player doesn't move out of the program they move into Stage Two. It's important to note that if a player violates the policy during Stage One it results in a fine, but not a suspension.
Stage Two is the policy you're more familiar with. This stage actually lasts two years. Players must submit to regular testing and treatment. In this case, a positive test under Stage Two can lead to a four-game suspension. In some cases that suspension can be up to six games. If Lawrence is potentially facing a suspension that means he's in Stage Two of the program, which means Lawrence had most likely previously tested positive for something. Yes, the Cowboys almost certainly knew that. Yes, this information is supposed to remain confidential, and the NFL and NFLPA outlines that in the policy. But the policy lists so many people that have a hand in the process that, well, you get the point — it doesn't stay secret.
So for 24 hours Cowboys fans walked around dazed thinking that they may be doing without both Randy Gregory and Lawrence for the first four games of 2016. But our Mike Fisher followed that up by breaking information that the Cowboys believe Lawrence's positive test was for amphetamines and medication and that Lawrence planned to appeal. This is an important distinction in the policy. Amphetamines fall under the policy, but are allowed if the player has a documented need to take them for a medical condition. It's akin to the Epstein defense from "Welcome Back, Kotter" — "It's OK, Mr. Goodell — I gotta note."
In many cases the drug of choice is Adderall, which doctors can prescribe to help patients control Attention Deficit Disorder. In September of 2013 the Denver Post reported that eight of the NFL's 19 positive tests under the substance-abuse policy were either linked to or blamed on Adderall.
Theoretically a prescription and a condition prevent players from abusing Adderall. But it's not a huge leap to think that players who don't need the drug for medicinal purposes might use it if they needed a boost on gameday.
As with all things, we'll have to wait to see how Lawrence's situation is resolved. But the key here, if indeed the positive test is related to amphetamines, will be whether Lawrence has a medical condition and a prescription.
2. Josh Norman is a Washington Redskin. Norman's five-year, $75 million deal mirrors the deal Dallas receive Dez Bryant received, though Norman will get more guaranteed money.
It's funny. The Cowboys have stopped spending money willy-nilly and the Redskins? Well its like owner Dan Snyder unearthed Jerry Jones' free-agency playbook from 2001. Spend, spend, spend and hope it all works.
I made a point on Twitter: "When Dan Spends, the Redskins Fail." It almost seems like a self-fulfilling prophecy.
As for Norman, I like the player but I don't like the money and here's why — Norman's track record as an elite corner is really only one year. When the Cowboys signed Bryant he had a three-year track record of being an elite wide receiver.
You pay premium money to premium players with a premium track record. Norman doesn't have that. In fact, DeMarco Murray didn't have that long a track record going into free agency last year, hence the Cowboys offering him less than Philadelphia. You saw that contract and you saw what Philadelphia ended up doing after one season, right?
It's important to note that Dallas CAN afford a Josh Norman (the Premium explanation is well-worth your look). But ...
I'm happy to let Danny boy take the risk in D.C. If it works, great for Redskins fans. If it doesn't work, all the better for Cowboys fans.
3. I'm not sure how I feel about this particular statistic. USAToday.com, based on data provided by profootballreference.com, reported that the Cowboys have actually drafted more Pro Bowl players since 2005 (14) than any NFL team. And that doesn't include undrafted players like Tony Romo and Miles Austin.
The article also points out that if you remove the largesse of the 2005 Draft — the one that included DeMarcus Ware, Marion Barber III and Jay Ratliff — the Cowboys are still in the Top 3.
So the Cowboys apparently have the talent accumulation thing down. And yet, just two playoff wins during that span. Sigh.
4. My final Friday 7-round Mock Draft posted last night. Check out the final version at CowboysHQ.com. I'm sure some of you will hate it.
This time around I did only two scenarios. The first was a best available player scenario. The other revolved around satisfying team needs in a reasonable way, which didn't always mean taking the best available player. On Wednesday my final first-round mock will be released. I've changed the Cowboys' first-round pick on each of the previous mocks I've done. I'll be interested to see if it changes again.
5. You get a little bit of everything this week on CowboysCast, hosted by Bobby Belt. Our Mike Fisher stops by to talk Demarcus Lawrence. Our Cami Griffin stops by with her Cowboys update. And Belt interviews Houston running back Kenneth Farrow. You probably haven't heard much about Farrow, but he left Houston as the No. 4 all-time leading rusher and he feels like a late-round or undrafted free agent selection for a team looking for depth and special teams help.
Check out CowboysCast today and download the Cowboys Sports Radio app today for IOS and Google. That way you can listen to CowboysCast whenever you want.
6. It's Sunday, curl up with your best iPad and give Cami Griffin's piece on mid-round quarterback selections a read. She spent some time reviewing 10 years' worth of NFL Drafts to see if, indeed, taking a quarterback in the mid-rounds is worth it, if you're looking to develop a starter. The results of her research are illuminating and puts the prospect of taking, say a Dak Prescott, in the fourth round into perspective.
I'll also offer this piece I wrote from February. If you're still not buying the fact that Carson Wentz should be a first-round pick because he went to North Dakota State, then perhaps this piece will change your mind.
7. We're getting to that point of the pre-draft process where everyone is getting a little chippy — at least on Twitter. I was out of town a good portion of this week and saw our Jordan Ross, Cami Griffin, Mike Fisher and Mark Lane dealing with Cowboys fans taking them to task for their predictions on the Cowboys' first-round pick. Here's what I like to say about mock drafts and predictions this time of year — "No one's right and no one's wrong until Thursday night. Then you can keep score all you want."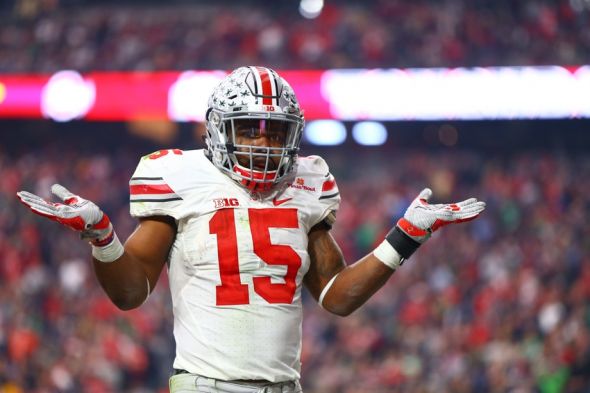 By the way, Fish has been saying "Ramsey, Bosa, Zeke and a Franchise QB'' for months, and most of our team is on the Ezekiel Elliott train at No. 4 and for good reason. The talent is there. I saw Elliott's last game in person at the Fiesta Bowl and he was dominant. Look at his film and you'll see it's no fluke. I'm not on that train right now. It's not talent, certainly. I just question whether he will be the top player on Dallas' board when the clocks starts on the No. 4 overall pick. And that's what it's all about. We're all making educated guesses, but none of us knows for sure what lies in the heart of Jerry Jones (and importantly, his advisors) and his team on draft day.
8. This week's Great Moments in Headline Porn? "Dallas Cowboys should trade with the Jaguars" from SportsBlog.com. The Cowboys totally should. Part of the article's foundation for this idea is to "mess with Jacksonville GM Dave Caldwell a little." So, you mean use the Cleveland Browns' strategy from the movie "Draft Day" to execute this? Sure, that sounds reasonable. Let's take it one step further and Kevin Costner to be the Cowboys' guest GM for the first hour.  
As a general rule, anything the Cleveland Browns do — in reality or in movies — just avoid it.
9. Cowboys offensive player I'm most looking forward to seeing this offseason, in terms of improvement? Guard La'el Collins. Everything about this guy projects that he should be a dominant guard eventually. I think he showed flashes in Year 1, but if he takes the steps forward I anticipate in Year 2 then this Cowboys offensive line might be downright impenetrable this season.  
10. Sometimes numbers help frame issues teams have to deal with the next season. The Cowboys' offensive issues last season were not about time of possession. Last season the Cowboys were No. 10 in the NFL in that category with 31 minutes, seven seconds per game. That's just a minute off of their 2014 time of possession average (32:13). In fact, when you look at yards per play from 2014 (6.0 ypp) and 2015 (5.5 ypp) there isn't much difference.
The problems last year weren't about moving the football or time of possession. The Cowboys performed those two tasks at acceptable NFL levels. The problems last year were about turnovers (33, tied for worst in the NFL) and scoring points (17.2 points per game, second worst in the NFL). Keep that in mind as the season approaches.
Want to talk more about the Cowboys? Hit the CowboysHQ.com Boards or hit Postins up on Twitter at @PostinsPostcard and Mike Fisher at @FishSports.