Each Sunday I provide 10 quick hits on the Dallas Cowboys. The NFL Network is releasing its Top 100 players, but I can't wait for Tony Romo to end up on the "overrated" list again. Plus, what three storylines do I want to see at mini-camp? I explore that and more in this edition of First and 10.
1. It's that time of year again when the NFL Network releases its Top 100 players in the NFL, as voted on by league players. Nos. 71-100 have been released and the rest will continue to be released this Spring. Already the Cowboys have … no one on the list. But given that four Cowboys were on the list last year, that's likely to change. Jason Witten, Dez Bryant, Tony Romo and Tyron Smith all made it last year.
But the release of this list can only mean one thing — the NFL's most overrated and underrated lists will be out soon and Romo is sure to be on the overrated list. I've never been a big fan of the conversation.
Romo's made mistakes. Romo's had gaffes. Romo's only won two playoff games. The implication of being overrated isn't necessarily about what happens on the field. It's more about the money, and Romo gets paid a lot. People see they money and think, "Well, he should win more." And maybe he should.
But you know what? It's hard for me to "overrate" a player when his team's record when he's out is 6-18, as the Cowboys are with Romo not on the field. If he were so overrated, wouldn't the Cowboys win more without him? Or is that too logical?
2. First thing I'm interested in seeing during OTA's next week? All of this young speed the Cowboys have accumulated in the draft — namely Kavon Frazier, Anthony Brown and Darius Jackson — and how it integrates with what the Cowboys already have. When you draft speed late on Day 3 their best shot at making the team is special teams. It's also the best way for a current young player to lose their job. I'm curious to see how many reps they get on special teams and how much of an impact they're able to make in a practice environment where there's little to no contact. Watch Frazier. He was a real special-teams ace at Central Michigan.
3. Second thing I'm interested in seeing during OTA's next week? Kellen Moore throwing the football. Sure, Tony Romo is going to throw and we're going to talk with him about that and his recovery from his injury. But let's face it — Romo will be ready. As the Cowboys have made no move to bring in additional veterans to compete for the backup role, all eyes should be on Moore's ability to throw the ball and the progress he's made since last season. In fact, it's one of the most important storylines to follow leading up to the season. My bet is Romo misses some time — hopefully not to the extent of last season — but that's my bet.
4. Third thing I'm interested in seeing during OTA's next week? Morris Claiborne. Is it weird that I'm optimistic about this guy? He tells Fish he's gained back the weight he lost from his injury recovery in 2015 and he's back on a team-friendly one-year deal. It's the perfect scenario for Claiborne to get motivated. A good year in 2016 could lead to a longer-term deal with the Cowboys — or another team — in 2017. If the weight hasn't sapped his speed, the Cowboys may look really smart by season's end.
5. Ezekiel Elliott led the parade of Dallas Cowboys draft picks signing contracts earlier this week. You have to love the idea of a first-round pick getting his contract out of the way in May. The four-year, $25 million deal comes with the fifth-year option, of course, and $16 million in guaranteed money.
That led me to re-publish our scouting report from last week for Elliott from the game I saw last season — the Fiesta Bowl, where Elliott ran roughshod over the Notre Dame Fighting Irish.
He'll look here a lot like he did in college. ... minus the half-shirt.
https://twitter.com/fishsports/status/734115257606504448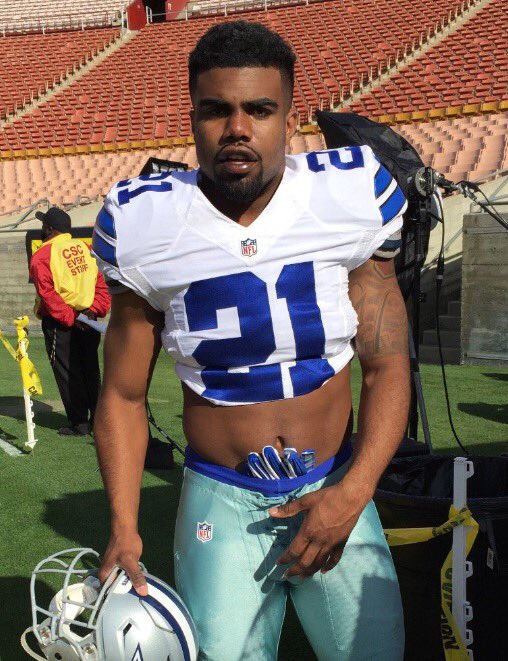 6. CowboysCast! Next, our Cami Griffin joins Bobby to talk  about the keys to the Cowboys' season. Hey, it's never too early to start talking about it, right? And, DallasNews.com's Jon Machota joins Bobby to talk about a question I wrote about last week here in First and 10 — do the Cowboys need more veteran help at backup quarterback?
Check out CowboysCast today and download the Cowboys Sports Radio app today for IOS and Google. That way you can listen to CowboysCast whenever you want.
7. CowboysHQ.com is already starting to look ahead at the races that will define training camp. Now, some of those races are easy to spot. Some are a little more under-the-radar. You might not think the race to be the last cornerback on the roster is a big one, but think about last year. The Cowboys were without Orlando Scandrick for the season, Morris Claiborne was working his way back into playing shape after a season-ending injury and Sterling Moore left in free agency. So whoever this "last cornerback" is will play, and not just on special teams. Read up here.
So Jordan Ross spent some time breaking down the race earlier this week. It's not an easy one to handicap either. Ross highlights three players here and I like all of them. They each bring something different to the table and have value beyond just being a gunner on special teams. With OTAs gearing up, it's a great time to get to know all three players and to see which one you think will be the "extra corner."
8. It's our Tweet of the Week. Courtesy of our own Jordan Ross:
https://twitter.com/CHQ_Jordan/status/733442697889865728
That's certainly possible. But who has better odds? I'd say Elliott.
9. This week's Great Moments in Headline Porn? "Ezekiel Elliott: 'I thought Ohio State fans were crazy, but Dallas Cowboys fans are even more crazy'" from dallasnews.com. And just think, Zeke — it's only May.
10. Our Mark Lane watched some Cowboys hit the long ball earlier this week. Several Cowboys headed to Dr.Pepper Ballpark in Frisco to raise $50,000 for the Salvation Army. That gave Lane the perfect opportunity to ask several players some burning questions entering OTAs next week. Check it out right here. Some interesting quotes from Brandon Carr and Morris Claiborne about staying in Dallas despite giving up some money in the process.
Want to talk more about the Cowboys? Hit the CowboysHQ.com Boards or hit Postins up on Twitter at @PostinsPostcard and Mike Fisher at @FishSports.