A is for ... AUTHORITY OF LIEUTENANTS
How you know how to separate the wheat from the chaff when it comes to Cowboys criticism: If the mediot is telling you only about "What Jerry Will Do'' ... unfollow. This is and has been, for four years, an organization increasingly driven by Jones' willingness to listen to lieutenants 30 years his junior. Stephen has authority. Garrett and Will McClay have power. Think about this: If Jerry was unilaterally making personnel decisions (not that he's uninvolved, but unilaterally in the way so many know-nothings envision) why would McClay turn down GM offers elsewhere? To be a powerless "yes'' man?
This start of OTAs is not only a good time to learn more about Cowboys players. It's also a good time to learn about Cowboys media. In the Twitter age, everyone is a pseudo-expert and everyone thinks somehow the First Amendment guarantees their rights to utter moronic pronouncements. I have my own personal Fish Amendment: Opinions issues without background, research and facts are worthless to me.
Adopt this same Fish Amendment and you will be a better Cowboys consumer ... and a more respected Cowboys opinion-giver.
B is for ... BASKETBALL CONVERSION
I'm going to argue that you are making a huge mistake -- and doing Rico Gathers quite a disservice -- to project him as the next Jimmy Graham and the next Antonio Gates. I'd like to see the Baylor basketball player "boil a mouthpiece'' before I guess that his 6-7, 275-pound frame is going to adjust seamlessly to a new sport. While we watch, we scout - a report on Rico Gathers here.
C is for ... COWBOYSCAST!
CowboysCast host Bobby Belt and I this week discuss some of the "bubble" veterans and whether they'll have a spot on the team come September 11th. Fish shares his thoughts on Darren McFadden, Barry Church, and Devin Street. 
Plus, there are a number of fans clamoring for a veteran backup behind Tony Romo, while others would prefer to see the Cowboys roll with Kellen Moore and Dak Prescott. Jon Machota from the Dallas Morning News weighs in on the QB situation and what fans should expect in 2016.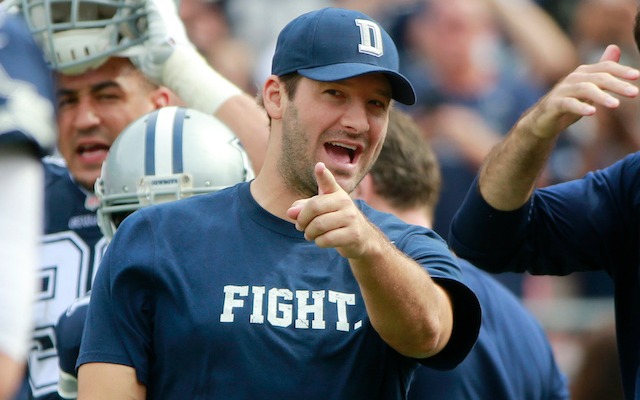 And if quarterback talk and veterans on the hot seat aren't enough for you, CHQ's Cami Griffin is here to tell us what the Cowboys need to do in order to succeed this upcoming season.
It's all here and more on this week's CowboysCast!
 We at CowboysHQ.com are excited to announce our partnership with Cowboys Sports Radio, which is a podcast and radio app with the best podcasts about the Cowboys. Today they're launching their free iOS and Android apps:

D is for ... DEMONS AND THE SAT
Two weeks ago I asked Jerry Jones about Cowboys defensive end Randy Gregory has "issues.'' "Demons,'' even, as team owner Jones put it. But intelligence isn't among them.
"Randy Gregory had the highest SAT score we have on record (among players) we've signed,'' Jones said when I asked him about the state of Gregory's "mind and body.'' "I enjoy my conversations with him. He's clever, he's great to visit with, just a pleasure … We don't have to worry about that part (intelligence.) He understands.''
What the Cowboys do have to worry about is Gregory being suspended for the first four games of the season for violating the NFL's substance abuse policy — and Jones' characterization of the second-year pass-rusher's issue as an "addiction.''
Gregory attended the team's recent golf event at Cowboys Golf Club in Grapevine — pleasantly surprising his bosses, I believe. He was jovial and cooperative in dealing with sponsors and exchanged hugs and handshakes with the obviously supportive Jones.
"It is a big step for him to be out here interacting, a big smile on his face and meeting people," COO Stephen Jones said. "This is good for him, and I appreciate him being out here."
Gregory, drafted by Dallas in the second round in 2015 despite having tested positive for marijuana at the NFL scouting combine and entering the league in the first stage of its substance abuse program, looks like he might have added on some weight-room weight to his slim frame.
Now he needs to add some maturity … and to accept the guidance the Cowboys are attempting to provide.
"(We) pray for him and want him to have the kind of career his gifts will allow," Jerry said. "He's an exceptional, exceptional football player - probably was the top rusher of the last two drafts, that's just my opinion. We need him."
Gregory may have not been "the top rusher of the last two drafts.'' He may have not have posted "the highest SAT score we have on record,'' either. But Jerry hyperbole aside, Gregory is talented, he is bright, and they do need him.
What we don't know is how much Randy Gregory needs and loves football. He won't get to play in the first four games in an effort to establish that. But he does get to practice this week. Maybe his passion for priorities will show up now.
E is for ... ELOQUENT EZEKIEL
"I understand what's expected of me. I understand the lineage for the running back position of the Dallas Cowboys.'' -- Ezekiel Elliott.
F is for ... FREDERICK ON 'THE GREAT WALL II'
"For us, there's no pressure because everything that we do has to live up to our standard in our room,'' said Pro Bowl center Travis Frederick on his offensive line being the heart of this team -- and a key to replicating 2014's success. "So, everything that we do is geared to making sure that we're the best individually that we possibly can be and then collectively as a group the best that we can be." 
G is for ... GARRETT GUYS
This rookie class might be able to walk the walk. But it can certainly talk the talk, with eloquence. Yeah, you need to have some dawg in you, but it also helps to be smart enough to stay out of trouble. Check out our top 10 quotes from the Cowboys rookies and see if you spot the Garrett Guy influence.
H is for ... HARDY, UNCHANGED SINCE FEB. 22
Except for guessing that Greg Hardy memorized a go-to line (and maybe Adam Schefter did, too), folks who've paid close attention to the Hardy saga found little to learn from the much-ballyhooed ESPN "exclusive'' interview.
Repeatedly, Hardy — still unemployed following a turbulent year in a Cowboys uniform — told Schefter that he took responsibility for "putting myself in that position,'' and the like. It was as close to "apologetic'' or "accepting of blame'' as Hardy got, which generally mirrors his frequent conversations with me over the course of the last year as it relates to his guilt in a 2014 domestic-violence incident in Carolina while a star member of the Panthers.
Schefter did get Hardy to insist he'd "never put my hands on'' girlfriend Nicole Holder, a claim that is newsy … but seems lodged somewhere between "illogical'' and "lying.''
But what the viewer does not know (and maybe ESPN doesn't, either) is that Hardy's status as a gifted-but-unwanted free agent isn't really about domestic violence. Word has spread around the NFL about what I've labeled "The Uptown Flu,'' which is Hardy's real problem — a lack of respect for the rules and for his Cowboys bosses and teammates that caused him to be unreliable.
Hardy told Schefter that he doesn't "want the drama,'' but I bet in his heart he knows that's not how this situation, or Hardy himself, works. He also said, "Being a Dallas Cowboy is not being a regular football player. The lights are on all the time.'' And while that may be true, that's not the problem here, either.
The problem is the line that Schefter used to analyze his 90 minutes spent with a person he does not really know. Schefter termed Hardy a "changed man,'' the sort of pleasant thing one might say after agent Drew Rosenhaus arranges for you to be the one to get the interview with his client.
But in fact, Greg Hardy hasn't "changed,'' not really, and in my visits with him, I believe, in a sort of twisted way, he's proud of that fact. 
A few weeks ago, when I tweeted that Hardy's "claim of innocence is NOT new. This ESPN story is about timing, not newness,'' Hardy retweeted me.
Why? Because the ESPN story isn't really exclusive, isn't really educational, isn't really new, and doesn't really change the views of the 32 teams who aren't signing him for reasons that were established before this interview — and are unchanged after it.
And it all was settled, really, for any Cowboys fan who read my Hardy story way back on Feb. 22. "We. Are. Done.'' That was that. And there is nothing Schefter, Rosenhaus or Hardy can really do about it.
I is for ... IRONMAN - WHAT BRANDON CARR DOES BEST
Cowboys cornerback Brandon Carr finished a successful at-bat during Tuesday's team charity home-run derby at Dr Pepper Ballpark by flipping his bat high in the air.
"I try to mimic what I see on TV,'' joked Carr, who didn't follow up the Joey Bautista joke by brawling with the other Cowboys-turned-ballplayers.
Carr is in a jovial mood despite having agreed to a substantial paycut to remain in Dallas. He initially signed here as a big-money free agent in 2012 with a five-year deal totaling $50.1 million. But this season, his base salary has been sliced from $9.1 million to $4.25 million.
"I feel great,'' Carr said. "I'm back with my teammates. I'm back in the community. Those are the things that matter most to me."
Carr is an ironman on the field (while falling short of being a "$50-million man'') and is the Cowboys' Man of the Year for his off-field charity work.
"My kids absolutely love the community and love the city of Dallas," Carr said. "My teammates, those are my brothers. … I felt strongly I needed to stay here for my foundation."
On the field, Carr is an ironman, having played in every game last season. So you are set with him, and with Mo Claiborne (see below), and soon with Orlando Scandrick (rehabbing) ... so who plays where? Who starts? Who lines up first? We monitor that starting Tuesday. 
J is for ... JERRY POPPINS 
Do yourself a favor and recognize the difference between Owner Jerry, GM Jerry, Biznessman Jerry and "Jerry Poppins,'' the persona I've created to describe when Mr. Jones speaks in a way designed to shove a spoonful of sugar down your throat to help you swallow the medicine.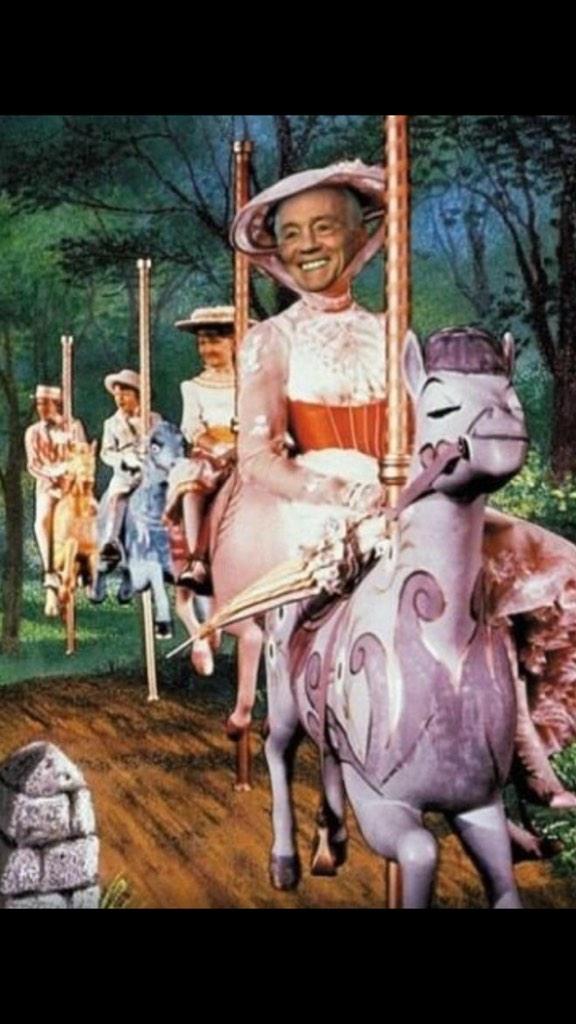 Hear him this way and you relieve your headaches, your frustration, your confusion. Jerry Poppins is fun if you understand how to swallow the sugar. 
K is for ... KICKING IS AUTOMATIC WITH DAN BAILEY
Yes, Zeke is supposed to make TDs more automatic. But how soothing is it to know that just in case, your field-goal kicker truly is that?
L is for ... LOVE - MO CLAIBORNE-STYLE
Cornerback Morris Claiborne's career in Dallas hasn't gone as originally envisioned when the Cowboys — and the rest of the NFL — viewed him as the best defensive player in the 2012 NFL Draft.
But Claiborne uses the word "love'' when describing his decision to return this season under the terms of a cheap one-year contract — even though he views his relationship with Cowboys Nation as sort of a love/hate one.
"It feels real good to be back, especially back here in Dallas, back with some guys that I'm used to and some guys that I love with all of my heart," Claiborne said. "I knew I wanted to stay in Dallas. I knew there was nowhere else I'd rather be. ... It's the only place I know, so I'm used to the guys and the coaches.''
Claiborne has experienced ups and downs with confidence, performance and injury during his time with the Cowboys, but tells me he's as healthy as ever, now weighing "around 190 or 194'' after playing at just 180 last season due in part to recovery from serious surgery.
The Cowboys are sold on Claiborne (at least as far as a one-year contract goes) as part of the cornerback competition that features two other vets in Orlando Scandrick and Brandon Carr. Claiborne concedes that maybe the audience isn't quite as sold.
"We have some tough fans, but I still love them all,'' Mo said. "I wouldn't rather play for anybody else." 
M is for ... MR. COWBOY
Yes, we know that Mr. Cowboy is Bob Lilly. But is Jason Witten not the modern embodiment of the same? We made certain not to take Witten for granted in this tribute.
N is for ... NERVE NEEDING TO FIRE
Some national media members are so badly twisting the Cowboys' position on second-round linebacker Jaylon Smith that I'm wondering if it's the profession of journalism that has 'dead nerves' that needs to be "fired up.'' Or maybe even just "fired.'' Here's the straight dope on Jaylon and the Cowboys, no spinning or headline-porning allowed.
O is for ... ODDS. CAN DALLAS ESCAPE THE MUDDY, Dallas Escape The 'Muddy, Muddled Middle'?
I have a saying about the NFL: "It's An 8-8 League.''
As the result of institutionalized parity, the NFL will annually see about two-thirds of its teams finish within two games of .500, one way or another. Then there will be a handful of truly "good'' teams and a handful of truly "bad'' teams. … but the muddy, muddled middle will occupy the standings.
Las Vegas gets me.
The odds on over under wins for the 2016 NFL season are now out and there are just five teams predicted to win more than 10.5 games — and that group does not include your Dallas Cowboys.
Carolina, Green Bay, New England, Pittsburgh and Seattle are your five "goods.'' The defending Super Bowl champions in Denver are given an over-under of nine wins for the 2016 regular season.
The group given an over-under of 9.5 wins — the leaders of the "muddy, muddled middle,'' if you will -- is the Colts, Chiefs, Cardinals, Vikings, Bengals and Cowboys.
That doesn't mean Dallas will be "bad''; heck, it means the Cowboys are the smart bet to win the NFC East, ahead of the Giants (eight wins), the Redskins (7.5) and the Eagles (seven).
How many "bad'' teams will there be? Just three. Just that handful. Like there always are.
Below are the over-under lines set for the 2016 regular season, according to Bovada.
2016 REGULAR-SEASON 
OVER-UNDER LINE FOR WINS
Carolina Panthers
Over: 10½ (-130, 10/13)
Under: 10½ (EVEN, 1/1)
Green Bay Packers
Over: 10½ (-165, 20/33)
Under: 10½ (+135, 27/20)
New England Patriots
Over: 10½ (-150, 2/3)
Under: 10½ (+120, 6/5))
Pittsburgh Steelers
Over/Under: 10½
Seattle Seahawks
Over: 10½ (-150, 2/3)
Under: 10½ (+120, 6/5)
Arizona Cardinals
Over: 9½ (-160, 5/8)
Under: 9½ (+130, 13/10)
Cincinnati Bengals
Over: 9½ (-140, 5/7)
Under: 9½ (+110, 11/10)
Dallas Cowboys
Over: 9½ (EVEN, 1/1)
Under: 9½ (-130, 10/13)
Indianapolis Colts
Over: 9½ (+110, 11/10)
Under: 9½ (-140, 5/7)
Kansas City Chiefs
Over: 9½ (-130, 10/13)
Under: 9½ (EVEN, 1/1)
Minnesota Vikings
Over: 9½ (-130, 10/13)
Under: 9½ (EVEN, 1/1)
Denver Broncos
Over/Under: 9
Baltimore Ravens
Over: 8½ (+110, 11/10)
Under: 8½ (-140, 5/7)
Houston Texans
Over: 8½ (-135, 20/27)
Under: 8½ (+105, 21/20)
Oakland Raiders
Over/Under: 8½
Buffalo Bills
Over/Under: 8
New York Giants
Over: 8 (-160, 5/8)
Under: 8 (+130, 13/10)
New York Jets
Over: 8 (EVEN, 1/1)
Under: 8 (-130, 10/13)
Atlanta Falcons
Over: 7½ (+120, 6/5)
Under: 7½ (-150, 2/3)
Chicago Bears
Over/Under: 7½
Jacksonville Jaguars
Over: 7½ (-150, 2/3)
Under: 7½ (+120, 6/5)
Los Angeles Rams
Over: 7½ (+120, 6/5)
Under: 7½ (-150, 2/3)
Tampa Bay Buccaneers
Over: 7½ (+120, 6/5)
Under: 7½ (-150, 2/3)
Washington Redskins
Over/Under: 7½
Detroit Lions
Over: 7 (-130, 10/13)
Under: 7 (EVEN, 1/1)
Miami Dolphins
Over/Under: 7
New Orleans Saints
Over: 7 (EVEN, 1/1)
Under: 7 (-130, 10/13)
Philadelphia Eagles
Over: 7 (EVEN, 1/1)
Under: 7 (-130, 10/13)
San Diego Chargers
Over: 7 (+105, 21/20)
Under: 7 (-135, 20/27)
San Francisco 49ers
Over/Under: 5½
Tennessee Titans
Over: 5½ (-160, 5/8)
Under: 5½ (+130, 13/10)
Cleveland Browns
Over: 4½ (-130, 10/13)
Under: 4½ (EVEN, 1/1)
P is for ... PROMOTIONS
Byron Jones being promoted to starting safety alongside Barry Church and in front of  J.J. Wilcox? Brice Butler jumping ahead of Devin Street as an extra wide receiver, with Lucky Whitehead and maybe UDFA Chris Brown praying Dallas keeps five-plus? Terrance Mitchell, Deji Olatoye and sixth-round pick Anthony Brown spending all summer battling for the No. 4 corner job? Those "waves'' of Rushmen are nice (see below), but somebody needs to WIN time among Benson Mayowa, David Irving, Jack Crawford, Ryan Russell and fourth-round pick Charles Tapper. Zeke and then ... danger for McFadden?
Promotions are coming. Jobs are on the line.
Q is for ... QUARTERBACKS, STARTING WITH ROMO
A month ago, QB Tony Romo said he participated "fully'' in Phase 1 of the NFL spring, two weeks of strength-and-conditioning activities. Now, coach Jason Garrett says Romo can "do everything, really,'' when it comes to OTAs.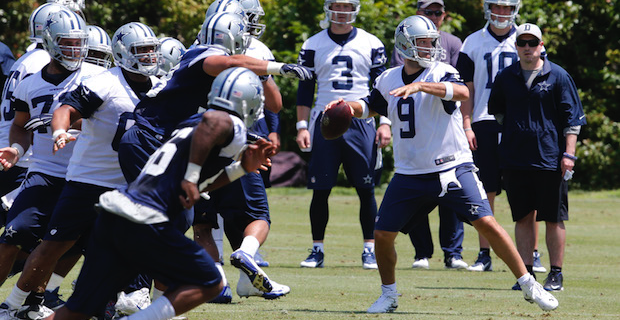 We shall see ... but it's football, so all eyes are on the quarterbacking.
We need to see that Kellen Moore is as good at "bus driving'' as any of the other nondescripts who've come through here. We need to see if Dallas ends up being right about fourth-rounder Dak Prescott. We need to see if the decision to let Jameill Showers focus solely on QB is the correct one.
It was always going to be a safe prediction that on the weekend of April 28, Dallas would draft a QB. It wasn't quite Lynch and it wasn't quite Cook … and if the Cowboys are right and are lucky on Prescott, he gets an eventual shot to develop as a Romo reserve. In the meantime, they need to be right and lucky on Moore, too -- though if they find by Auguest that they are wrong, they can dip back into same same nondescript well of NFL career backups on the fringe, all the while knowing that Romo's health is the single determinant when it comes to 2016 success. 
R is for ... ROOKIES - THE OTHER GUYS
You'll know all about Zeke and his peers. But what about the UDFAs who have a real shot, as they traditionally do in Dallas? CHQ gives you the top five candidates to come from nowhere to make the team, here.
S is for ... SPARQ. IS IT ENOUGH FOR THE KIDS?
Our man Matthew Postins saw new Cowboys running back Darius Jackson play live last season. Based on his notes and game film, here's what he saw that day vs. Old Dominion ... and what he saw, in short, was SPARQ. Premium Cowboys coverage here.
T is for ... TANK'S APPEAL
The Cowboys there is no update or timeline on the appeal of defensive end DeMarcus Lawrence's four-game suspension to start the season for violating the NFL's drug policy. I've reported that there is optimism in the Tank camp regarding an appeal because of the nature of his violation: an ADD-type medication combined with another medical prescribed him following back surgery.
So what is the timetable? Think back a year ago, when the Cowboys waited for a Greg Hardy decision from Commissioner Roger Goodell's office. Or think back to the Patriots waiting on the Tom Brady ruling. Inexplicably, Goodell gets around to these matters when he's good and ready, seemingly with no pattern or plan at all.
So ... you wait. 
U is for ... UNDERWEAR OLYMPICS
The phrase "Underwear Olympics'' has now been around so long that you'll laugh at me when I swear to you Michael Irvin and I think we made up the moniker in the early 1990's when we were talking about rookies "running around in their underwear like athletes thinking they're real football players.''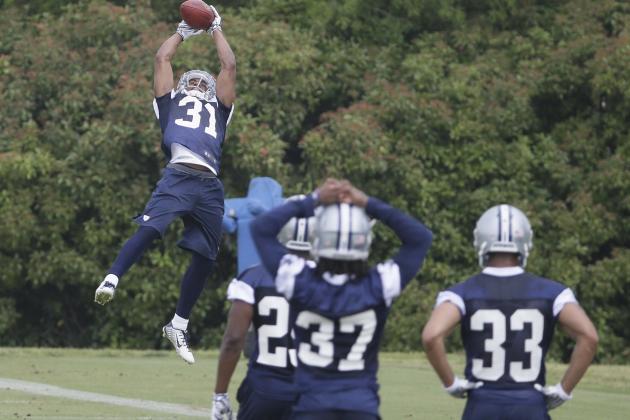 OK, maybe Irvin and I are delusional. But ... our point was right, and still is: This isn't real football. Not yet. It's football against air, a learning environment, not a contact environment. 
Still, I'm excited about it. Because I like the "Underwear Olympics.''
V is for ... VEGAS, BABY!
Jerry Jones' muscle helped move the Rams to Los Angeles. So when the Cowboys owner speaks on the viability of putting a team in Las Vegas, the NFL world listens.
"I think Las Vegas is one of the crown-jewel communities in the United States,'' Jones said recently.
The Raiders have expressed an interest in departing Oakland for Las Vegas. A concern about Vegas as a gambling hotbed, Jones suggested, is offset by the city's entertainment strengths.
Las Vegas is working toward building a domed stadium that would be paid for by a combination of corporate sponsors, taxpayers and Raiders owner Mark Davis, the son of Al Davis, who made franchise moves with the Raiders without seeking approval from the league. 
In this case, the Raiders might not need to go rogue — not if Jerry Jones is on their side.
And the reason this matters to Cowboys Nation? Jones' fingerprints on the financial progress and popularity are everywhere. It's part of the reason the Rams' opening preseason game features the Cowboys on national TV, one of the reasons The Star in Frisco will be considered for the NFL Draft site, one of the reasons AT&T Stadium isn't done when it comes to hosting Super Bowls.
You don't have to love Jerry Jones, if you wish. But you do have to admire the fact that your owner is a no-brainer future Hall-of-Famer. 
W is for ... WAVES - HOW THE 'RUSHMEN' WANT TO COME AT YOU
So you don't get Gregory and you might not have Tank ... and therefore, as much as ever, Rod Marinelli's "Rushmen'' need to come at you in defensive-end waves. Here's how that needs to work. 
X is for ... NO THROWING UP OF THE X
Dez Bryant retains a school-boy-level enthusiasm for football and that same level of optimism for most anything he does. It's how he can tell CowboysHQ.com two weeks ago that his post-surgery foot has him "feeling great'' -- as he's trotting around in the Valley Ranch backyard catching and throwing passes while helping to "coach'' at the rookie minicamp -- even as Dallas plans for his return to the field to be a cautious one.
How cautious? Cowboys Premium fans get the scoop from inside the minds of the coaching staff and Dez himself, here. 
Y is for ... YOUTH MOVEMENT
Younger. Fresher. Cheaper. There is clearly a plan in place, instituted largely by Stephen Jones, to use solid vets as "bridge'' players (generally for two years) so the Cowboys can advance to younger, fresher, cheaper ... and hopefully better. Moore is the bridge to Dak. Mincey was a bridge to what Tank and Gregory are supposed to be. Darren McFadden is that, I think. McClain is a bridge for Jaylon-in-waiting. Maybe that's what Wilcox and Free are now. (Keep an eye on Chaz Green making a move.) It's too early to know the results ... but it's a good time to recognize the plan.
Z is for ... ZEKE - AND WHAT YOU'RE GETTING
Rookie contracts are easier than ever with the slotting process, but it's still good news when the inevitable is done: First-rounder Ezekiel Elliott out of Ohio State signed his four-year deal, with sources telling me that running back gets $24,956,338 (guaranteed), including a signing bonus of $16,350,064.
Elliott's deal comes with a fifth-year team option. And you always knew the rest of the Cowboys rookies would be signed shortly, too. Because it's slotted and inevitable - but still good news.
So we know what Zeke is getting from the Cowboys.
Now, besides sales of half-shirts at the Pro Shop ... what will the Cowboys be getting from Zeke? The best analysis of that in the business is here ... and follow OTAs by checking in on me on Twitter at @FishSports and here on CowboysHQ.com Boards for more of the same.
null