FISHTIP 1: The Cowboys don't want to throw a parade here or even make an announcement but I believe that you are already seeing a transition at first-team running back ... and Ezekiel Elliot is included in the transition.
During a lengthy two-minute drill on Wednesday, the first-team work seems to be pretty much all Zeke.
Smart money: Zeke is now splitting first-team reps with incumbent Darren McFadden, while Alfred Morris is getting a bunch of the work as No. 2. 
The writing on the wall is subtle ... but it is writing on the wall. So let's call it a "quiet parade.''
FISHTIP 2: The Cowboys are a long way away from knowing what they have and what they will do at defensive end. But look for newcomer Benson Mayowa to spend the rest of the spring splitting reps at right defense end with Randy Gregory ... And look for David Irving and Ryan Russell to do the same at left DE.
The newspapers are raving about Russell but the coaches are raving about Irving. Eventually, Tank Lawrence (still rehabbing and in drug-program limbo) takes that left defensive end spot ... And if you had to pencil in a starter at left end for September, that would be Mayowa.
After Game 4 of the regular season, we'll see if Gregory is serious about stealing Mayowa's job.
FISHTIP 3: Dallas is kicking the tires on for Eagles defensive back Brandon Boykin, but this is more about getting a health update on him then it is about any disgruntlement with Mo Claiborne or any lack of rehab progress with Orlando Scandrick. This unfolded Wednesday on one of their Valley Ranch practice fields, with Cowboys coaching and personnel-department staffers observing the workout of a player who in 2013 was a standout Eagles playmaker with six interceptions.
Boykin, 5-10 and too muscular now to be at just his listed 176, denies that he's dealing with a "degenerative'' issue in his hip or leg. And a Cowboys source tells me the team is in "discussion stages'' regarding signing him.
So maybe it becomes more than a tire-kick ... But know that they will do the same when it comes to street free agent pass-rushers. They will do the same when teams (the Saints?) call about a Ronald Leary trade, they will do the same depending on how Kellen Moore performs at QB. 
Lots of tire-kicking.
FISHTIP 4: There is nothing different to write, nothing different to say, nothing different to do, about Rolando McClain ... until and unless the long-unhappy coaching staff persuades management to do something itself.
Ro is once again missing from OTA's and the coaching staff is once again rolling its collective eyes ... And the competition at middle linebacker right now is Andrew Gachkar versus Mark Nzeocha.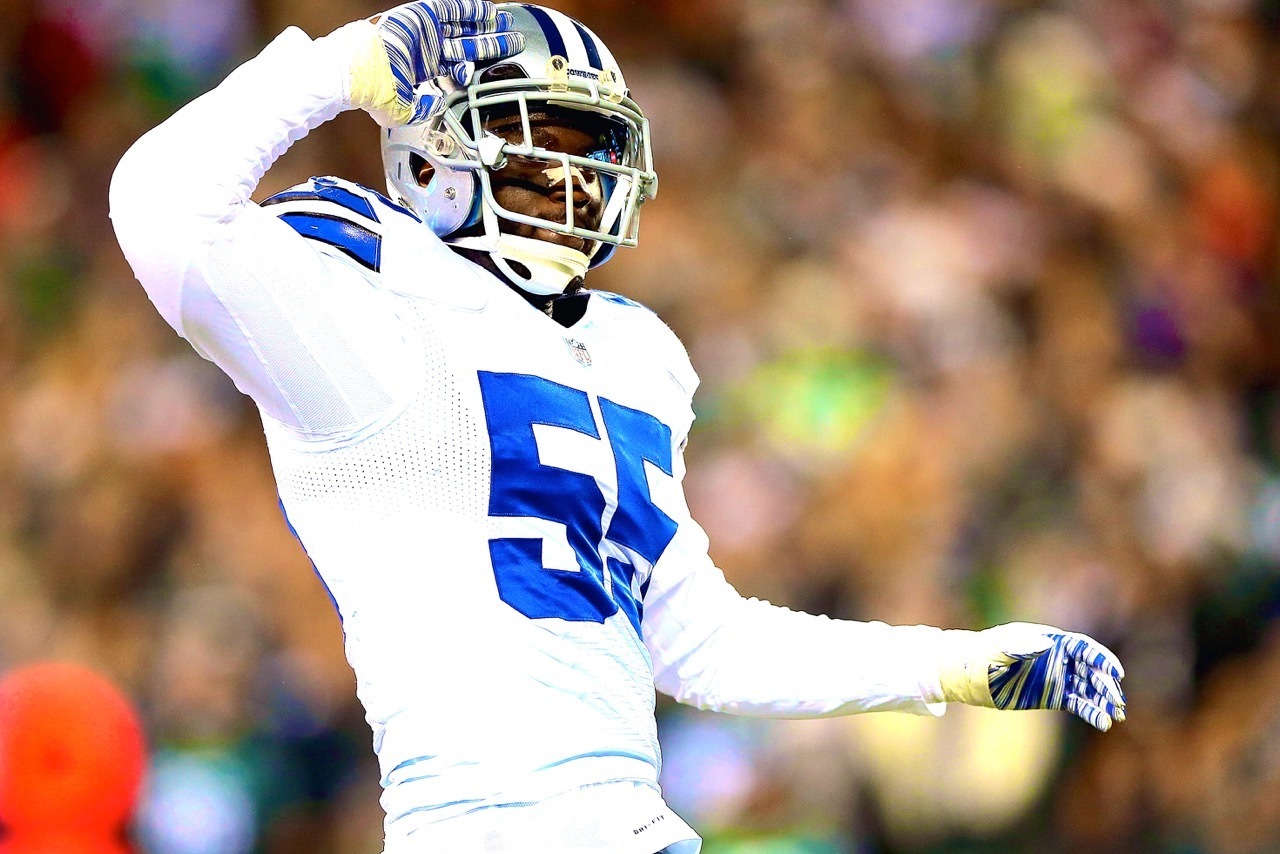 Defensive coordinator Rod Marinelli says he's "optimistic'' that Ro will show next week for mandatory mimi-camp. We shall see. But until Ro decides to settle his "family business'' or conclude his fishing trip or whatever this is, your position of strength at middle linebacker is a position of weakness.
"The OTAs have been outstanding,'' says coach Jason Garrett. "I'd rather talk about the guys who ARE here.''
FISHTIP 5: It is no knock on Terrance Williams for me to predict that the Cowboys will not give him some big-money extension to preclude him from entering free agency next summer. The Allen Hurns $40-mil contract in Jacksonville really has nothing to do with a T-Will contract in Dallas. Cowboys now have an established a system of finding the "next man up" financially to replace people whose contracts are expiring. The exceptions to this guideline are named Dez Bryant, Tyron Smith, Tyrone Crawford, Zack Martin, and maybe sooner rather than later, conversations about Travis Frederick.
Besides the ability to find wide receivers in next year's draft (something that seems easier to do than ever) there also exists on this roster in Brice Butler someone that could compete with T-Will for the No. 2 receiver job right now.
So much of the focus in this position group is about Dez. And understandably so, as he reiterated on Wednesday that he's been "cleared'' but still plans on remaining "cautious'' through the spring.
Dallas needs Dez. But Dez needs help. Could it be from T-Will?
Williams might get big money for 2017… But it's unlikely to be in Dallas.
I visited with T-Will one-on-one this week and will have that interview for Premium Cowboys fans shortly.
FISHTIP 6: OTAs mark a great time for a healthy quarterback Tony Romo to cut it loose and for the Cowboys offense to sling around downfield. You are throwing against air so it's hard to not look good and feel good about it.
But then you talk to these offensive linemen and you hear them talk about wanting to go retro and resemble the offense that they were in 2014 ...  And you realize that while 30-yard completions in June are good for show, third-and-1 conversions in January are good for dough.