Cowboys receiver Dez Bryant took time on Wednesday to field media questions, and offered a series of notable and entertaining answers, including a prediction:  'I think (2015 injuries) were a minor setback for a huge comeback,'' he said. "I think we're gonna be damn good.''
One thing that was "damn good'' at OTA's on Wednesday? This catch (because even while Dez wasn't "active,'' he was "active'') as captured by DallasCowboys.com: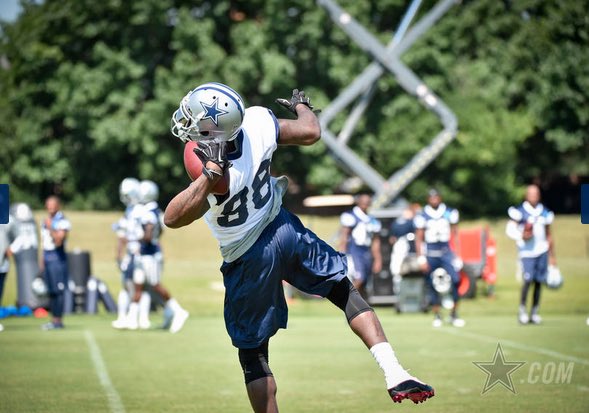 HOW ARE THE X-RAYS? -- "The X-ray was good. Now it's just me getting, trying my best to stay listening to Britt (Brown, trainer), because Britt knows what's best for me. We're going to take this thing day by day. I feel good mentally and I think for me that's the most important thing right now is how I'm feeling mentally."


ARE YOU CLEARED? -- "I've been cleared, but you know how it goes. We all just very cautious, just trying to get right. We've got a long way before the season starts. Just trying to get right."

BUT YOU ARE HEALED? -- "Yes."
ARE THEY GOING TO HOLD YOU OUT UNTIL TRAINING CAMP? -- "As of right now, I don't know too much. I'm just going to keep doing whatever Britt tells me to do."


HOW GOOD DO YOU FEEL? -- "Oh, man, I feel real good. I feel great actually. I'm just going to continue to keep coming in and working each and every day. Me, Lance, Orlando, Gavin, we're just going to keep on working, doing whatever Britt tells us to do. We're going to try to go that extra mile to get better and get back to where we were before."


HOW DO YOU BALANCE THAT? -- "True. That's why you have Britt. I know for me and a lot of those guys, it's kind of hard to balance. Like I always want to do a little bit extra – not only me but some of the other guys – but they're always like, 'No.' It's kind of like, I don't know. We need Britt there, because it's hard to balance when you're excited and want to get on the field and all that kind of stuff."


IS THE PAIN COMING BACK? -- "You don't think about it. I know I don't think about it. It's just whenever they say go, I'm going to go."


HOW WAS THE WALKTHROUGH TODAY? -- "It's crazy. Coach be teasing me with that stuff, man. Don't be bringing me out there just for a little bit. It happens. It feels good to be out there, especially going through those drills."


HOW DOES IT FEEL TO BE OUT THERE AS OPPOSED TO LAST YEAR?
"Just being around my teammates, just having that feel, seeing everybody and having conversations with everybody, I think that's what a lot of people don't realize. You need that to help boost confidence and just learning new things on and off the field, technique-wise or in the film room. All that plays a big factor for a Sunday game. Just by having that – you know, I'm back – it's going to do a lot."
HOW QUICKLY CAN YOU AND TONY GET BACK ON THE SAME PAGE?
"It never left."
HOW DO YOU FEEL ABOUT LEAVING VALLEY RANCH (FOR THE FALL MOVE TO THE STAR)?
"Oh man, I'll tell you this, I remember when I first walked in this locker room, I couldn't believe it. And just listening to some of the guys who were here, just seeing it, just being a part of it makes me feel good. I know I'm going to miss it, I'll tell you that. I'm going to miss it. But I'm also looking forward to seeing that beautiful thing out in Frisco. ... I've been out there twice. I haven't gotten a real good look at it, but what I've seen it's amazing."
WHAT ARE YOUR IMPRESSIONS OF RICO GATHERS?
"What I like to do, I like to make it extremely fun. Challenging of course. Just want to make sure everyone understands how important it is to take advantage of the opportunities that are given. With Gathers, what I've seen so far, he embraces everything that he does. He listens. He wants to know. With him having that mindset, you're not going to fail."


WHO WINS AT 1-ON-1?
"At basketball? He's got it. He's got it.'