Would Dallas Cowboys owner Jerry Jones ever consider running for President?
"No," Jones said, his 105.3 The Fan answer twisted with comic irony, "because I don't want any publicity."
For most people in his position, discussing Presidential politics is bad form -- and worse business. But I learned way back in 1990 when Anne Richards and Clayton Williams were battling for Governor of Texas how Jerry plays this. 
"Well,'' he told me coyly back then, "I support both of 'em!''
That's right. He supported BOTH the Democrat Richards AND the Republican Williams, hedging his bet because ... well, that was best for business.
Oh, by the way, Jones was also at the same time continuing a friendship with another governor back home, Arkansas' Bill Clinton, who two years later would vault from being a Jones drinkin' buddy to being elected President of the United States.
Now another Clinton, Bill's wife Hillary, Is the Democratic nominee for president. The Republican nominee is Donald Trump. In his interview, Jones wouldn't say which candidate he is supporting. (Again, I bet that's because he is supporting both. And I promise you he's also got connections with everyone from George Bush to George W. Bush to Chris Christie ... to every serious presidential candidate from either side of the aisle for the rest of his life.)
The Cowboys owner — who runs a business that seems to gain as much attention as the White House itself — expressed pleasure in seeing Hillary Clinton earn a presidential nomination.
"We were all so proud last night to hear and see the first woman of a major party nominated," Jones said. "The thing that I am impressed about is her grit and the fact that she's endured. Boy, she has certainly had a lot of life's experiences right before all of our eyes and they're going to get aired out real good. You can't become president unless you're reminded of all of your background. Mr. Trump is, too.
"So … if that's what they want to do is be President of the United States, in my mind, they've earned it by the time they get there."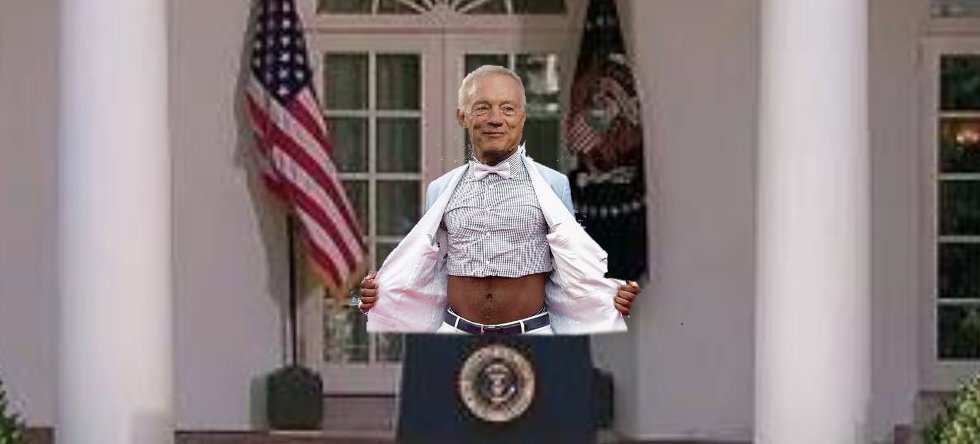 And Jerry Jones will have to settle for being President of the Dallas Cowboys.