FRISCO, Texas -- 2011 NBA Finals champ Dirk Nowitzki's White Sox handled the Blue Sox 16-12 in the 15th annual Heroes Celebrity Baseball Game Friday night at Dr. Pepper Ballpark. ... in a game in which more than a dozen members of the Dallas Cowboys played prominent roles.
Unlike five years ago when Nowitzki took home the Finals MVP, the 13-time NBA All-Star has yet to be the MVP of his eponymous baseball game. (Something that Dirk -- no baseball player -- pretends bothers him.) This year, Mavericks and White Sox teammate Dwight Powell walked away with the honors despite Nowitzki going three for three at the plate including a double and two singles.
Besides the offense, Dirk said he had "some spectacular defensive plays. So needless to say, I got robbed of the MVP!''
The real winners, though, were the children's charities. For the third straight year, the charity game sold out Dr Pepper Ballpark. And this year was more special as the Ballpark debuted its new Choctaw Casino & Resort Lazy River beyond the right field wall. This and the prospect of seeing local sports stars play "bad baseball," according to Mavericks head coach Rick Carlisle, is what has made the event such a draw over the past 15 years to where the game's proceeds have raised $3.4 million for children's charities.
"It's been fantastic," said Charlie McKinney, founder of the Heroes Foundation. "With the money, we built a really cool facility, the Heroes ballpark right next to the AAC. It's the best youth baseball field pretty much in America. And 10,000 kids play there every year. We also have a Mark Cuban Basketball Center which is in south Dallas where another 25,000 kids go through.
"The most we've had is about 200 kids come through, go on to college, get their degree, and now they're coming back and helping. That's something I'm really proud of."
Carlisle spent six seasons coaching the Detroit Pistons and Indiana Pacers before coming to Dallas in 2008. On top of that, he spent five years in the NBA playing for Boston, New York, and New Jersey. Still, none of those stops had as unique of a charity event as the Heroes Celebrity Baseball Game.
Said Carlisle: "One thing I would like to say is this is one of the most unique charity even that I've ever seen and been involved with. And, so, the turnout and the support from year to year is amazing. Charlie is to be credited for that because he has been with this since day one. It's not easy thing for a guy like Dirk to take this over, especially when there's such a big history. There's a lot of pressure. But people have kept coming out. The two charities, the Heroes Foundation and Dirk's Foundation are two great charities that have helped a lot of kids. So, I'm thrilled to be involved with this as all these guys are."
Nowitzki, who came into the United States, the NBA, and Dallas in 1999, considers the Metroplex home as much as he does his native Germany. Nevertheless, the game and outpouring from the community to support it has humbled the 2007 NBA MVP.
"As a celeb myself, we've come from very different directions, but every year the guys make the effort to come to play this game and support it," said Nowitzki. "The media coverage has been great in getting the word out here and nice of the fans to come out and support year after and year. It's been humbling. It's been amazing for all of us. And it's been really fun."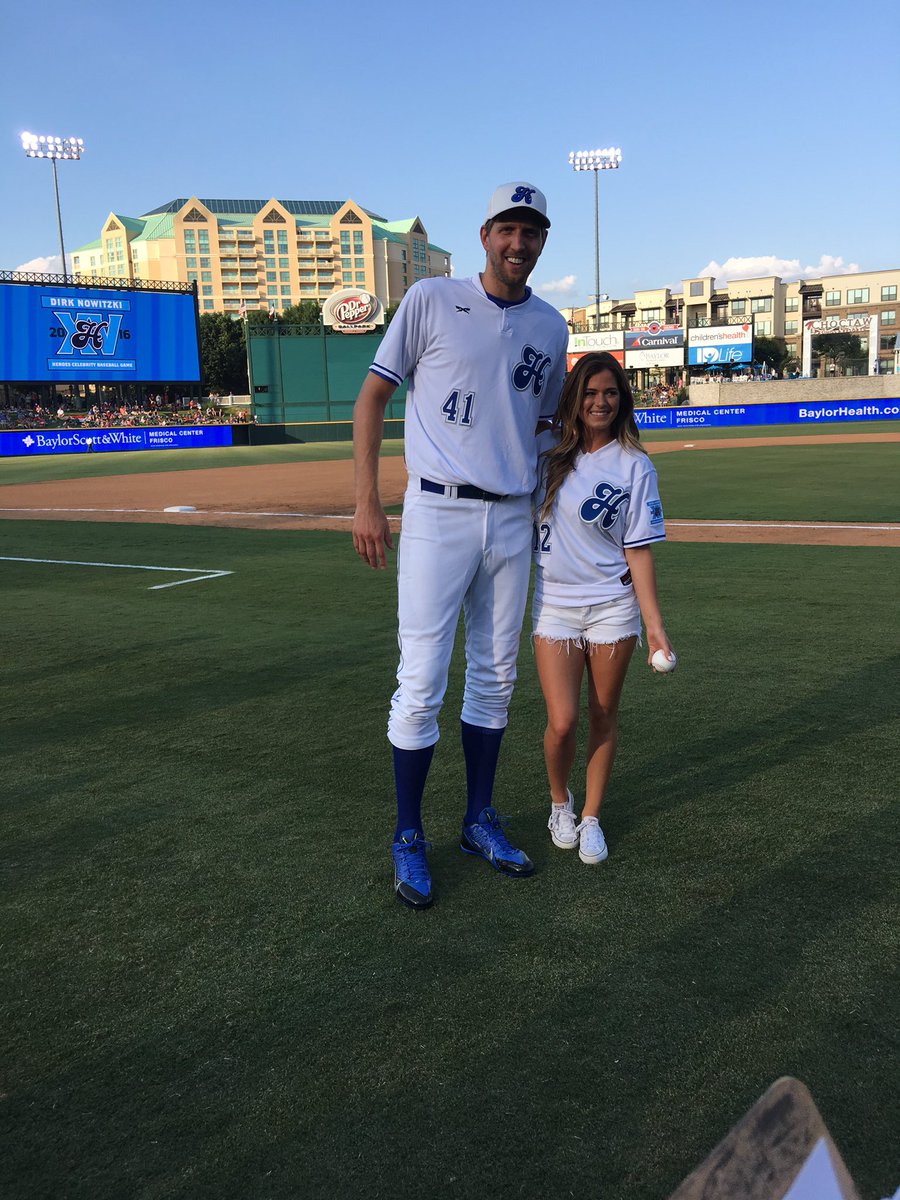 A great deal of that support came from the celebrity world (including "The Bachelorette'' Joelle Fletcher) and from the Cowboys roster. Tyrone Crawford hit an in-the-park home run. Byron Jones made a diving catch in the outfield (almost matched by golfer Jordan Spieth's attempt at same). La'el Collins, Brice Butler, JJ Wilcox, Cole Beasley, Dan Bailey and Lucky Whitehead all, at different times, looked fairly capable as ballplayers.
Joked Lucky Whitehead: "I'm just here so I don't get fined.''
For more information on the Heroes Foundation, click here.
For more information on the Dirk Nowitzki Foundation, click here. 
 Special thanks to Tari Omoro for all of the stills and video used on Scout Media sites.