After weeks of OTAs, Cowboys fans have a number of questions about the team as we roll into this week's mandatory minicamp. Luckily, CowboysHQ's Mike Fisher joins Bobby Belt on this week's edition of CowboysCast to answer all of Cowboys Nation's burning questions.
As Cowboys fans wonder when Rolando McClain is going to show up to Valley Ranch, Fish says that's a difficult question to answer.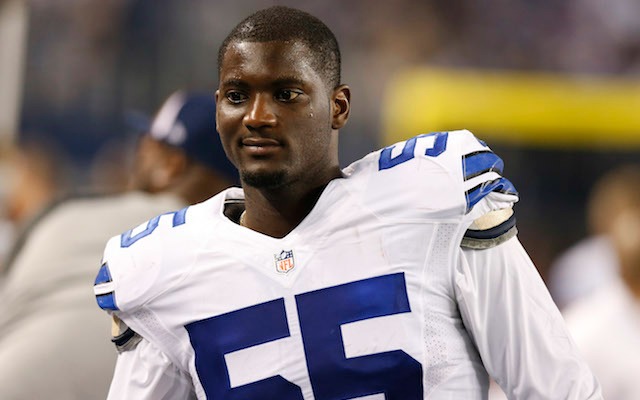 "He does what he wants. He does it when he wants. And if he's in the mood, he does it really well," Fish says. "When Jerry says 'well, we're giving him some slack,' I hear that and can simply respond by saying 'Rolando McClain loves slack.'"
And while Rolando McClain comfortably resides on the roster without being present at Valley Ranch, Cowboys fans were a little shocked at the end of OTAs when Terrance Mitchell was released.
"I don't think it's some behavioral, knucklehead thing. But I'll tell you what, it's a surprise," Fish notes. "I do know this: it's not related to a Brandon Boykin pursuit."
While there are plenty of questions and stories about what's going on inside of Valley Ranch, one story capturing people's attention is happening just outside of Cowboys' headquarters.
Anthony Wallace, a linebacker who began his collegiate career at Oregon with Chip Kelly and ultimately transferred to North Texas, went undrafted in April. That fact hasn't stopped him from pursuing his dream to play in the National Football League.
Wallace stood outside Valley Ranch for two weeks during OTAs with a sign that read "An opportunity is all I need. I promise you won't regret it."
He stopped by the CowboysCast studios this week and told host Bobby Belt that working uphill is nothing new for him.
"I feel like from the beginning I was kind of at a disadvantage," Wallace says (DallasNews photo below). "My school went 1-10, coaches get fired, they didn't want to have a pro day for us; I was already kind of against the odds."
Wallace isn't ready to give up on his dreams yet.
"All this is bigger than me and my dream to play football. I think God is just using me as a vessel to give hope to other people."
And in addition to all of the news streaming out of Valley Ranch, what would the offseason be without a little roster debate? RJ Ochoa from Inside The Star stops by this week and chats with Bobby about what we can all expect from the Cowboys' receiving corps in 2016.
It's all here and more on this week's CowboysCast!
We at CowboysHQ.com are excited to announce our partnership with Cowboys Sports Radio, which is a podcast and radio app with the best podcasts about the Cowboys. Today they're launching their free iOS and Android apps: