IRVIN EXCLUSIVE
NFL Network sends Michael Irvin to Cowboys camp to coax some bold words out of Cowboys players; it makes for good television, Irvin is good at his job, and Dallas players -- wanting to please The Playmaker -- are happy to cooperate.
So on Wednesday at camp, it's really not a challenge for Michael to get Ezekiel Elliott to say something like, "I'm excited for the season. I'm excited to start this journey. I'm ready to go kick some ass." Or to get Dez Bryant to say something like, "This year will be different! This year will be different!''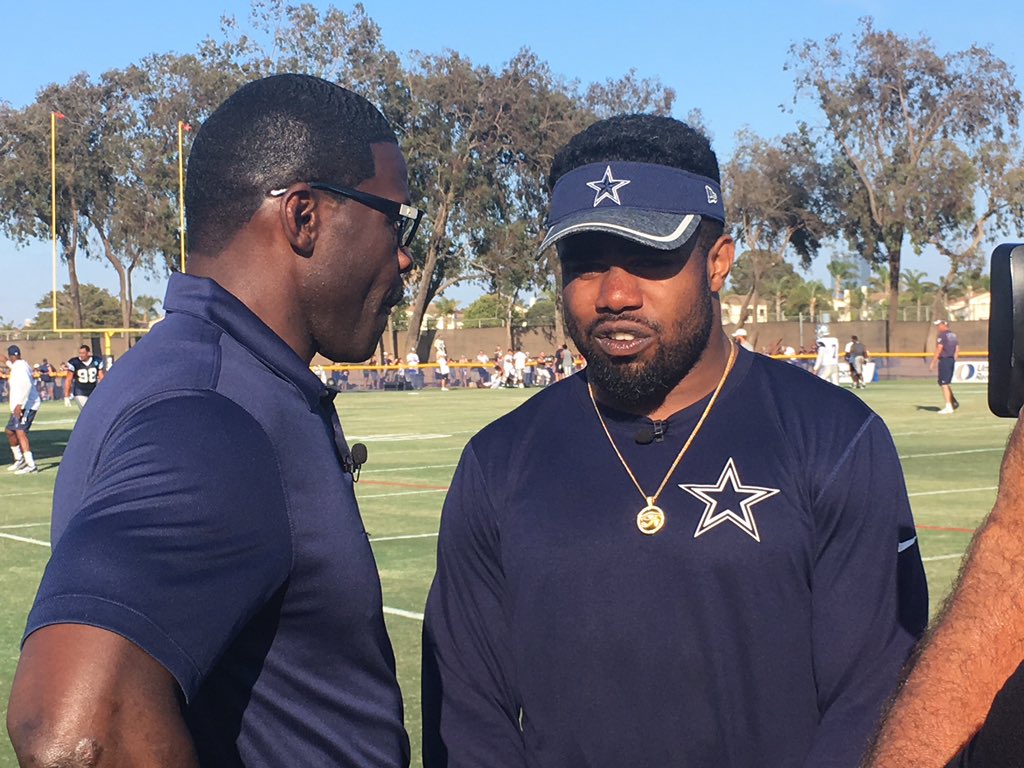 But for me, the real fun is sitting down for a 1-on-1 with the Hall-of-Famer Irvin and getting him to offer his impression of Cowboys Camp, his vibe ... and even to get him to offer a gentle critique. Like so:
"Let me tell you the truth, and since you bring that up, I'm going to say it,'' Irvin told me. "I haven't brought it up out here. But they have this thing called 'Compete Period.' What the hell do you need a 'Compete Period' for? You come out here to compete. Period! It tells people, subliminally, that other times, I don't have to compete. I dont like that. You compete, period. Compete. PERIOD. That's how you win.''
This isn't Irvin suggesting there is a lack of intensity in coach Jason Garrett's camp. A day after Rod Marinelli and Leon Lett crossed swords, Sean Lee and Geoff Swaim on Wednesday almost got into a tussle. And then Tank Lawrence and David Irving did the same.
"I messed up a call, and that's not good for the team, so you get mad,'' Irving said later. "But we're cool. (Just a) family fight.''
What Irvin told me of the conflicts: "That's a great thing. I love that. People have to understand, nothing great is easy. Everybody has to be pushed to the brink. Everybody! Then, that pushing brings them closer together. And they come out of that 'brink' and they go forward. Together.
"Leon Lett going nose to-nose with Rod? You know he's defending his boys. You know he's defending his boys. "You gotta get me some pressure! "I'm doing my job, coach!' Imagine this, you're some D-linemen, and you've got Leon Lett standing in for you, fighting for you. Now you say to yourself, 'Coach, I gotcha. I'm gonna give you all I got. 'Cause I know you'll fight for me. Man, stuff like that is invaluable, Mike. Little stuff like this will determine whether you win or lose.''
And maybe the sort of thing Michael Irvin would like to see a bit more of. Period.
ONSIDE KICKS
David Irving and Tank Lawrence both recorded would-be sacks of Romo ... Our Blue-White Scrimmage coverage, referenced in the above video, is here ... After Dez challenged the secondary by barking that a Gavin Escobar TD was "too easy,'' the D stepped up with four straight red-zone passing stops ... Nothing's changed on Ezekiel Elliott (hammy) from when we reported at the start of the week that he's unlikely to play Saturday against the Rams ... Linebacker James Morris jumps off the page here - and I'm told he's a terrific special-teamer, making him a guy who might jump off the page on Saturday, too ... The NFL has turned down the Cowboys' request to wear the "Arm-In-Arm'' decals on their helmets during preseason and regular-season games. ... Jerry Jones continues to tout Dak and Showers as viable No. 2's. Let's see 'em in a game before we pull back on any trade ideas, though, OK? ... My 1-on-1 visit with Oscar De La Hoya ("Don't Win For Jerry'') at camp, as well as a Tuesday review, is here. ... When does the working and the teaching and the learning stop? Never, if you're Tyrone Crawford and La'el Collins. Check my video ...
https://twitter.com/fishsports/status/763661265155653633
And know that after I quit filming, they wrassled again ... and then, walking up the "tunnel'' to the locker room, engaged again.
THE FINAL WORD
You can say he's a pro now the way he goes about it. He's just a great guy and he's a great teammate. You'd be hard-pressed to find one guy on our football team who doesn't love Dez Bryant as a teammate. That's a really special thing to have." - Tony Romo on Dez Bryant.
null