Travis Frederick, adorned in a crisp beige suit, is striding through the bowels of the LA Coliseum, a newly-minted $56.4-million man who nevertheless will never be the sort of guy to turn down the free postgame sandwich he's in search of.
I intercept him in the Dallas Cowboys snack line on the way to the bus following Saturday's preseason-opening 28-24 loss to the Rams (First-and-10 breakdown here) in which one of the biggest storylines is his new contract, a six-year extension that keeps the Pro Bowl center in Dallas -- and is another step toward keeping intact arguably the best offensive line in football.
"Thank you very much,'' Frederick says when I offer congratulations. "I'm exicited to be able to be here and to say I'm going to be part of the Dallas Cowboys for a long time.''
I mention to Frederick that as with linemate Tyron Smith's contract, this one (with $18.2 mil fully guaranteed and $28.2 mil virtually guaranteed) has a "Cowboys For Life'' feel to it.
"Yeah, I definitely think so,'' he says, before we are interrupted by a bear hug. It's quarterback Tony Romo, who cuts into the sandwich line not because he's hungry but because he wants to whisper sweet somethings up and around Frederick's massive beard and into his ear.
"I know, I know,'' Romo says to Frederick, speaking in the sort of shorthand code that is necessary when the two signal-callers -- Romo at the line but Frederick on the line -- lock onto the same page on the field.
"I appreciate it,'' Frederick whispers back to Romo, later noting to me, "I'm excited to be able to play with Tony. He's a tremendous player. I don't know if he'll make the six years ... if you ask him, though, he's going to.''
There are ways to have structured this contract that actually lessen the cap impact of Frederick, a somewhat "controversial'' first-round pick in 2013 because the football world thought the Cowboys grossly overrated him. The football world is wrong. I mention to Frederick that this contract -- likely with low cap impact in the first few years and a $9.4-mil yearly average that can actually have a "team-friendly'' feel to it -- validates the idea that Dallas thinks of him as the best center in the game, and not just with words, but with dollars.
"I'm jus really thankful to the Jones family for their commitment to me,'' he says, with an unselfish add, "and for their commitment to the offensive line as a whole.''
Ah, the "whole'' offensive line. This is another brewing "controversy'' for folks who wonder if the Joneses and their big-calculator guys will be able to finagle the cap in a way that keeps Smith and Frederick's linemates together. (All-Pro Zack Martin is eligible to sign an extension summer.) That, Romo tells me after the long hug, "is the plan.''
Says Romo: "No question. That's their plan. They drafted these guys for a reason. We're lucky to have Pro Bowlers all over the place. It definitely allows me to play this game, probably a lot longer than I would if they weren't here.''
Dez Bryant remarks to me after the game that the Frederick contract is proof that "we're building something special here.'' Coach Jason Garrett's postgame comments include the observation that Frederick is a "cornerstone player.'' Romo gives me a more detailed analysis of these concepts.
"He's exactly the example of the kind of guy who want to have around for a long time,'' Romo says. "Obviously, he makes me look good. But on top of it, he's the right kind of person and he does things the right way. When you're that talented and you work that hard, you exemplify everything we want for the Dallas Cowboys, and you're going to be around a long time. I'm happy for him. He deserves it.''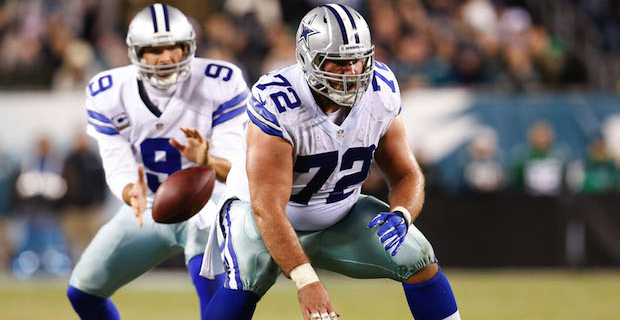 And then it is time to exit the LA Coliseum, some players climbing into private cars because the Cowboys have no curfew and well, this is LA. Frederick, who I've robbed of a chance to grab that free sandwich, will also pass on the chance to stay here, as he instead climbs aboard one of the three buses that will take the team back to Oxnard.
Why not stay in the big city to celebrate? Hey, "Frederick's of Hollywood''!
Travis Frederick responds to the idea, his grin barely hidden, even by by that beard: "Do I look like a Hollywood guy?"
null