On Thursday night in Seattle, the Cowboys' 'Nightmare on Elm Street' scenario reared its ugly head when Tony Romo went down with yet another back injury on just the third play from scrimmage. So much of the Cowboys preseason energy and focus was predicated on the combination of a healthy Romo distributing passes to a healthy Dez Bryant and the rest of the Cowboys offensive weapons. Now, the aspirations of Romo riding off into the sunset with a NFC East crown,and possibly a Super Bowl ring on his finger are in serious jeopardy. 
But is the sky falling? Is the Cowboys season already doomed to another 5-11 season? Or worse? Or can Dak Prescott be the next rookie phenom to lead his team to the playoffs, a la Russell Wilson, Andrew Luck and RG3? 
Start at the start, with Dak's Sunday quote about getting weekend texts from Romo: "He supported me, (he) has my back. But this is still his team. I'm just going to try my best to hold the fort down."
So "phenom'' talk makes for some lofty expectations. Instead, let's look at some facts in order fashion:
*The Cowboys have the best offensive line in football. Nothing is more important for a rookie quarterback than the peace of mind of having enough time to make his reads and get the ball to his receivers. Honestly, if you give any NFL quarterback with talent the security to have enough time to throw, you have a shot at success. Moreover, Prescott is a smart kid, and even though defenses are surely going to be more complex than what he faced in the preseason, he is also going to have that line to lean on.
Prescott has never had the luxury of having an offensive line of this caliber protecting him, even at Mississippi State, where he was forced to run for his life in the pocket on a weekly basis, and somehow still put up Heisman-type results. Oh, and he can run
https://twitter.com/DraftCowboys/status/769644961172230144
*He will have a running game to lean on. Outside of the offensive line, fellow rookie Ezekiel Elliott will be the most important ingredient to Prescott's success as the Cowboys' starting quarterback. It's no secret that a good running game can help a quarterback be successful. But Elliott has the potential to provide the Cowboys with not just a good running game, but a dominant one. And with a dominant running game at his disposal, the pressure on Prescott to carry this offense would be drastically reduced. Furthermore, Dak himself, unlike Romo, will be able to contribute to that running game, and provide a dimension to the Cowboys offense that will give the Giants and others extra fits in preparation. 
*The Cowboys have the weapons on the outside that Prescott needs. We all know what a healthy Dez Bryant brings to the table for any quarterback. Put the ball in his vicinity, and odds are, he's coming down with it. But the Cowboys have more than just Dez for Prescott to rely on. Cole Beasley is a reliable possession receiver, and was arguably the Cowboys best receiver last year in Dez's absence. Terrance Williams will be able to stretch the defense and open up the middle of the field for the possession receivers to do their work, and Brice Butler should provide another big bodied target for Prescott to rely on, as the two of them have had a nice rapport throughout the preseason together. 
https://twitter.com/DraftCowboys/status/769627482542731264
Said Dez on Sunday as the team worked out for the first time in this year's Romo-In-A-Back-Brace Era:
"I'm catching anything that's thrown to me. Really, how I'm feeling right now, I'm feeling unstoppable."
But the most reliable weapon for Dak in the passing game might be Jason Witten. We all know what we are going to get from Witten. He will undoubtedly be Prescott's safety valve, and has some of the most reliable hands on the team, maybe even in the NFL. Having that kind of confidence in his tight end will pay huge dividends for Dak, who when faced with pressure or a tight coverage, can simply check it down to Witten for a short to medium gain like we have seen Romo do about 1,000 times. 
*Because of his preseason performance, Prescott has the confidence of his teammates. It's not very often that a rookie fourth round draft pick at quarterback can come in, and gain the respect of his teammates the way Dak has. In this preseason, Prescott has completed 39 of 50 passes for 454 yards and five touchdowns with no interceptions, while also rushing the ball seven times for 53 yards and two touchdowns. 
"He wants to be great,'' Dez said of Dak. "He understands the process. Sky's the limit for him."
He's also been hard at work in the film room and on the practice field trying to improve his game as best he can, which his teammates have noticed. Obviously preseason and regular-season football are two totally different animals, but the Cowboys players believe in what Dak can do. 
*The schedule is manageable. Seven of the Cowboys first 10 games, even without Romo, should be considered "winnable.'' The Giants are going to be dangerous on offense, but extremely inconsistent on D. The Redskins are going to be tough, but beatable, and the Bears, 49ers, Eagles, and Browns are all projected to be near the bottom of their respective divisions. The Cowboys also have games against Detroit and Tampa Bay, and rematches against their division rivals, who like we said, are entirely beatable. The Bengals, Packers, Ravens, Vikings and Steelers will be difficult, especially with three of those being on the road in notoriously tough environments, but by our count, that makes 11 of the Cowboys 16 games viably winnable with Dak Prescott under center.
Those aren't predictions; we'd be getting way ahead of ourselves to make predictions. But they're worth mentioning because they give this team (inside the locker room and out) some hope.
Despite all of the things that are trending in Dak's favor right now, it is important to remember that he is just a rookie, and his initial campaign as a Cowboy is bound have some frustrating moments for both him, and Cowboys fans. Will the Cowboys have to bring in a veteran as insurance against a Prescott injury? You bet. We think waiting to see who gets waived is more Dallas' plan than trading for one. Stay tuned here. 
But having said all that, there is no reason the Cowboys can't attempt to ride Prescott this season, for a while, to relative success.
Obviously, the Cowboys would rather have the most statistically decorated quarterback in their history under center, rather than a rookie fourth-round pick. ... Especially considering what happened in 2014 when Romo was healthy, and then what happened in 2015 when he couldn't stay on the field. But the Cowboys do have something with Prescott that they didn't have in Matt Cassel, Brandon Weeden, and Kellen Moore -- and that's not just our feeling; there are those inside The Star at Frisco who feel the same way.
Can Dak lead the Cowboys to the Super Bowl? It's a question that is silly because it's so premature. Does he keep the job, assuming he's been successful, when Romo returns in six weeks or 10 weeks or whatever? The Cowboys front office will say "yes.'' We say that's premature as well. ... just as the rips on Dak ("Vanilla defenses and scrub opponents'') are premature. Oh, and what about Romo's contractual future? Fish is working on that story, but for the moment, it's more important to wonder if Dallas wants to put in a waiver claim on just-released Browns backup QB Austin Davis, or wait to see if the Jets cut a QB, or eyeball the crowded Chiefs QB room, where Aaron Murray and Kevin Hogan.
"Right, as you say, it is what it is, a criticism,'' Dak told our Mike Fisher last week. "People are going to find something to criticize all day. I just focus on how I can help my team.''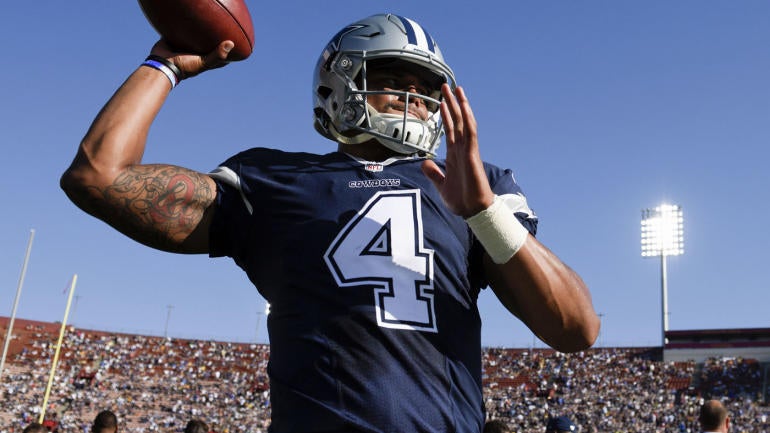 For now: Can Rayne Dakota Prescott bus-drive the Cowboys to incremental success, to "holding down the fort,'' first against the Giants on Sept. 11 ... and then we all concern ourselves with "what's next'' in logical order? "Dak To The Future'' is logical, and maybe he has a chance to be the NFL's next rookie quarterback sensation. But "Dak For The Immediate Present'' -- that's all that the Cowboys need to be preparing for today.