The Dallas Cowboys are starting the 2016 season with tempered hopes, I think, all because of the back injury to Tony Romo, who is staying on the roster via a decision so notable that Jerry Jones pulled out his old "circumcise a mosquito line.'' (Our coverage of the Romo decision is here.)
But these Cowboys still think of themselves as "THE Cowboys'' ... trying to represent as Tom Landry did in another generation, trying to represent as Darren Woodson did in a more recent generation.
"What Tom Landry represents has been A-class forever,'' says Woodson, speaking to me about winning the 2016 Landry Legend Award from the Cowboys organization. "He's been a man who's done so much for the organization, and for the state of Texas. When you can drive down the highway and see the hat ... it's Jordanesque. You see the hat and you know it represents Tom Landry as 'special.'''
Landry was about many things, including leadership, an issue of the day as Dallas has named its 2016 team captains: Travis Frederick, Jason Witten, Sean Lee, Dan Bailey and Barry Church.
How difficult was the players' vote? I asked Lee. He knows exactly what I am talking about.
https://twitter.com/fishsports/status/774324889658339328
Woody was about many things, too, including leadership. He followed in the footsteps of his predecessors as one of the greatest Cowboys ever. And the Ring of Honor member and deserving Hall-of-Famer (hopefully someday) also serves as a keen observer of this year's club. In addition to the aforementioned team captains, of course, he sees one individual as an offensive key to the season that begins Sunday with a visit from the Giants ... and another individual as Dallas' defensive key.
Woodson's Cowboys Preview, Offensive Key
It's disappointing, "to say the least,'' Woody says of Tony Romo's injury status. "To know that Tony's not going to start the season as a starter and all hope was going that direction ... Yet for Dak Prescott to come in and start the season the way he has, in the preseason, it's unbelievable. I know he's been seeing vanilla defenses, and I don't want to get ahead of myself. He's going to see defenses that absolutely try to take away his strengths. But he's got the poise, the confidence and the running game to be highly successful in this offense. Give some credit to the coaching staff. He's played to his strengths. Play-action. Shotgun. They've kept it pretty simple for him.''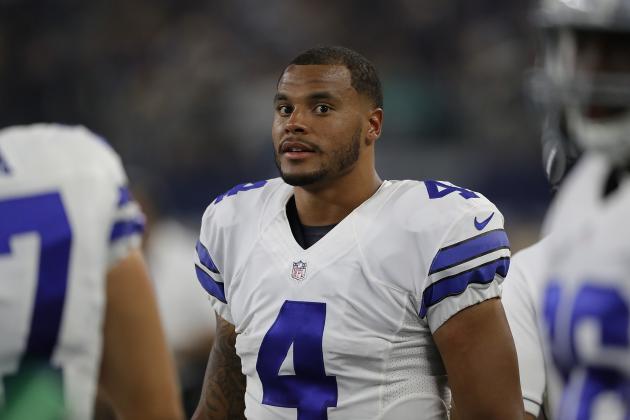 I ask Woody, speaking of simplicity, about the complications the Giants (and other teams) will throw at Prescott.
"The formula the Cowboys do have,'' he says, "is the guy on the outside named Dez Bryant. At some point, during a game, you'll have to double Dez and you show your hand once you double him. So that could make it a lot easier for Dak. If they double Dez, you know there won't be a safety in the box and you know what you have in the running game. Dez can make things a lot easier for Dak.''
Woodson's Cowboys Preview, Defensive Key
One of Woodson's great skills during his brilliant Dallas career was versatility from the safety spot. He could creep up to the line as a 'backer, could slide around in the secondary and cover receivers, could dominate from his usual position ... and could disguise his position and his intent.
Maybe Byron Jones is his heir?
"Byron Jones can be the first Byron Jones,'' Woody tells me. "And what I like about it is they simplified things for him this year. That first year, he was asked to be a cornerback, nickelback, safety position ... for them to put all that on his plate, and for a young guy to handle it, is just tremendous. I couldn't believe all he did.''
Jones, now entering his second year, is essentially locked in at safety now.
"This year, they put him at the safety position,'' Woodson says, "and every once in a while he can cover on third downs from the slot and cover tight ends. But mostly, it's simpler for him now. I think this guy has a tremendous upside and this year will have an even better season.''
That doesn't make Jones a Woodson clone. And "Dak's Cowboys'' aren't Jordanesque like "Landry's Cowboys'' were. But if Dallas is to experience success in 2016, starting Sunday with the Giants, Darren Woodson may have just pinpointed your two key personalities.
ONSIDE KICKS
Get the details on Charles Tapper's back injury here in Cowboys Premium ... Sean Lee tells me he's a full-go for this week, and he's been practicing that way ... I think the coaches are envisioning Lance Dunbar being part of this week's gameplan for the Giants. Is he healthy enough? ... A stat analysis on why takeaways are the key to Dallas' playoff chances ... So many see Dak Prescott being so good that he takes Romo's job. Shouldn't we spent an equal amount of time wondering if the rookie might be so bad that Mark Sanchez takes his job? ... Kyle Wilber lining up as an edge-rusher gives this team a tiny bit of depth at the position. But only "tiny.'' ... Ezekiel Elliott is in the legal clear in Ohio - but as I write here in my column, has other behavioral hurdles to deal with. ... Three things Prescott will be thinking about this weekend as they relate to his late mother? We've got 'em, and we're talking about 'em, here on CHQ Boards. ... A weekly can't-miss? "Cowboys 100,'' all the important (and oddball) stats and numbers about Dallas vs. the Giants. Mark Lane gold here - Gotta read it! ... Lucky Whitehead said he sustained only a cut on his arm in the car crash that occurred in the wee hours Friday morning following a Terrance Williams birthday gathering. "I'm blessed and lucky to be here,'' he said. "It was definitely scary.'' ... Wanna hear from Dez Bryant? He spoke to us 1-on-1 and you can eavesdrop in our Cowboys StarCAST here.
THE FINAL WORD
"There's no leash on Dak. You guys blow me away. There's no leash on him. Heck, he's in. He's going to be playing. We're very comfortable with him. There's no short leash. There's no long leash. We got us a player we hope can win the ballgame for us (Sunday)." -- Jerry Jones, to "Shan & RJ'' on 105.3 The Fan, part of "Jerry Unleashed,'' here.