Randy Gregory is not a football player.
Oh, he once was. And he might be again. But Cowboys Nation would be wrong to consider the young pass-rusher as someone on the verge of helping Dallas. Rather, he's the one who needs assistance with his use of NFL-banned substances for recreational purposes or self-medication purposes, or both.
"He will have rehab for a long time,'' Cowboys owner Jerry Jones said of Gregory this week on 105.3 The Fan as the NFL calendar moved the player to its "Reserve/Suspended" list, officially designated him with a four-game suspension (including the Giants game just passed) that also allows him to be at team headquarters for meetings (but not to practice). "It's arguable he may always rehab."
(See the entire Jerry Q-and-A by clicking here.)
And coach Jason Garrett added on Wednesday that he's spoken briefly with Gregory and when asked if he's in this year's plans post-suspension, answered, "Absolutely.''
Meanwhile, Dallas needs pass-rush assistance and hopes to get it with its contractual agreement with ex-Jags defensive lineman Ryan Davis.
Davis is athletic enough to have recorded 10 sacks in the last two years in Jacksonville. He has versatility along the defensive line; you can envision him as a nickel rusher here from inside, or as a better option than Kyle Wilber at RDE behind Benson Mayowa. He came into the league undrafted, was a late Jaguars cut this fall (maybe in part due to the team trying to get him to convert to a hybrid end/linebacker role), has a reputation as a character guy, and is, I think, smaller than his listed 6-2, 275. Indeed, I bet he shows up at The Star today (after emerging from a free-agency group tryout on Tuesday) weighing closer to 260 than 275.
Oh, and he has a selfie bit.
https://twitter.com/CamiAnnG/status/775816013484953600
Light and quick D-linemen? That's the Seattle mold, and increasingly, it's the Dallas mold, too -- with Randy Gregory supposed to be on exhibit in that way.
Instead, Davis should be on the field today. And Gregory cannot get on the field just yet.
This can be an argument for another day as it regards the legalization of marijuana, in the NFL and beyond. (Other pro sports leagues have wisely given up trying to fight the inevitable here; when the NFL Players Association muscles up, football will eventually do the same). But for now, rules are rules and problems are problems.
Gregory broke a rule — flunking a drug test for the sixth time in less than two years.
Gregory has a problem — and it has nothing to do with football.
Oh, the expansion of his suspension to 10 games remains a possibility, but that's not the problem, either. No, the looming issues are about Gregory's "addiction'' (however you wish to define that) that keeps him from making the lucrative living he says is a dream, the problem that pushed him into a rehab facility (and that if he gets a 10-game suspension might just push him back here), the problem that prevents him from helping his teammates try to win football games.
The Cowboys did manage two sacks in the Week 1 loss to the Giants, but need more. And on paper, Gregory could help fix that (forgetting for a moment that the second-year former second-rounder — drafted that low for the exact same drug issues that plague him now — has really never made a big play in the NFL). But I sometimes wonder if the rehab facility placement is part of the player and his employer's wish to demonstrate to the league office that he's "trying to do the right thing'' and motivated by a desire for the shorter suspension. And I always wonder if Jerry grossly overrates his organization's ability to wave a "magic behavioral wand'' that will heal the "broken.'' My column on that subject -- "Adventures In Babysitting On The Island Of Misfit Toys'' -- is here.
(The latest example of that? Following Lucky Whitehead' wee-hours car wreck last week, his first phone call was not to any Cowboys supervisor, coach, staffer or player-programs employee, as the organization would surely wish; Lucky called his mom.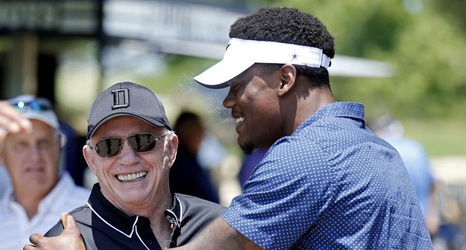 So, support from the Cowboys for Randy Gregory the football player? Understandable, of course; this is a business.
Support from the Cowboys for Randy Gregory the man? That's infinitely for important, because way before he's ever any good in the NFL, Gregory's true identity is simply that. And the Cowboys are now prepared to give those snaps to street- ree agent Ryan Davis.