On this edition of 'Cowboys StarCast' Jamie Horton and Mike Fisher break down the ClusterFest chaos that was "The Dez Knee saga" surrounding the Dallas Cowboys -- well, actually, caused by the Dallas Cowboys. And below, Fish at 105.3 The Fan helps advance the story greatly.
Cowboys wide receiver Dez Bryant tells me he "feels good and positive'' about the hairline fracture of his right tibia and is "doing all the right things to get back on the field.''
Bryant also told me he's visited with Dr. James Andrews, the noted orthopedic surgeon.
"Dr. Andrews took a look at my MRI,'' he tells me. " And I got positive feedback there.''
Bryant, working through an injury sustained in Sunday's win over the Bears and first diagnosed as a "sprained knee,'' will not require surgery. Mind feelings that he will miss Sunday's visit to San Francisco, he's not ready for a timetable yet, saying, "I know everybody is (speculating) about when I'm back. But tell Cowboys fans I feel good. You know I'm doing all the right things to get back on the field.''
This week has included some unorthodox storylines because as 105.3 The Fan reported on Tuesday, Bryant missed a Monday MRI appointment. Coach Jason Garrett says Bryant (who was fined for his absenteeism) "didn't handle it the right way. He's a very, very passionate person. He's an emotional person. (But) there are repercussions for your actions.''
The star receiver, moving without crutches, showed some of that passion in the locker room while declining to to an at-large media session but later made note of his relationship with Garrett.
"Coach Garrett has my back and I have his,'' Dez tells me. I love Coach Garrett. It's all good.''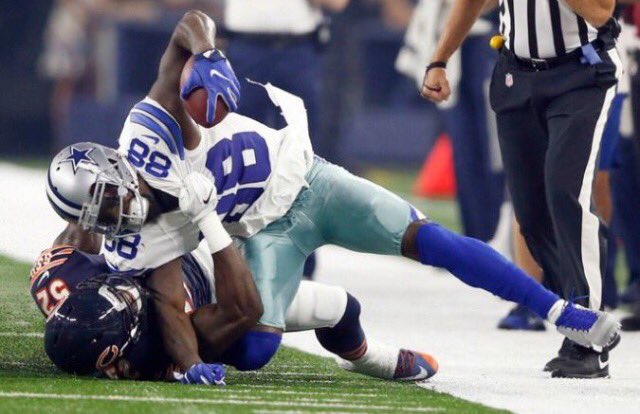 Combine that above info with what's in the Cowboys StarCast and you have a wide-angle view of EVERYTHING. Welcome to the Potty Mouth Club! (Because this edition of Cowboys StarCast is NSFW.)
Meanwhile ... Don't be Leary, Ron has got your back!  Ron Leary is once again a Cowboy of significance and we have the 1-on-1 interview to prove it.  Plus!  We'll hear from Morris Claiborne and Dak Prescott's (so far) favorite target, Cole Beasley.  Oh yeah, we'll also mention the fact that the Cowboys will be looking for their third consecutive win this Sunday at San Francisco.
null