At 3-1, the Dallas Cowboys are off to a great start to the 2016 campaign. Much of the credit for that start falls squarely on the shoulders of rookie fourth-round pick Dak Prescott, who has thrown 131 straight passes without an interception to begin his career. That's not only an NFL record for a rookie, but also the second-best all-time mark for any QB beginning his career, just behind Tom Brady's 162 straight attempts without an INT.
With that being said, many fans, as well as some national pundits who may or may not be headline-porning (what a shame it is to see an entire generation of misguided Skip-wannabes), are of the opinion that Prescott should retain the starting job even after Tony Romo returns from the back injury that has kept him out since this preseason.
That, dear ladies and gentlemen of Cowboys Nation, is just not going to happen. Nor should it.
This is no disrespect to Prescott; he has performed well above anything that any Cowboys fan could have expected to begin this season.
In fact, as Jerry Jones politely said on 105.3 The Fan on Tuesday, "I think we can have a successful season (with Dak). I think we can have a very successful season with Tony Romo at quarterback.
So ... let's look at the facts.
In his career, Romo has thrown for 34,154 yards and 247 touchdowns, has a 97.1 career quarterback rating, and has the highest fourth-quarter QB rating in NFL history. In fact, in Tony's best years, he has been easily a top-10 quarterback in the league in most major statistical categories. Romo also has the third most wins of any Dallas Cowboys quarterback with 78, just behind Roger Staubach at 85 wins, and Troy Aikman at 94 wins.
That being said, like any quarterback, Tony is at his best when he has a dominant rushing attack to lean on. Aikman had it, Staubach had it, and Tony, outside of 2014, has not. Prescott for example, has been able to lean on his buddy Ezekiel Elliott a lot this season, as Zeke leads the NFL in both yards (412) and attempts (94).
In 2014, DeMarco Murray led the NFL in attempts (392), yards (1,845) and touchdowns (13). Behind that dominant rushing attack, Romo led the Cowboys to a 12-4 record and was a controversially reviewed Dez Bryant non-catch (it was a catch, people) from facing the eventual Super Bowl Champion Seattle Seahawks in the NFC title game. Yeah, against a team which the Cowboys had already defeated once away from home, when Romo himself threw for 250 yards and two touchdowns with no picks ... in the toughest road environment in the NFL.
So is there any reason to believe that given this teams rushing attack behind Zeke, and its stellar offensive line play, even in the absence of All-Pro left tackle Tyron Smith, can't equal or exceed the success of Dak Prescott? No there is not.
Tony may be on the wrong side of his 30's, but he still possesses the live arm, quick release, and elite football IQ that his made him on the of the NFL's most productive quarterbacks since 2006. In fact, we would even venture to say, despite Dak's incredible start to his career, that were Tony to be commanding this team from game one of the regular season, this Dallas Cowboys team would be standing undefeated at 4-0, and be favored in nearly every game they played on their schedule from here on out.
Make no mistake about it, Dak is the future of the quarterback position for this franchise, and he has proved that up to this point, but this is No. 9's team. The plan from day one has been for him to come back as the team's starting quarterback upon his return from said injury. ... and then we'll all worry about the passing of the torch at an appropriate time. (And if that's the spring of 2017? We've got you covered here with how easy it is -- financially if not emotionally -- for the Cowboys to "divorce'' Romo.)
"I don't worry about it one iota who's gonna be under center,'' Jerry said on Tuesday, and this is quite a compliment to all involved.
Fish reports that Tony might be throwing this week at practice, and CowboysHQ.com has reported for weeks that the target date for his return is the October 30 game against the Eagles.
That's been the plan all along and the plan, we are telling you, is unchanged.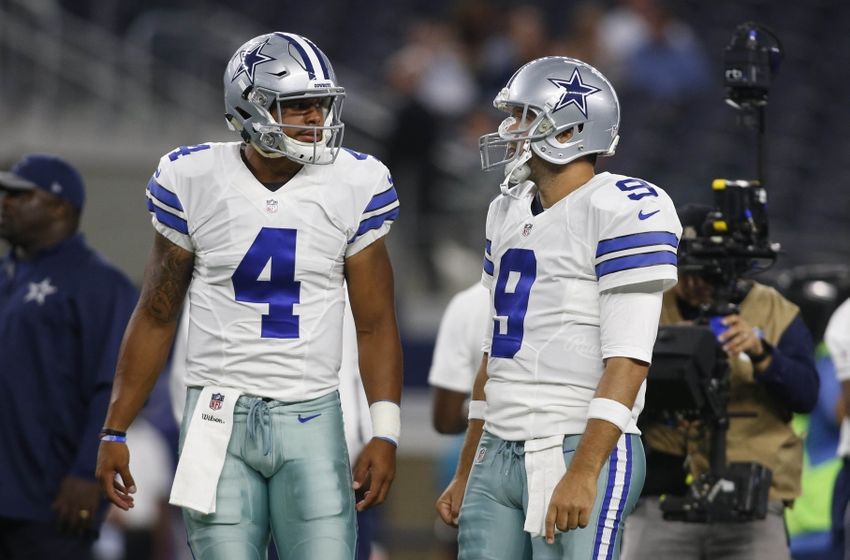 So even if you disagree with our beliefs of what should happen ... even if we think this is a bar-room debate that deserves to be up for a fan vote or something ... no matter if you think the Cowboys are right or wrong ...
Dallas's position here is that a healthy, great veteran quarterback is better than a healthy, great rookie quarterback.
And that is the plan. And except for the bright future that deck presents as Romo's eventual heir, that  plan is unchanged. Tony knows it, Garrett knows it, Jerry and Stephen know it, and Dak knows it, too.
Oh, and now you know it as well.