Each week I'll rank the Top 5 fantasy starters on the Dallas Cowboys and why in Dallas Cowboys Fantasy.
1. RB Ezekiel Elliott. This game with the Bengals is going to be a game where yards and points come at a premium for the Cowboys. The Bengals have a rock-solid defense that is in the Top 10 in total yards allowed and passing yards allowed. They're No. 14 in run defense and give up less than 100 yards per game. So we'll insert Elliott as the No. 1 option even though the run defense has not allowed a single 100-yard rusher yet this season (though the Jets' Matt Forte and the Steelers' DeAngelo Williams managed more than 90 yards). The Bengals have also allowed just three rushing touchdowns. As you know, Elliott is the NFC's leading rusher with 412 yards. If you drafted him in the first two rounds, you're getting exactly what you hoped for. But mute your expectations this week. The Bengals are a higher-quality opponent than the Bears or the 49ers and Elliott's numbers will likely drop a bit as a result.
So ... points come at a premium. And Dan Bailey is giving way in practice to safety Jeff Heath as the kicker due to Bailey's bad back? Better mute expectations at kicker, too. ... with tryouts coming Friday ...
https://twitter.com/fishsports/status/784150442485751808
Here's the full story on Heath and Bailey and the tryouts.
2. WR Cole Beasley. I toyed with making Beasley my No. 1 pick this week, but stepped him back to No. 2. The Bengals are a Top-10 pass defense, but there are holes when it comes to allowing touchdowns, which isn't exactly Beasley's forte. The Bengals have allowed 10 in four games. The Bengals are giving up 12.5 yards per catch. Beasley hasn't scored much this season, but I think the Bengals are a bit vulnerable after the catch, and Beasley is starting to use his quickness to stretch the field after the catch. You probably noticed that 47-yard catch late in the game against San Francisco. I think that has the potential to happen more often on Sunday. Like Elliott, keep your expectations in check.
3. WR Brice Butler. I make this pick assuming that Dez Bryant won't play. (Fish reports that Dez, as of Wednesday and Thursday, wasn't running yet and has been feasting on tuna, eggs and grapes to keep his calories down.) If Bryant plays then Butler falls off this list and Bryant, naturally, moves into the Top 5. Remember that I noted that the Bengals have allowed 10 touchdown receptions this season? That puts Butler in the mix for fantasy points. He had five catches for 51 yards and a score last week, but if you had him in a PPR format that was 15 points, production I would taken any day out of a WR3. I know Terrance Williams had similar numbers last week (4-44-TD) and has a better yards-per-catch average, but I'm not ready to trust him just yet. Butler had nine targets to Williams' six and I think that continues on Sunday.
We'll hold out the slighted bit of hope for Dez on Friday ...
https://twitter.com/fishsports/status/784369764051279873
And update as we go.
4. QB Dak Prescott. I think this is the game where Prescott takes a bit of a step back. In fact, I think Prescott will finally throw his first interception of the season and that will drag down his fantasy numbers. He's low on this list for all the reasons I just presented — this is a Top-10 pass defense with a solid pass rush, a good secondary and that holds opponents to 237 yards passing per game. Their vulnerability to touchdowns is a bonus, and Prescott's running could help drive up his numbers a bit. But remember last week Prescott had five rushes for 3 yards. So don't count on his legs getting you extra points. If you have better options I'd start them.
Worth noting for the 3:25 Bengals at Cowboys game at AT&T, though: Dak has some impressive numbers that Cincy's offense cannot match. See what we mean here in "Cowboys 100.''
5. TE Jason Witten. As I suspected, he was high on Prescott's target list with Dez Bryant out (nine targets). His seven receptions for 47 would have been 11 points in a PPR league, so he's probably a better start in that format. He is as consistent as a clock. If you want to spend low at tight end this week and get a return on investment he's your guy.
Here's the Cowboys-Bengals injury list for Friday; things looking up for Tyron and Bailey (and for Tank Lawrence, not officially required to be listed yet) ...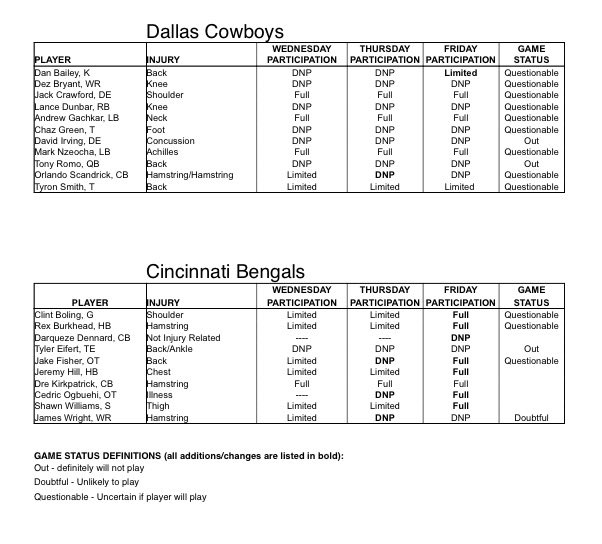 Want to talk more Cowboys? Hit the CowboysHQ.com message boards or hit up Postins @PostinsPostcard or Mike Fisher @FishSports on Twitter.
null