ARLINGTON, Texas -- Rookie running back Ezekiel Elliott and his 134 yards and two touchdowns on 15 carries led the Dallas Cowboys in a 28-14 dismantling of the Cincinnati Bengals Sunday at AT&T Stadium.
"I thought he could deal it out any way they wanted to take it,'' Cowboys owner Jerry Jones said, complimenting Zeke on his speed and power. "I saw that speed kick in. He can show them power. He can show them toughness. He can make you miss.''
 https://twitter.com/CowboysNation/status/785239236656173056
In other words, he's multi-faceted -- just like the 4-1 Cowboys as a whole apparently are.
Fourth-round rookie quarterback Dak Prescott had another impressive outing as he went 18/24 for 227 yards and a touchdown, though he did lose a fumble in an 8-yard sack by defensive end Carlos Dunlap late in the third quarter, a tiny blemish on an incredible start to his career.
"We're lucky to have him,'' said coach Jason Garrett.
https://twitter.com/jasonrmcintyre/status/785244118267994112
Meanwhile, cornerback Morris Claiborne had three tackles and three pass breakups as he continued another streak of exceptional play for the fifth-year veteran. The Cowboys defensive line, featuring defensive end DeMarcus Lawrence fresh off a four-game suspension, sacked Bengals quarterback Andy Dalton four times, double their season total heading into Sunday's contest.
Even Terrance Williams, who was maligned the first four games for questionable decisions, led the Cowboys with five catches for 70 yards. He even caught an 11-yard pass on third-and-8 with 2:25 remaining in the game to allow the Cowboys to run out the clock and leave with a 4-1 record and the lead in the NFC East.
Dallas came out of the gate running. Of the Cowboys' seven plays on their opening drive, six of them were runs, and they did not face a third down at all. Elliott capped off the drive with a 13-yard rushing touchdown.
After forcing Cincinnati off the field, the Cowboys responded with another dominant drive. Dallas ground the Bengals defense 89 yards in 14 plays for another rushing touchdown, this one of the Prescott 4-yard variety on a read-option.
When the Bengals weren't able to overcome guard Kevin Zeitler's two consecutive penalties that backed them up first-and-25 from their own 40-yard line, they punted the ball back to the Cowboys. Like the previous two drives, Dallas picked apart the stout Bengals defense -- eight plays, 80 yards -- and Prescott punctuated it with a 14-yard pass to Cole Beasley to take a 21-0 lead.
When the Cowboys came out of halftime, they forced Cincinnati's off the field without points again. On the first play of the second half, the Cowboys offensive brain trust elected to run the football. Ezekiel Elliott made good on their play-call with a 60-yard scamper to the end zone to give the Cowboys an insurmountable 28-0 lead with 11:47 in the third quarter.
The Bengals were able to cut the Cowboys lead to 14 with two touchdown catches by receiver Brandon LaFell from Dalton: a 7-yarder and a 5-yarder each in the fourth quarter. But too much time had burned off the clock to where all Dallas had to do was pick up a first down when they recovered the Bengals' onside kick with 2:39 remaining.
The Cowboys are 4-1 for the second time since 2008. They now prepare to take on a Green Bay Packers squad in a venue where they have only won once in franchise history.
But let's not get ahead of ourselves, as Jerry Jones said of the Tony Romo/Dak Prescott "issue'' that is surely coming even faster and harder than Zeke running downhill. Romo will undergo an MRI on Monday that is likely to show improved health ... and then he'll start throwing. The arguments here are less silly than they once were, and there are lots of decisions to make for the Packers game and then afterwards. But for now?
"We do a great job as a team and as an organization of putting the past behind us and looking forward,'' Dak said. "Right now, it's (onto) the next team.''
SCORING SUMMARY
11:09 1st Quarter - Ezekiel Elliott rushes for a 13-yard touchdown. 7-0 Cowboys
14:43 2nd Quarter -- Dak Prescott rushes for a 4-yard touchdown. 14-0 Cowboys
4:09 2nd Quarter -- Cole Beasley catches a 14-yard pass from Dak Prescott. 21-0 Cowboys
11:47 3rd Quarter -- Ezekiel Elliott rushes for a 60-yard touchdown. 28-0 Cowboys
10:10 4th Quarter -- Brandon LaFell catches a 7-yard touchdown from Andy Dalton. 28-7 Cowboys
2:39 4th Quarter -- Brandon LaFell catches a 5-yard touchdown pass from Andy Dalton. 28-14 Cowboys
ONSIDE KICKS
* The Bengals only allowed 3.8 yards per carry through the first four games. The Cowboys' yards per carry Sunday was 6.2.
* This is Cedric Thornton's first sack since Sept. 20, 2015 when he sacked Romo in a 20-10 loss when Thornton was with the Eagles.
* Dak Prescott is eight passing attempts away from setting a new record for most attempts without an interception to start a career.
* This is the 16th time the Cowboys have started 4-1. 13/15 of those previous teams made the playoffs.
* Ezekiel Elliott is the first Cowboys rookie running back to have three-straight games with 130 yards or more. He is tied with Julius Jones and DeMarco Murray for the most in club history.
* This is the first time the Cowboys have won a game wherein Dan Bailey did not kick a field goal. They are now 1-7.
* The Cowboys are now 288-190-6 on CBS.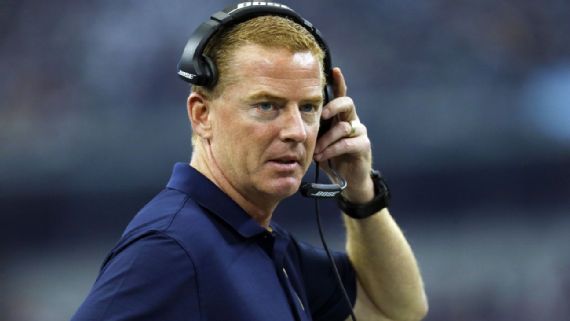 THE FINAL WORD
"We talk a lot about re-committing every week to the things we want to be. It's a re-commitment to our values. And you have to live them out each and every day. And hopefully all those things show up for you on Sunday.'' -- Jason Garrett
null