According to Las Vegas oddsmakers, the Cincinnati Bengals were a 2½ -point favorite at AT&T Stadium coming into Sunday's game in Arlington. Usually, those guys are pretty good at their jobs, but in this case, they couldn't have been more wrong, as the Cowboys cruised to an easy 28-14 win over the defending AFC North Champs. 
They did so in part behind rookie QB Dak Prescott, and the people who decided to draft him in the fourth roundd of the recent NFL Draft — that would be the Cowboys coaching staff more than anyone — suddenly look pretty good at their jobs, too.
And now those same exact people are sticking with their all-along plan: Dak Prescott is about to be replaced.
"Tony Romo is our No. 1 quarterback,'' team owner Jerry Jones said on Sunday night after Dallas advanced to a surprising 4-1.
Dan's counterpart, Andy Dalton, who coming into the game was third in the NFL in passing yards, was forced to run for his life for a good portion of the game thanks to a reinvigorated Dallas pass rush, led by Tank Lawrence. Dalton could never get comfortable in the pocket, as he was hit nine times, sacked four times, and forced to take off and run on six occasions due to pressure. It's hard to believe that the return of one guy could have that much effect on a defensive front, but Lawrence gave the Cowboys exactly what it was lacking over the previous four weeks—pressure off the edge. 
"It was good to see him back out there," Jason Garrett said of Lawrence. "We wanted to be limited with his snaps. We were selective. Some third-down situations, some two-minute type situations. It really looked like he was comfortable. He had a good week of practice, but we didn't want to give him too many today. It looked like he got off to a good start."
With the pressure amped up on Dalton, Cowboys defensive backs were able to thrive in coverage, despite going up against arguably the NFL's best receiver in A.J. Green. Mo Claiborne and Brandon Carr, both did a tremendous job on Green, who was held to just four catches on seven targets. 
"Our goal during the week (was) to pretty much try to take him away from them," Claiborne said of Green. "He'll beat you by himself, and that was one of our goals of the week just coming in. If they're going to beat us, make somebody else beat us. We're not going to let them do it with (number) 18."
Mo was able to continue his bounce-back season, with another stellar performance at his corner back spot. His emergence as a legitimate island-level corner has allowed the rest of the Cowboys secondary to focus more on their jobs, which has made the entire secondary a more effective unit. 
https://twitter.com/SportsPlusShow/status/785239935154388992 
Dallas was also able to hold the Bengals running backs, who are the lifeblood of the Cincy offensive philosophy, to just 62 yards on 13 carries. While some of that struggle was due to the fact that the Bengals were playing from behind for the vast majority of the game, they were also never able to get a consistent push up front to allow their backs enough room to run, which in turn led to minimal success. 
The defense wasn't the only story for the Cowboys on Sunday, however. The Dallas run game, led by Zeke Elliott and the offensive line, feasted on the Bengals front seven. Elliott toted the rock 15 times for 134 yards and two touchdowns, including a 60-yard scamper for a touchdown in the third quarter, in which he went untouched. 
Over the last three games, including this one, Elliott has averaged 137.3 yards a game, and 6.1 yards per carry, as he has soared to the top of the NFL's rushing leaderboard. 
"He's just a really good football player. We keep saying he's getting better and better every week," Garrett said of his rookie running back." He was pretty good the first week and he has gotten better and he has taken advantage of his opportunities. He's a young player who goes about it the right way. He loves to play football. He's very passionate about it. We all see that and it shows up in his productivity."
As good as Zeke was, though, the offensive line deserves a lot of credit here. They absolutely manhandled the Bengals defensive front, clearing space and getting serious push throughout the game. Having Tyron Smith back in the rotation certainly helped, but the entire line from tackle to tackle did an excellent job from the opening snap. (See "Cowboys Family Values; Zeke Outruns Bengals'' here.)
https://twitter.com/JC1053/status/785216830637957120
"They are phenomenal. They are really the heart of this offense. We go as they go, and I think they know that," Dak said of the O-line. "They come in each and every day and do a great job, starting Monday and all throughout the week. It's the way they approach the game plan and the way they go about themselves."
Thanks to the success of Zeke and the offensive line, Dak Prescott's day was pretty easy all things considered, as the rookie completed 18-24 passes for 227 yards and one touchdown. Dak did record his first give away of the season when he fumbled in the closing moments of the third quarter, but other than the one mistake, Dak did a great job of managing the offense throughout the game. 
And yes, we come full-circle, back to Dak, Dak To The Future, to a "QB controversy'' (for those people outside The Star In Frisco, anyway) that in a way, Prescott has earned.
Yup. He deserves to be included in the conversation that is about to center on the practice-field return of Romo, who will undergo what is expected to be a thumbs-up MRI on his back today.
Hopefully Romo experienced no discomfort. …. just like Dak has experienced no discomfort.
"I've been comfortable all year,'' said the bow-tied rookie QB in his postgame presser. "I don't think tonight was any different from the Giants game at the start of the year," said Prescott. "We go as this offensive line goes. When they block their butts off like they did tonight, they give us a chance to make passes down the field and that gives us success."
As Prescott continues to impress, the questions from around the country continue to swirl around the "quarterback controversy'' that is now more justified than ever — there is no denying that. As we've already reported, Tony Romo will be the starting quarterback when he is healed and ready to play, and in that sense, there is no controversy. 
"I will tell you that this is a wonderful position to be in if you're in my shoes. We have Dak playing at the level he is, and Tony is repaired," Jerry Jones said of the situation. "If he had done his MRI on Friday, it would show him healed. He's going to get one and be able to come back and really get in top shape and help us as we go into the season. …. We're pretty good at quarterback."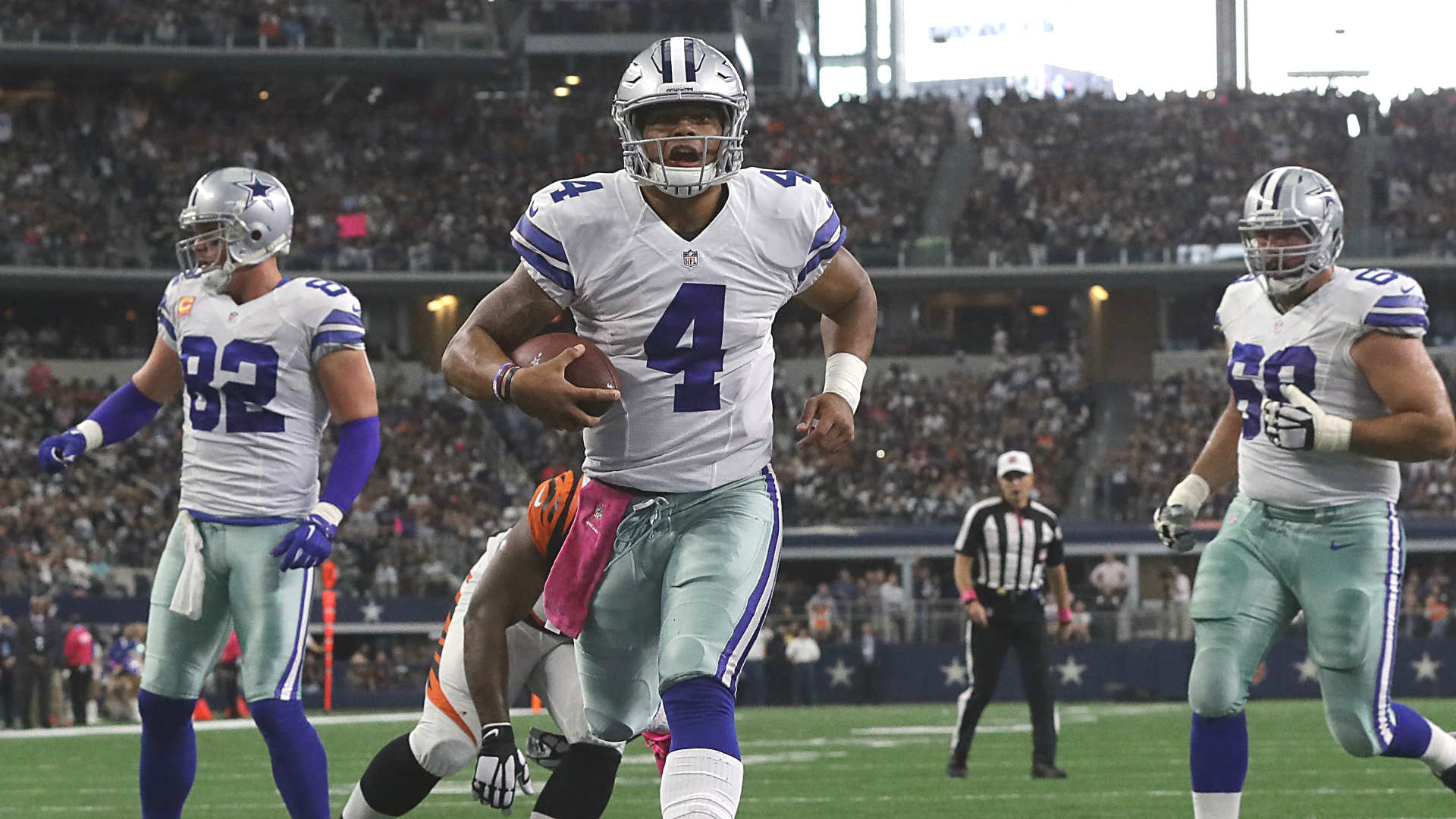 Some would argue that Dallas is "good at QB'' in either direction the Cowboys end up going. But that direction is set, by the very same pretty-good-at-their jobs decision-makers that have overseen the march to 4-1.
null