Lambeau Field is one of the toughest places to play in the NFL. As a  quarterback coming into Sunday's game, Aaron Rodgers was 52-14 as a starter in Green Bay. Yeah, hhe Packers have always been a different animal at home, but no one told Dak Prescott that, as he guided the Cowboys to a huge 30-16 win Sunday at Lambeau Field.
'It's competitiveness in me,'' Dak said after the win when the inevitable "Romo or Dak?'' questions came from the media. "Everybody wants to be on the field. But it's not my call. This is Tony's team.''
For the record, I still firmly believe that, that incumbent starter Tony Romo should and will take over as the starting quarterback when he is cleared to play later this season, with the most likely start date coming in Cleveland on November 6th. 
But when I say "firmly" ... maybe it's a little less "firmly" than before.
Said Cowboys owner Jerry Jones: "There's nothing I'd rather do than go into the last half of the season with a ready-to-go Tony Romo and a winning Dak Prescott. I dream of being able to make that decision. We are not there yet, by the way. We are not there."
Prescott is undoubtedly making any decision to move from him harder and harder to justify with each passing week.
And not because of anything he says ("This is Tony's team'' is a smart thing for Dak to reiterate by rote) or anything the national media says (they have no feel for how unified this locker room is; you should trust Fish on this subject in "How To Run A Locker Room'' more than you trust "locker-room insiders'' who work in Manhattan or Bristol or LA).
No, it's not about what is said about Dak, or about what Dak says himself. It's all about what Dak does.
Here, Prescott completed 18-of-27 passes for 247 yards and three touchdowns, showing composure and resilient decision-making throughout. The best example: in the closing minute of the first half, when he guided the Cowboys down the field for a score with no timeouts, hitting Brice Butler on a 20-yard dime for a touchdown.
https://twitter.com/dallascowboys/status/787773823496122369 
Dak also passed Tom Brady for the most consecutive passes all-time without an interception to begin a career, with the streak ending at 177 later. ... but ultimately finishing the day as the QB engineer of a 5-1 team. 
https://twitter.com/dallascowboys/status/787780248800792576
Prescott didn't do it all by himself though, and when Tony returns, he wont have to, either.
Early Sunday morning, we brought you "the five ways Dallas could win at Green Bay without Dez Bryant," and they were able to complete all five tasks running away.
For starters, the Cowboys defense was able to get after A-Rodge fairly well through out the contest, and while the sack numbers weren't there, David Irving and company made life very uncomfortable for the five-time Pro Bowler. The defense also did a great job forcing turnovers, taking the ball away four times, including a big interception by Barry Church.
https://twitter.com/SportsPlusShow/status/787759308133904384
As for the other two tasks on the list?
Ezekiel Elliott continued his Offensive Rookie-of-the-Year campaign with yet another great outing, toting the rock 28 times for 157 yards, good for 5.6 yards-per-carry. (He's off to the second-best start of any runner in NFL history, behind only Eric Dickerson, so maybe this is actually an MVP conversation.) Thanks to the dominant ground game with Zeke and the offensive line, Dallas controlled the time of possession, and gave the defense (still allowing just 17 points per) plenty of rest as well.
The Dallas offense also won the battle on the explosive plays, orchestrating seven gains of 20 yards or more, compared to just four for the Packers. Dallas was able to do this in a variety of ways as well, doing it both on the ground and through the air. 
So Dallas is 5-1 heading into the bye week with a gauntlet of games against some very formidable teams coming up, including road games at Pittsburgh, at Minnesota, and at New York. But Jason Witten and this team's leaders have the locker room together, Witt telling Fish, "Like coach Garrett says, 'Re-Commit.' Enjoy it, but our team's leaders don't let us get too cocky. This team will never get too confident.''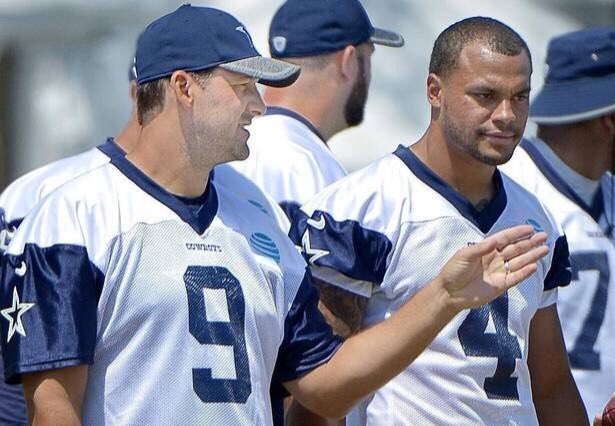 Oh, and the higher-ups hardly seem troubled by their circumstance, either.
"What we're gonna do," the Cowboys owner replied to Fish's Romo/Dak question, "is wait till the next card's played ... These are not 'hard times.'"
null