We start our conversation with "What did you do over the bye week''? For Demarcus "Tank'' Lawrence, it was an idyllic escape from what has been a tumultuous spring and fall, with a back surgery and then the drug-related suspension looming ominously over his head as he waited and waited to re-join what is now a 5-1 Dallas Cowboys team featuring a defense that might be one big-time pass-rusher away from title contention.
"I went to Boise to go see my three kids,'' Tank tells me, smiling warmly. "There's nothing better than that; it was pretty great.''
I joke that actually, there might be better places in the world than Boise, Idaho, where the South Carolina native ended up playing his college football at Boise State. But he's serious about the weather.
"It's truly beautiful, with the leaves on the ground, and you get to play outside ... absolutely beautiful,'' he tells me. "Have you ever been to Boise? I think you should go to Boise. The colors changing. It's all four seasons.''
And the playing in the yard with the leaves and the colors is made even more special by Tank doing it with the children, who he left behind to return to work on Monday at The Star in Frisco, where he about to resume his assault on the non-believers.
But first, about those kids. 
Tank actually has one child by birth, DaMari, age 2, and DaMari lives with Dad in DFW. Lawrence's other children are actually the offspring of his girlfriend Sasha. Mariah, 10, and Kal-el, 5, remain in Idaho ... but remain in Demarcus' heart as well.
"They're all my children,'' he says sweetly.
But Dad is back at work now, a centerpiece of a Cowboys defense that has its doubters. Defensive coordinator Rod Marinelli calls them "The Mighty Orphans'' and CHQ thinks "The Legion of Whom?!'' should catch on. But if they continue to overcome the naysayers, Lawrence might be a driving reason.
Lawrence returned to practice only three weeks ago after missing the first four games for violating the NFL's substance-abuse policy. He played 17 snaps in helping Dallas beat Cincinnati and played 29 snaps in Green Bay in that win. Some of the limitations were due to conditioning, Tank concedes. He does not concede that they were related to his recovery from back surgery, even as coach Jason Garrett said on Thursday he's working through issues with his back and shoulder.
"I'm just going off what the coaching staff wants me to do (in terms of snaps) and then at practice just working on the fundamentals,'' Lawrence says. "I have been getting back in shape. But I'm ready to go.''
For Tank, who led this team in sacks a year ago with eight, "ready to go'' means being an all-around force, not just a sack specialist -- though when he was drafted, scouting boss Will McClay pounded the table on him, calling his a "Quarterback Hunter'' -- but also someone who clogs the run, who plays both ends, who can line up inside, who can be viewed as reliable.
Oh, and as someone who is a "beast.''
This is what "great'' is called now, as you know. Or maybe it's "greatness'' combined with a certain ferocity. Lawrence, at 6-3 and appearing way beefier than his listed 270, has a couple of goals. One of them is about a specific number. One is about that beastly perception.
"Most definitely, I feel like I am a beast, like I am a tank,'' says Lawrence, who wants to record at least five sacks in Dallas' final 10 regular-season games. "Now I've got to go out there and show it every day. But they don't call me 'Tank' for nothing.''
Actually, they called him "Tank'' when he was a little boy ... but not all that "little.''
Yeah, it's a childhood nickname,'' he says. "I was bigger than all the other kids. I was playing fullback, running over everything.''
Professional football isn't quite that easy. Indeed, it comes with challenges like the drug suspension that didn't set his team back in terms of its record, but I believe did stun him when it was handed down.
But now?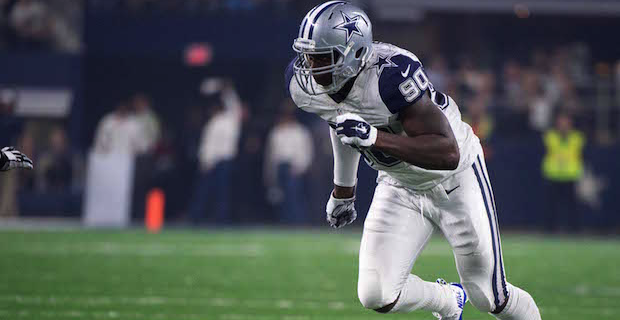 "I'm just focused on going out there and doing my thing, feeling like I've got to get at least five (sacks) and then the rest will take care of itself,'' Lawrence says. "I don't feel 'haunted' or anything by things; I put that in the past. Now it's about each and every day putting in the work to do my job. And now it's time to ball.''
Which would mean another form of beauty ... for "The Beast.''