The last Eagles-Cowboys game a season ago at AT&T Stadium ended with Sam Bradford hitting receiver Jordan Matthews for a 41-yard touchdown to defeat Dallas 33-27. Sunday night, revenge was sweet as rookie quarterback Dak Prescott hit tight end Jason Witten for a 5-yard touchdown to win the game and give Dallas a 6-1 record atop the NFC East.
"We don't blink,'' said Cowboys receiver Dez Bryant, mentioning again his locker-room mantra: "All smiles!''

Well, okday, maybe not "all'' smiles. There had to be some angst as Prescott struggled throughout the game. For the third straight week, Prescott fumbled the ball and threw an interception in his second consecutive outing and tallied a 79.8 passer rating, going 19-of-39 for 287 yards, two touchdowns, and an interception. But it was Prescott's resilience on the Cowboys' overtime drive that was impressive and most significant, going 5-of-5 for 46 yards and a touchdown.
"That's what he's demonstrated since Day One is poise and composure," head coach Jason Garrett said. "He's come back before this year for us. He plays with the same mentality, the same demeanor, the same temperament regardless of what's happening before. And the best players I've been around have been able to do that."
Prescott -- who owner Jerry Jones announced after the game will start next week in Cleveland as Tony Romo continues to ramp up -- knows he did not have his best outing, but declared that he would keep working to improve from it.
"I don't care how bad I play or what I do, I'm not going to give up," Prescott said. "I've got great, unbelievable teammates around me who give me confidence around me no matter what I've done. And that's kind of the things they share on the sidelines. They've got my back and I've got their back."
One of the teammates who had Prescott's back on the field was Bryant. The seventh-year receiver who returned to his first action since Week 3 caught a 22-yard touchdown on second-and-10 with 3:04 remaining to tie the game at 23-23 in the fourth quarter. Bryant finished the game with four catches for 113 yards and a touchdown. Receiver Cole Beasley also caught four passes for 53 yards, and running back Ezekiel Elliott also caught four passes but for 52 yards. Elliott fell short of his fifth-straight 100-yard rushing game with 96 yards on 22 carries on the evening.
However, the Cowboys defense stood tall. Despite allowing rookie quarterback Carson Wentz go 32-of-43 for 202 and a touchdown, the Dallas defense managed to down the South Dakota State rookie three times, including on a pivotal third-and-11 from the Eagles 11-yard line to give the Cowboys offense one more chance to win the game in regulation.
Said Prescott: "All credit to the defense for giving us an opportunity to win and have a chance late in the game like that."
Trailing 23-13 with 13:05 in the fourth quarter, the defense turned the game with a fumble from rookie running back Wendell Smallwood that defensive tackle Terrell McClain forced and defensive lineman Tyrone Crawford recovered the loose ball at the Philadelphia 36-yard line. The Cowboys offense went three-and-out on the subsequent drive, but Dan Bailey narrowly made a 49-yard field goal to trim into the Eagles' lead 23-16.
Wentz fumbled the snap twice on the subsequent drive, and linebacker Sean Lee's big tackle on third-and-8 of shifty running back Darren Sproles, who rushed 15 times for 86 yards and caught five passes for 17 yards, pushed the Eagles out of field goal range and forced them to punt from the Cowboys 36-yard line.
The Dallas defense did sustain two injuries in the secondary in the fourth quarter as safety Barry Church was knocked out with a broken right arm, the same one he fractured in Week 16 last year in Buffalo. Cornerback Morris Claiborne also left the game with a groin injury (that might actually be a sports hernia). Garrett said the team would know more about the two defensive backs in the coming days, but we think you should brace for the worst here.
Penalties plagued the Cowboys, who sported the least penalized offense and sixth-least penalized defense, throughout the game. Dallas committed 11 penalties for 84 yards, two of which resulted in first downs for Philadelphia. The Cowboys special teams unit also played poorly too often with returner Lucky Whitehead fumbling the opening kickoff and returning a punt from the Dallas 3-yard line seven yards that was compounded with a holding call on fullback Rod Smith that gave the offense a first-and-10 from their own 5-yard line with 10:18 in the second quarter.
What elevated the poor special teams play to a mediocre level was punter Chris Jones rushing 30-yards on a fake punt on a fourth-and-8 from the Dallas 27-yard line with 4:55 to go in the third quarter. Jones' big gain led to a Dallas field goal cut into the Eagles' 20-13 lead with 56 seconds in the third quarter. And maybe put on display the benefit of "desperation'' when "domination'' isn't quite working.
But the bottom line is 6-1, and how this Cowboys team battled to get here.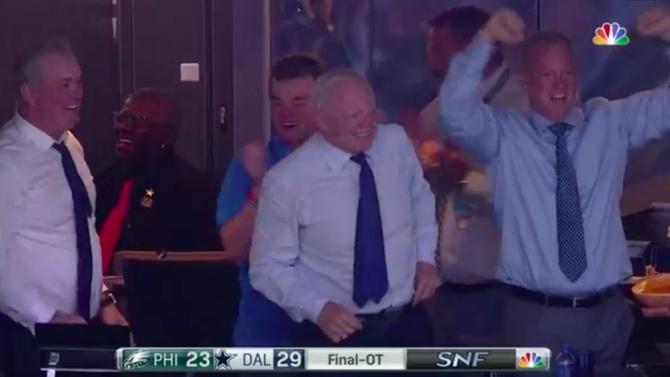 Said Jones: "I've never been prouder. One of the best wins I've ever been around.''
SCORING SUMMARY
6:44 1st Quarter: Caleb Sturgis kicks a 30-yard field goal. 3-0 Eagles
4:46 1st Quarter: Dak Prescott rushes for a 7-yard touchdown. 7-3 Cowboys
14:55 2nd Quarter: Dan Bailey kicks a 38-yard field goal. 10-3 Cowboys
3:45 2nd Quarter: Ryan Mathews rushes for a 1-yard touchdown. 10-10
0:01 2nd Quarter: Caleb Sturgis kicks a 55-yard field goal. 13-10 Eagles
6:22 3rd Quarter: Jordan Matthews catches a 5-yard touchdown pass from Carson Wentz. 20-10 Eagles.
1:00 3rd Quarter: Dan Bailey kicks a 23-yard field goal. 20-13 Eagles
14:13 4th Quarter: Caleb Sturgis kicks a 34-yard field goal. 23-13 Eagles
11:39 4th Quarter: Dan Bailey kicks a 49-yard field goal. 23-16 Eagles
3:11 4th Quarter: Dez Bryant catches a 22-yard touchdown pass from Dak Prescott. 23-23
7:56 Overtime: Jason Witten catches a 5-yard touchdown pass from Dak Prescott. 29-23 Cowboys
ONSIDE KICKS
* Dez Bryant's 53-yard reception was his longest yet against the Eagles.
* Dak Prescott with four rushing TD's ties Doug Dennison for the ninth-most rushing TD's by a rookie in Cowboys history.
* Garrett is now 7-5 in overtime with a 2-2 record without Romo.
* That was Jason Witten's first touchdown pass of the season and first game-winner in overtime.
* This was only the second game all year the Eagles defense was held to just two sacks or fewer. They are now 0-2 in such games.
* This is now the 11th time the Cowboys have started 6-1. 9/10 of those previous teams won the division.
* This is now the 19th week that Jason Garrett has had undisputed first place in the NFC East.
THE FINAL WORD
https://twitter.com/DemBoyz_News/status/792940471693746180
"A lot went through my mind. This is my first touchdown throw to Witten. This is the game-winner. ... a special moment." - Dak Prescott, aware that Witten scored the game-winner while also making his 204th consecutive start, which sets the franchise record.
null