It's Washington Redskins at Dallas Cowboys in a 3:30 Thanksgiving start ...
 And let's see who is healthy: We have some concerns about Orlando Scandrick here. Washington comes at you with 4-wideouts. And Scandrick is clearly not healthy as he limps around practice, according to Fish, and limps around the field, too, in the last couple of weeks.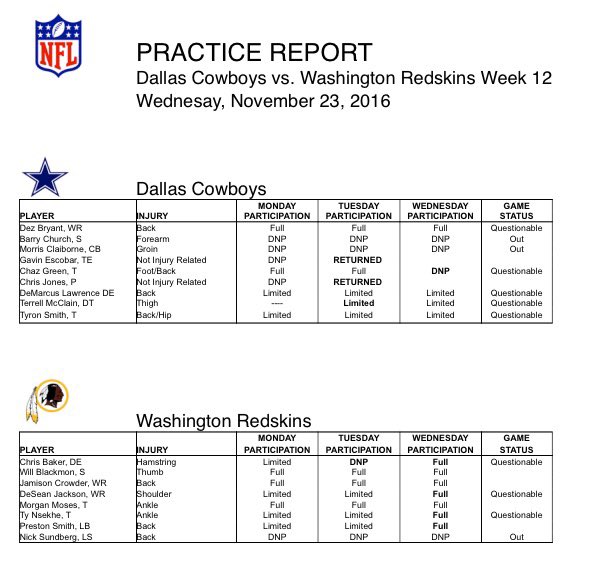 Note that Scandrick isn't even on the report ... but trust what CHQ is telling you here. Maybe Dallas makes up for any problems on D with fantasy explosions on O ...
1. RB Ezekiel Elliott. Every week some owners have to weigh the pros and cons of starting a player on a Thursday game. This is not one of those weeks if you have Ezekiel Elliott. You start him confidently against a Redskins defense that is in the bottom half of fantasy against the position. The only back with more fantasy points in standard leagues right now is Arizona's David Johnson, who has 197 points to Elliott's 188 points, according to ESPN.com. You can chalk that up to Johnson's ability in the passing game, where Johnson has 47 receptions and Elliott only has 22. Elliott had just 12 fantasy points against Washington in their Week 2 meeting. He's a more patient back now. He'll wait for the right hole to open up and take advantage of what looks to be a vulnerable run defense. The Redskins have allowed 12 rushing touchdowns this season. I think Elliott produces at least 20 points in standard leagues this week.
It's worth noting that Zeke told us this week that his body can feel the impact of the short week ... but I'd add maybe not as much as the Redskins, who played Sunday night AND travel.
2. QB Dak Prescott. If you read my postgame column on Monday you know that Prescott's numbers have trended up the last month as Elliott's numbers have trended down just a bit. That's simply a result of teams paying more attention to Elliott defensively. I imagine the Redskins will do the same on Thursday, which opens avenues for Prescott to succeed. He has scored at least 23 fantasy points in three of his last four games. The fourth game saw him score 18 against Pittsburgh. Given his consistency all season, 18 points seems like his floor. The Redskins defense enter this game in the middle of the fantasy pack in quarterback points allowed, but in the last three games the unit has allowed multiple touchdown passes. Prescott has thrown at least two touchdown passes in each of his last five games. His receiving corps is completely healthy and he should have an opportunity to clear at least 20 fantasy points this week.
https://twitter.com/fishsports/status/801210132868845568
Plus, he's keeping the building clean.
3. WR Dez Bryant. I don't know what happened against Cleveland. But if you throw that game out (just one reception) Bryant has been the Bryant we expected since he returned from injury. He's scored 17, 17 and 20 fantasy points against Philadelphia, Pittsburgh and Baltimore, respectively, caught four touchdown passes and cleared 100 yards receiving twice. What's interesting is the volume. Bryant has games of 4, 1, 6 and 6 receptions since he returned. That means the Cowboys are making a good effort to get the ball downfield and Bryant is capitalizing. Now, this would seem to be a big matchup for him against Washington's Josh Norman. But you know how that game went — Bryant caught seven passes for 102 yards. He only scored 10 fantasy points that day, but he had his way at times with the Redskins secondary. The real question is how will Washington defend him? Will they lock Norman on him exclusively or will they, as they did for parts of that Week 2 game, allow Bryant's placement on the field to dictate who covers him. The latter didn't work, and locking Norman on Bryant later wasn't that successful because Bryant had found a rhythm. Either way, Bryant will be hard to slow down.
https://twitter.com/fishsports/status/801170493692780544
Dez is also in a holiday mood, according to Fish, which is nice.
4. TE Jason Witten. This is a matchup-oriented choice for Thursday, where Witten is matching up against a Redskins defense that is one of the worst in fantasy against tight ends (CBSSports.com has the Redskins at No. 26 against tight ends). If you go back through the Redskins' last three box scores you'll see that an opposing tight end has had at least 100 yards receiving. And we've seen this season that when Witten has a good matchup the Cowboys tend to take advantage. This probably won't be like the Cleveland game, where he brought in 19 fantasy points, but a double-digit game, especially if he can catch a touchdown pass, is certainly a possibility.
5. WR Cole Beasley. Beasley has hit double digits in standard leagues in four of his last six games, according to ESPN.com. That includes an 11-point outing last Sunday against Baltimore. But if you want double-digit points you're dependent on Beasley scoring. All of his double-digit games this season have come with at least one touchdown reception. So if Beasley doesn't score, you're likely looking at single digits.
Want to talk more Cowboys? Hit the CowboysHQ.com message boards or hit up Postins @PostinsPostcard or Mike Fisher @FishSports on Twitter.