Officially, Terrance Williams' nickname is "Sweet Feet,'' a monicker handed him by teammate Dez Bryant, who admires his close friend's body control and footwork as a receiver.
"You should see it in practice,'' Dez told me. "He does it all the time. I don't even know how to describe it except ... 'Sweet Feet.'''
https://twitter.com/SportsQuotient/status/801919782895448066
But in the immediate aftermath of the 31-26 Thanksgiving win over visiting Washington (game coverage here), in which Williams' toe-tapping practice made perfect, another parallel did come to Dez.
(COWBOYSHQ.com is going BOGO! All you need to know about this limited time Cyber Monday deal:
Buy a new premium monthly membership and you'll get the 

next month FREE

Offer begins NOW and ends 11:59 p.m. Wednesday, Nov. 30.

Use the offer code 

CYBERMON 

to get the free month
Available only to new premium members.
Full access of premium content across every Scout.com
Full access to forums on the site of your choice
Don't delay! CLICK HERE and use the code CYBERMON for unlimited access to our best stories at an unbeatable price.)
I showed him the above photographic pairing featuring Williams' ballet-like 10-yard TD catch against the Redskins and featuring the late Michael Jackson, and his body-control dance from "Smooth Criminal.''
"Yup! That's it!'' Bryant hooted, and as we both glanced toward Williams while he got dressed in the locker room at AT&T Stadium, it all came together -- because T-Will's wardrobe that day featured a tuxedo-like jacket, white with black trim.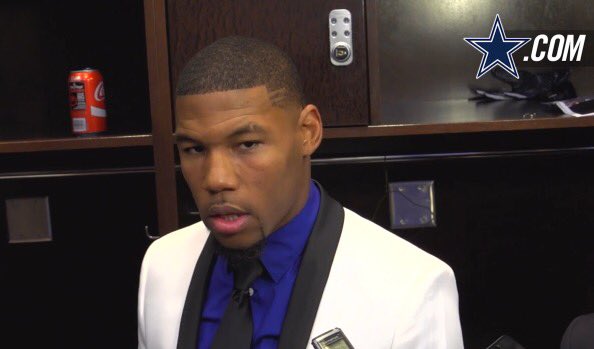 As if it came straight out of the classy/outrageous Michael Jackson fashion collection.
"That's just me and Lucky (Whitehead) and Dez, we always play around (with toe-in-bounds catches) in practice and games," Williams told reporters. "I just started doing it. Dez called me that name ("Sweet Feet'')  because he sees it all the time. That's why Dez says that. It's just something that we just play around, and I just take what we play around into the game."
Added Dez: "You should've seen the catch he made the other day in practice. Even better than this one. Even better! 'Sweet Feet!''
For the record, T-Will is not a fan of the nickname.
"Not really,'' he said. "But that's what Dez calls me, so I've got to go with it.''
Williams has a history of this sort of thing not only in practice but in games, too, most notably in Seattle two years ago, catching a 23-yard pass from Tony Romo on third-and-20 with less than five minutes remaining in what would become a signature victory for that contending Cowboys team. He considers that the finest catch of his four-year NFL career, with this one -- his only catch of the game -- ranking second.
https://twitter.com/joshuaclintonn/status/800446050414706688
If Williams is frustrated by those numbers, he refuses to show it. The Cowboys have a brotherhood in their locker room and especially in the receivers room. To complain about having only 26 catches for 371 yards and one touchdown before Thursday -- even as these totals come in what is the final year of his existing contract, meaning he's not getting much of a chance to showcase himself -- would be to complain about his brothers, Dez, Lucky, Cole Beasley, Brice Butler.
Williams instead reserves his quiet ire for his critics, especially the ones who rip him because maybe his hands aren't as sweet as his feet. Like many of today's NFL players, one of the first things he does following games is bury himself in his phone, checking his messages, of course, but also reviewing his reviewers.
https://twitter.com/GustanDeportes/status/775125237998510080
His other most replayed highlight of the season came in Week 1, when he brain-cramped and failed to scoot out of bounds after a reception, a decision that meant Dallas didn't get a chance at a last-season field goal. The Giants won that day, the only blemish on the 10-1 Cowboys' record.
But this week? As the Cowboys return to practice today at The Star in Frisco (I'll have full Premium coverage coming up Sunday evening) Williams' actions and his words were as snappy as his toes ... and as his suit.
https://twitter.com/NFLCanada/status/801921349320994816
"I'm just very grateful,'' he said. "You go so much. You block so much and you do so much. They always say you've got to be ready, and it's just one of those things you never know when the ball is coming. So when it came I just made the most of my opportunity."
Williams eschewed an opportunity to say he is "mad'' about his targets (he's caught only seven passes in the last five weeks) to instead accept compliments about his blocking.
"You've got to wait,'' he said, until "your number is called.''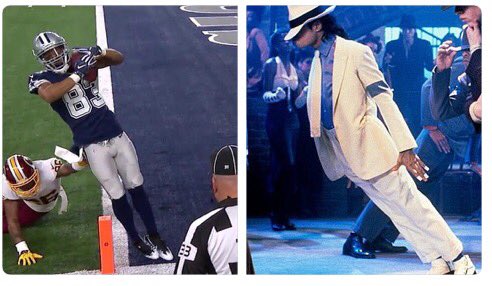 And yet maybe a certain "impatient edge'' is important, too. Bryant, who truly considers Williams to be like a brother, reminded all who would listen, "We can't get comfortable. You get comfortable, you going to fall apart. You don't want to be comfortable. It's still a long season. We have to keep each other lifted.''
Or, in the case of "Sweet Feet's'' Jacksonesque dance, to make sure the spirit is lifted but the toes are not.