In his four seasons with the Dallas Cowboys, Terrance Williams has been quite the conundrum. The decision to draft Terrance Williams came with some question marks. For starters, there were concerns over Williams' weight. 
At Baylor, playing in a Big 12 offense, Williams was able to use his speed and athleticism to put up big numbers apart of Baylor's dynamic offense. However, Williams' lack of a route tree in college was a major flag. But most notably was Williams' lack of confidence with his hands. These problems continue to plague Williams in the NFL. We continuously see Williams use his body to catch passes, rather than using his hands. 
Nevertheless, the Cowboys figured his intriguing skill-set would provide another element for the Cowboys in their offense. In his rookie season, Dallas used Williams sparingly behind both Dez Bryant and Miles Austin. However, Williams proved in his rookie season that the Cowboys were capable of cutting ties with the veteran Austin and giving more extended reps to Williams.
After securing 44 receptions out of 74 targets for 736 yards and five touchdowns, Williams' numbers regressed drastically in 2014. In that season, when the Cowboys finished 12-4, Williams caught 37 receptions out of 64 targets for 621 yards and eight touchdowns. Sure, the touchdown numbers improved, but that was more due to the fact that the Cowboys' offense was one of the bests in football.
In 2014, the Cowboys became much more run-heavy thanks to their star-studded combination of the offensive line and DeMarco Murray. Williams' role did not decrease, but his opportunities decreased. In 2015, his third year in the NFL, Williams' numbers saw a drastic increase, but that was more due to the fact that Dez Bryant spent a majority of the season on the sideline. Williams finished with a season-high 840 yards on 52 receptions out of 94 targets. He only had three touchdowns.
In the final year of his contract in 2016, it was expected that Williams' numbers could see another uptick considering it was his contract season. The thought of Mohammed Sanu's contract season came to mind. Last season during his contract year, Sanu caught just 33 receptions out of 50 targets for 394 yards and zero touchdowns. 
Despite that lack of production, Sanu received a five-year contract worth $32.5 million. If the season ended today, Williams' numbers would reflect very similarly to Sanu's totals from 2016. And if a team is desperate for a wide receiver, they will overpay for Williams. Are the Cowboys that desperate to overspend for a 27-year-old that has not panned out as what the Cowboys hoped he would be? I would guess not and that's why wide receiver is a position that I believe the Cowboys should target early in the 2017 NFL Draft.
Dallas has proved historically that they will generally follow their board rather than drafting just to fill a need. Looking back at the 2016 NFL Draft, the receiver that has produced best is Michael Thomas of the New Orleans Saints. While Thomas is involved in an offense that predicates itself off its passing attack, he has still caught 65 receptions for 789 yards and touchdowns. Thomas is only 23 years old. The thing that is even more amazing is that he was the sixth receiver chosen in the draft.
The key to finding any prospect isn't just finding the most talented player, it's also about finding the player that will work best within the system. The Saints saw a need for a possession receiver in their offense and Thomas has filled that role with ease throughout the early going of his career.
In 2016, the Cowboys' offense has once again gotten back to the offense that had success in 2014. Using the Cowboys' conservative approach, this team is down on turnovers compared to years past and taking a more consistent approach to moving the football down the field. Because of that, Dez Bryant's usage and production has received a downtick even though his impact is still greatly felt. If the Cowboys can add another presence outside, a presence that can be more greatly felt than Williams,John Ross out of Washington is a name to keep an eye on.
Because he plays in the PAC-12 and most of the primetime games are after dark, some have been quick to forget about the wideout, instead giving the attention to players like Mike Williams, Malachi Dupre, or Amara Darboh. But Ross might just be the best of them all.
I don't typically use statistical production to prove the worth of prospects, but Ross' numbers are remarkably impressive. Currently in his junior year, the 5-foot-11, 195-pound receiver has caught 72 passes for 1,091 yards and 16 touchdowns. His size may make some people nauseous, but many smaller receivers have paved way for outside success in the past few years. 
Players like Antonio Brown, Odell Beckham Jr, and T.Y. Hilton are all examples of No. 1 receivers who are under 6-0. Let's take a look at some highlights from Ross' time at the University of Washington.
A player of Ross' stature has to win with quickness. In this play, we see Ross' ability at the line of scrimmage. The Rutgers cornerback lets him get outside release after Ross puts on a quick stutter step at the line of scrimmage. From there, Ross uses his speed to beat his man and get free in the gap between his man and the looming free safety. A well-placed football leads to a deep touchdown reception for Ross.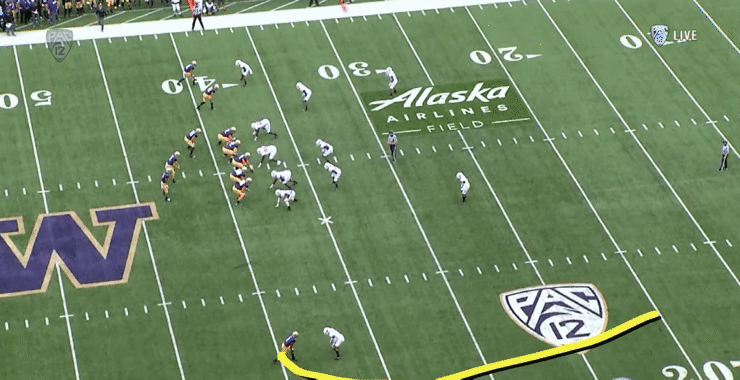 Ross' ball skills are also impressive. Pairing those ball skills with his speed is a deep threat that can give defenses nightmares. In this play, Ross is running his deep crossing pattern from the slot. His speed gets him past the free safety, a complete blown coverage. However, it is his adjustment to the ball in the air that makes the play so impressive.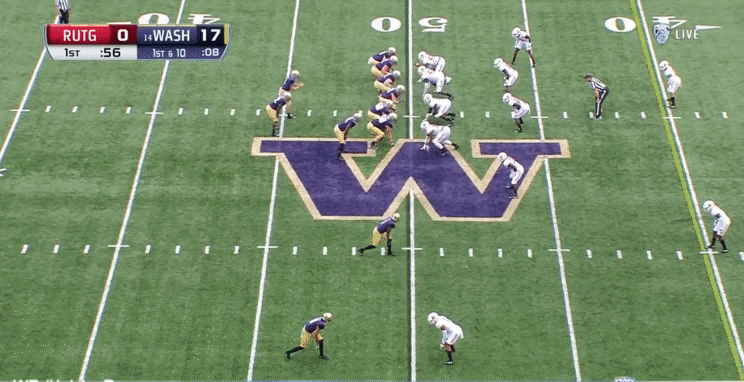 All season long, Lucky Whitehead has continued to show his gaffes as a kick returner. In fact, Whitehead has fumbled four times on 26 career touches. There is nothing more heartbreaking than a fumble to start the game. Enter Ross, a player that can simply score six whenever he touches the football.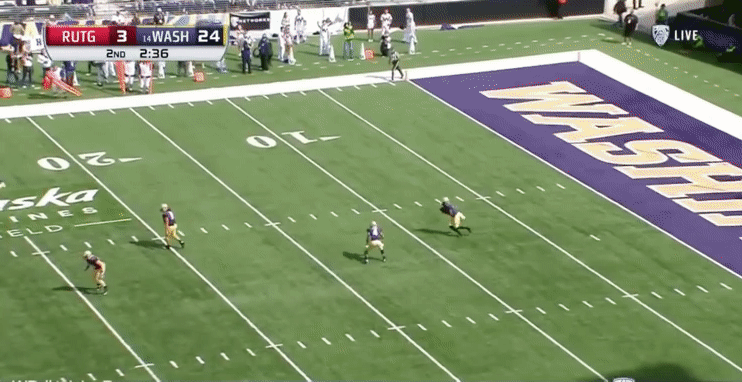 Going back to Ross' ability at the line of scrimmage, he poses such a threat with his quick feet. In this play, Ross gets free with ease after faking his man outside. Ross picks up an easy first down because of it.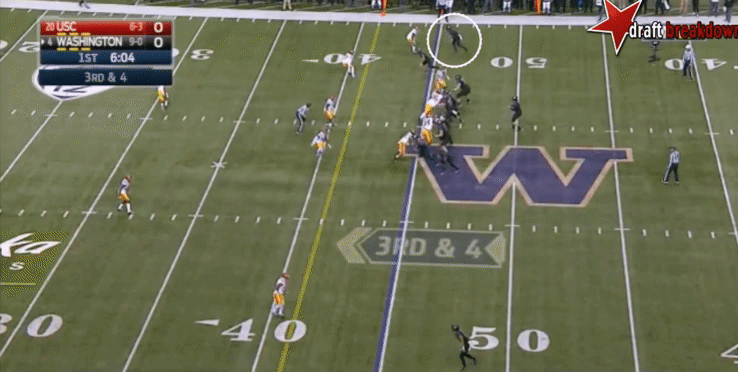 If cornerbacks are asked to be on an island with Ross, it's going to lead to a ton of problems. His speed is simply no match for a cornerback who has to engage with him at the line of scrimmage and then keep distance with him on the outside. Ross walks in for an easy touchdown on the next play because of his get-off at the line of scrimmage.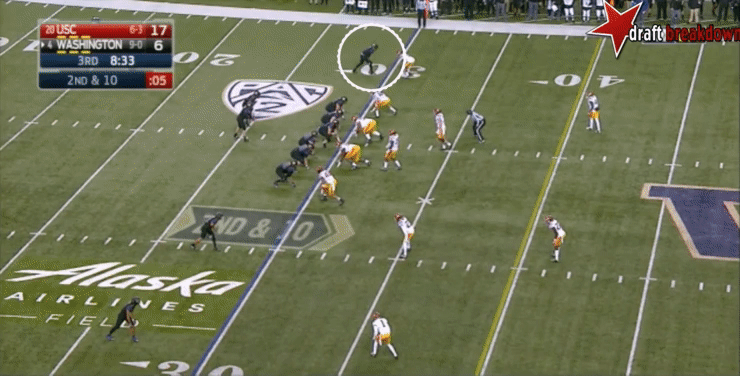 With the ball in his hands, Ross has the ability to create yardage on his own. So many receivers in the NFL are touted because of their ability to do this. In this play, Ross eludes multiple defenders to find a seam to score a touchdown.
If given the space to operate, Ross can make opponents pay. Defenders key in on star players and that often leads to defenders looking to jump routes and make big plays. However, this double move from Ross proves that he can win one-on-one battles thanks to his subtle moves at the line of scrimmage paired with his quickness.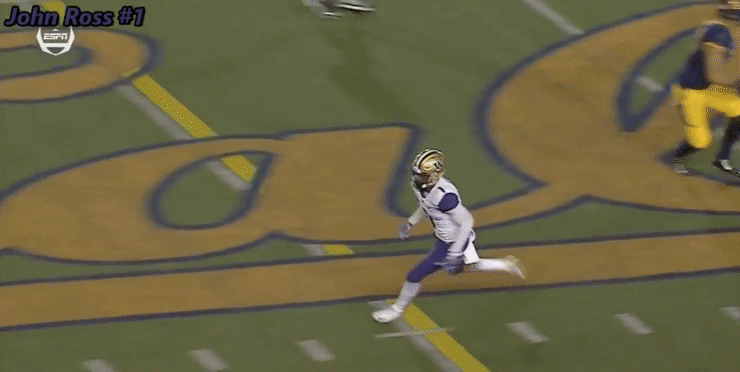 There are some areas where Ross can greatly improve. The Cowboys love how their wide receivers can block. Even Whitehead has been a nice contributor in the rushing attack for chipping the edge and providing an extra element when he's on the field. Ross will need to put on weight and learn an NFL offense, but an offseason condition program can put him on the right track.
So ... pay T-Will or find a cheaper way to "beat the cap''?
It may be an unpopular opinion to pass on a defensive player to add another guy on offense, but again, the Cowboys stay true to their board. Wide receiver is going to be a need for them in this year's draft and if there aren't any defensive players available to their liking at that position, adding Ross could improve an offense that is already one of the toughest to defend in football. ... and a Dez/Ross pairing is undoubtedly alluring.