Looking at the Dallas Cowboys on the defensive side of the ball, it's clear that coordinator Rod Marinelli does not have much to work with in terms of "blue-chip'' D-line talent. Meanwhile, the decisions Dallas has made at defensive end in recent years have come with some ... well, stumbles. To wit:
*Greg Hardy is out of football after coming down with what Fish kept cryptically calling "The Uptown Flu.''
*Randy Gregory is back on the practice field this week for the first time all year ... but his return comes with some trepidation.
https://twitter.com/fishsports/status/811990409664675840
*DeMarcus Lawrence is suddenly in a situation so precarious that CowboysHQ.com has the exclusive story here saying there are "serious concerns'' about him playing anytime soon this season.
*Charles Tapper, for all his promise, hasn't suited up during this entire rookie season due to a back problem.
Meanwhile, Benson Mayowa has bounced around to three teams despite being just 25 years old. (Though he's come on a bit lately.) Tyrone Crawford has spent the majority of his career at 3-technique before being moved to defensive end. (Oh, and of course, he's presently banged up, too. David Irving (playing inside or out) looks like a find but seeks consistency.
When the 2017 NFL Draft rolls around, the Cowboys could go a variety of directions. But if the clock keeps ticking on some of the aforementioned and the Cowboys fail to add a player that can provide an immediate impact in free agency, using the draft to upgrade the defensive end position could be ideal.
And remember two things: 1) Just because the Cowboys use a high draft pick on a defensive end does not mean that they made an upgrade at the position. A prospect is never a finished product. 2) The Cowboys will try to not reach for a defensive end.
In the 2016 NFL Draft, the Cowboys were ready to select Emmanuel Ogbah out of Oklahoma State with the 34th overall pick. He went 32nd overall. Then the Cowboys were set to take Kevin Dodd out of Clemson. He went 33rd overall. The next defensive end that was chosen was Noah Spence. But the Cowboys stayed true to their board (which apparently didn't include Spence and his behavioral issues at all) and decided to take on the risk that came with drafting Jaylon Smith.
Fortunately for the Cowboys, the defensive end class looks to be strong in this year's draft. Now, I'm not saying that top prospects like Jonathan Allen or Myles Garrett fall to the Cowboys near the bottom of the first round of the draft, but the Cowboys have proven to draft studs even though they may not have been drafted at the top of the first round. Tyron Smith was drafted ninth overall in 2011. Travis Frederick was drafted 31st overall in 2013. Zack Martin was drafted 16th overall in 2014. Byron Jones was drafted 27th overall in 2015.
Looking at the Cowboys' current defensive ends, there is a clear consensus of the type of player they look for. Each defensive end is at least 6-foot-3 and 250 pounds. (Gregory, CHQ is reporting, is climbing near that after being at 235 most of last year.) Sure those aren't definitive numbers, but the Cowboys prefer drafting quick-twitch defensive ends with high motors. That said, a player that the Cowboys could find intriguing is Taco Charlton, a 6-foot-5, 285-pound defensive end that is as physically imposing as any defensive end prospect I have scouted in recent years.
At Michigan, Charlton has consistently been the guy for the front four of Wolverines defense. Despite facing Big Ten offensive lines and double teams at a consistent rate, Charlton's impact is still greatly felt on the defensive side of the football. His flashes of brilliance in college could make for a team to develop him into an elite pass rusher at the next level. Let's dive into some tape of the menacing defensive end.
The big thing people continue to rave over with Charlton is his hand usage. In this play, Charlton sets the offensive tackle and then uses his hand on the outside to push the defender inside and get free space to get after the quarterback.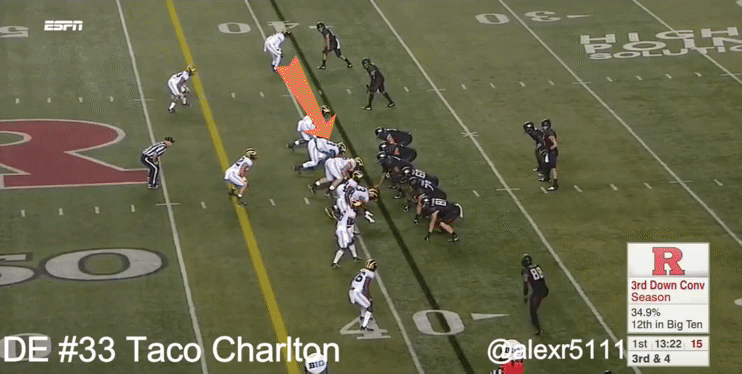 The ability to get around the edge is monumental in the NFL. We see this all the time with some of the best pass rushers in football. Guys like Von Miller and Justin Houston excel in this, as they can use their speed to get around stronger, yet slower offensive tackles. In this play, Charlton rushes from left side to take advantage of the right tackle that is more capable in the running game than the passing game.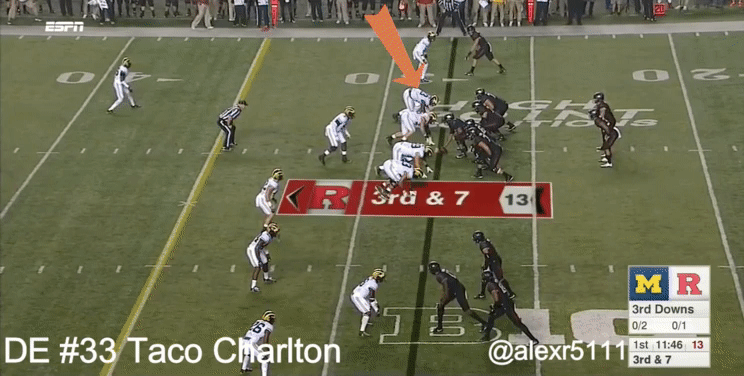 Again, Charlton proves that he can get around the edge with his speed, despite his immense size in the next clip. However, unlike his previous sack, he uses a bit more technique to set up the offensive tackle. Charlton's subtle moves force the offensive tackle to misstep, giving Charlton just enough space to get inside before the offensive tackle can adjust.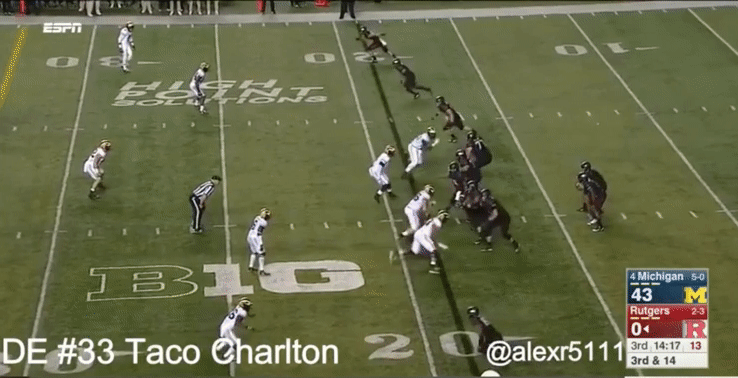 When watching Charlton on film, it's rare for him to get pushed back at the line of scrimmage. He engages very well and uses his long arms to keep distance between him and the offensive linemen before disengaging to make a play. In this play, Charlton's ability to maintain at the line of scrimmage blows the play up and forces the Penn State running back to cut back the other direction.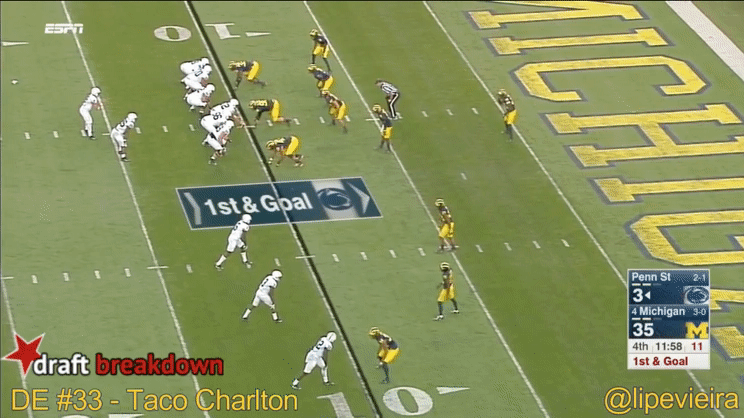 In this play, we get to see a picture of Charlton's bull rush. He does a nice job of getting initial contact into the offensive lineman and then using a wide base to use his power to push the left tackle backwards. The result is that Northwestern's quarterback has to step in the pocket, forcing Michigan's defensive tackle to get the sack. However, this play would be different without Charlton's pressure on the pocket.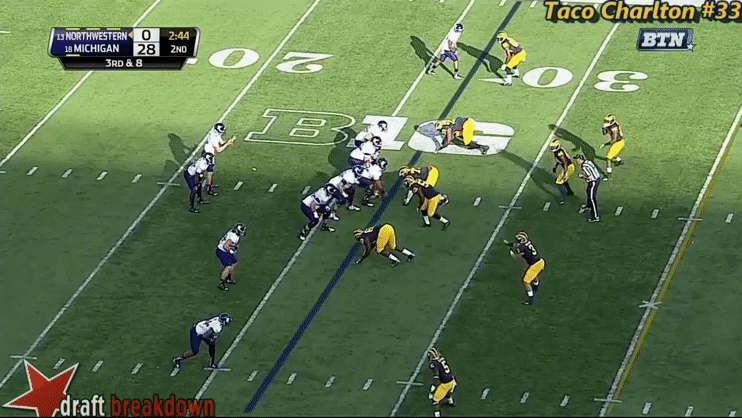 The ability to push the pocket and stay in your assigned line is something spectacular to witness in a college football prospect. In this play, Charlton's bull rush gets pressure on the quarterback. But it's where his head is that is impressive to me. Charlton's head is on the outside of where it should be, which forces the Northwestern quarterback to step up in the pocket and not look to scramble outside.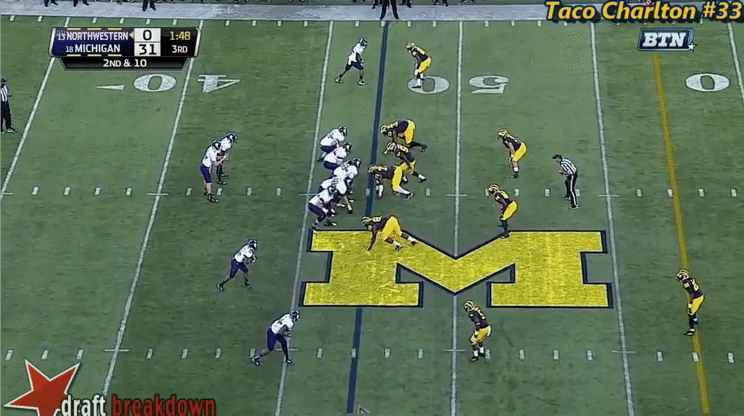 When I watch Charlton, it is clear to me that he is far from a finished product. He struggles with consistency and he hasn't necessarily learned some of the nuances of the game, but Charlton flashes a ton of potential and it is hard to discredit that.
Charlton's physical presence is obviously something you can't teach, but the way he pairs his frame with his hands is remarkable. This is the type of player that Marinelli and Leon Lett can develop. Charlton was a four-year contributor at Michigan and has been a major contributor to a top defense for awhile now.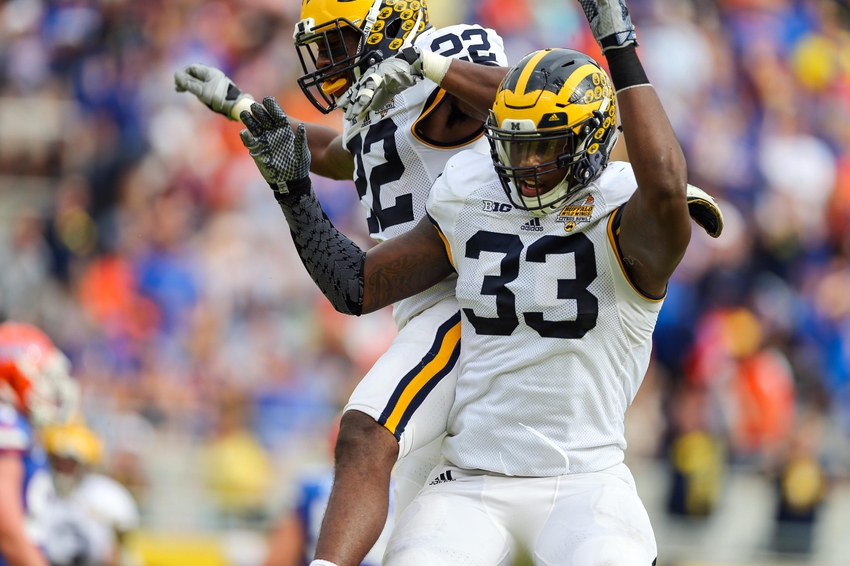 By drafting Charlton, the Cowboys would be investing a high draft pick in a defensive end that may not make an impact from the get-go. But if they can continue to develop him into what he could be, Charlton could end up being a premier defensive end in the NFL both for his ability to disrupt the pocket and his role as an anchor in the running game. ... and Dallas figures to be just such an asset this summer.